Five things Samsung needs to do better in 2022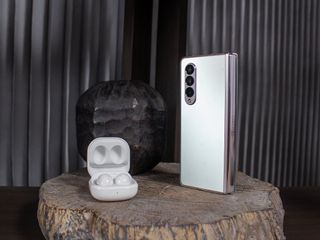 (Image credit: Nick Sutrich / Android Central)
Samsung had a strong 2021, with the South Korean manufacturer holding on to its position as the world's largest phone manufacturer. This is mainly due to the Galaxy A series, where Samsung witnessed a massive uptick in sales over the last two years.
Samsung's foldable strategy is also paying off; the Galaxy Z Fold 3 and Z Flip 3 are just as reliable in day-to-day use as the Galaxy S21 series, and they even include water resistance this time.
Things are going good on the wearable front as well. Google teamed up with Samsung to integrate Tizen into Wear OS, and the resultant Wear OS 3 platform made its debut on the Galaxy Watch 4 series. Samsung is leading on many fronts, but it isn't without its share of issues; here's what the brand needs to fix as we head into 2022.
Launch creaseless foldables
Samsung redoubled its foldable efforts this year with the Z Flip 3 and Z Fold 3. Both devices featured stronger chassis with better durability, IP68 water resistance, and similar internal hardware as their Galaxy S21 siblings.
Having used the Z Fold 3 for nearly four months, I can attest to its long-term durability. Samsung has shown that it can launch foldables that hold up to daily wear and tear, which is a huge achievement.
While Samsung managed to carve out a decent lead in foldables by being the first to market, 2022 will see several Chinese manufacturers make their foray into this segment. We've already seen the introduction of the OPPO Find N, with the device offering a similar fold-out design as the Z Fold 3 but without a crease in the middle.
Samsung also needs to develop a way to get rid of the crease for its 2022 foldables. I've maintained that the foray of Chinese manufacturers will catalyze foldables as that will inevitably push costs down, and we will start seeing that next year. So it shouldn't be difficult for Samsung to maintain its lead — after all, it is the only manufacturer that sells foldables in North America — but it will see increased pressure outside the region.
Make a budget phone as good as Xiaomi
Samsung clearly makes the best Android phones, and the Galaxy S21 series continues to do well nearly a year after its debut. One area that Samsung has turned things around in recent years is the mid-range category, with the Galaxy A52 5G delivering a great overall package.
But when it comes to budget phones, Samsung doesn't measure up to its Chinese rivals. It's not for lack of trying. Samsung has a lot of devices under $250, including the Galaxy A03, A13, and even the A32. Now, these devices are branded in the Galaxy A series. Still, Samsung is using the same strategy that it followed with the Galaxy J series, where it releases new models with lackluster hardware that don't differ from their predecessors in any meaningful way.
This needs to change if Samsung wants to maintain its market share in key global markets, with Xiaomi making inroads in the U.K. and other countries in that region, Samsung needs to rethink its budget strategy.
The situation in the U.K. and other western markets is playing out the same way as it did in India. Four years ago, Xiaomi overtook Samsung in the country, and it hasn't relinquished its position yet. With sub-$300 devices making up an overwhelming majority of sales in India, Samsung just didn't have anything in the Galaxy J series to challenge the might of the Redmi Note portfolio.
Samsung has changed its strategy to its credit, releasing Galaxy M and Galaxy F models in select Asian countries that offer much better hardware than their Galaxy A siblings in this category. However, it now needs to do the same globally to hold on to its crown as the world's largest phone manufacturer.
Deliver faster updates to its budget phones
Samsung has turned things around when it comes to software updates, with the brand now guaranteeing three platform updates and four years of security updates for its mid-range Galaxy A and flagship devices. And it is going a great job delivering timely updates as well; Galaxy S and Galaxy Z series phones get monthly security updates at the same time as the Pixels.
The Android 12-based One UI 4 stable update is now making its way to the Galaxy S21 portfolio, and barring a few initial glitches, there is a lot to like in the UI. Yet, where Samsung falls short is updating budget phones and the low-end Galaxy J, Galaxy M, and Galaxy F. Not to mention, budget Galaxy A devices also don't receive nearly as many updates as the Galaxy S series, nor do they get timely platform updates.
For instance, Galaxy M and Galaxy A models that launched this year won't be able to make the switch to One UI 4 until Q2 2022 at the latest, eight months more than the Galaxy S21 series. Understandably, the brand doesn't lavish the same level of attention on its budget phones as it does for its foldables and Galaxy S devices, but if there's anyone with the resources to deliver long-term updates to all of the devices in its portfolio, it is Samsung.
As I said above, Samsung doesn't have the edge for the hardware in this category, so a good way to differentiate its budget offerings would be to deliver more software updates than its rivals. Delivering three platform updates to its budget phones would go a long way in solidifying Samsung's position in this category, particularly when you consider that most sub-$300 phones get just one platform update.
Introduce a small tablet with high-end hardware
If you want a tablet in 2021, your best bet is the iPad Air. Unfortunately, the Android tablet segment has plateaued in recent years, and the fault lies with Google — it hasn't done nearly enough to scale Android for tablets.
As a result, even the best Android tablets — ostensibly by Samsung, because it is the only manufacturer that still releases high-end tablets at a regular cadence — don't quite hold their own next to the iPad. Thankfully, this situation should change in the coming months as Android 12L becomes available widely.
Coming to the hardware side of things, Samsung needs to deliver a smaller tablet with high-end hardware. The brand does a great job with large 10.4 or 11-inch tablets in the Tab S and budget-focused Tab A series, but it hasn't rolled out a smaller model with powerful internals for a while. The Galaxy A7 Tab Lite came close in terms of screen size, but it was aimed at the budget category, and the hardware on offer was underwhelming at best.
Samsung needs a tablet that can take on the iPad mini, a small tablet with a screen size under 9 inches that offers the latest hardware. There is a lot of potential for this form factor, and with Android 12L on the horizon, now is the ideal time for Samsung to redouble its efforts here.
Fix quality control issues with wearables and earbuds
Samsung makes the best Android smartwatches, and it has exclusivity on Wear OS 3 at the moment with the Galaxy Watch 4 series, leading to a heady wave of initial sales. While the smartwatches have a lot to offer, they aren't without their issues; a recent update made the Galaxy Watch 4 series unusable on non-Samsung phones, and Samsung hasn't done much to fix the issue or even acknowledge it.
This isn't new for Samsung; the brand tends to be obstinate at times — particularly when acknowledging hardware or software issues — and this attitude needs to change. Because the problem with the Galaxy Watch 4 series has led users to find workarounds on their own without any guidance from Samsung, and that isn't a good look for the world's largest phone manufacturer.
The debacle with the Galaxy Watch 4 isn't the first issue this year either. My colleague Chris Wedel highlighted how the Galaxy Buds Pro caused ear infections because of the materials used. It took well over a month for Samsung to acknowledge that there might be an issue with the earbuds.
Obviously, no brand wants to admit that it messed up, but Samsung needs to lead by example because of its position in the industry. And it needs to do a whole lot better when it comes to acknowledging its issues and making amends.
Get the Android Central Newsletter
Instant access to breaking news, the hottest reviews, great deals and helpful tips.
Harish Jonnalagadda is a Senior Editor overseeing Asia at Android Central. He leads the site's coverage of Chinese phone brands, contributing to reviews, features, and buying guides. He also writes about storage servers, audio products, and the semiconductor industry. Contact him on Twitter at @chunkynerd.
The last premium small tablet from Samsung was way back with the Galaxy Tab S2 8". Was a great device back in the day.

The iPad mini shows there is a demand for the form factor. Problem is, is it actually worth it to Samsung to make one when most people would just buy an iPad mini. Especially when they'd rather sell you the Fold.

Does it? It's a small enough market that Apple seems to only be bothered to update every 3 or 4 years.

Yes, it does. Why would they refresh it every 3-4 years if there was no demand? I'm not saying there's the same level of demand as a standard iPad or iPhone, but if they didn't sell, Apple wouldn't sell them.

Loved that device and would absolutely buy a premium 8-9 inch device if it had high end specs. With how much I use my tab s6 for gaming it could likely replace it for that which makes it entirely worth it.

The A32 5G gets quarterly updates and surprisingly received a December patch update after getting updated in November 2021. It's next quarterly update would be Feb 2022, but Samsung is not updating the A32 5G to Android 12, then but instead waiting until May 2022. You'd think it would get updated to Android 12 sooner because it was released with Android 11 in January 2021.

The problem with the A32 5G is it has a low red 720 screen. I looked at it but went with the A52s 5g with a 1080 screen.

Given how fast it's coming to the S10 series it wouldn't surprise me if they manage to get it out before may.

Just got the Android 12 OneUi 4 update on my Tab S7 in the UK! 😁

Either get replacement parts and/or better train the resources locally. I had to drop Samsung because I could get a warranty repair in less than 10 days which is way too long to ask anyone to be without a phone.

I disagree. There is no market for bleeding edge specs in a mini tablet. The largest Samsung phones are technically a compromise for a mini tablet, but consumers will not buy both a premium phone and small premium tablet. Large premium tablets and large affordable tablets are all anybody wants. Furthermore, people just don't replace tablets often. I have no compelling reason to upgrade my Tab 5Se tablet... I use it for a couple of games, and there is no gaming reason to upgrade. The S22 Ultra just won't be a compelling premium mobile upgrade. Other than Bluetooth 5.2 for slightly better wireless audio on the most recently released, best headphones or buds, there is no significant change to the camera or display... Maybe 2023 will see a significant premium mobile upgrade offered. I'd like to see a flat screen return to the S mobile lineup before I upgrade... I've got the Note 20 Ultra. I do agree Samsung budget phones should be better... It's the largest, most crucial mobile segment. You may not like how Samsung has handed a few software issues, but the Google Pixel 6 is a much greater mess.... Although Google still does not make a premium android phone.

I'll throw in the opposing viewpoint-- I'd love to get the S7+ screen on something lighter and more portable, which also has a memory card slot. I don't want my tablet to be a keyboardless laptop, I want it to be a a device optimized for reading for a long period of time. The Tab S3 was almost this, except for that stupid "premium" glass on the back.

Ive just bought my daughter a Galaxy Tab S7 FE. S7+ screen, has a microSD slot supporting 1TB cards. I also took advantage of the preorder for a free keyboard case and I have to say I wish Id gone that screen size when i bought my own S7.
Bought the Wifi model as its a stronger processor than the LTE model too despite being cheaper.

QUOTE: "Thankfully, this situation should change in the coming months as Android 12L becomes available widely." I don't see how a new operating system will make Android tablets more competitive against Apple products. Of course, a tablet centric OS might make it easier for software developers to program apps for Android tablets, but the main problem is rather that most/many software developers have little to no interested in developing apps especially for Android tablets. They'll develop for iPhones first, then eventually for Android smartphones too, next up for iPads, but Android apps for tablets are on the very last position of their priority list. Look e.g. at image editors. You've got plenty of such for iPhones, a decent choice for Android smartphones too, several especially for iPads, but when it comes to Android tablets, you've only got the choice between using image editors for Android smartphones (with a smartphone-like user interface) and TWO more tablet-centric editors from Adobe and On1, which both require a subscription. If you're looking for a subscription-free image editor with a tablet-friendly (or at least Desktop-PC-like) GUI, there is AFAIK not a single app to find out there.... This is a shame (as image/photo editors are essential to every tablet/creative user) and THIS is what has got to change to make Android/Samsung tablets more attractive. Less a more tablet-centric OS than more committment from the software developers. I seriuosly doubt that Android 12L will change that; I wish I was wrong, but that's just wishful thinking. ☹

Samsung needs to have the US carriers quit locking out Samsung features when they are not locking out Apple features. Example, Call and Text on Galaxy Tablets. AT&T and Verizon lock it out when buying a carrier locked device. Apple has no prohibitions. All of Apple's features work flawlessly.
Allow higher trade-in values through Samsung. When I was going to trade my Note 10+ 5G that was only 20 months old, my $1200 device was worth $325. I could have purchased a Iphone 12 ProMax at the same time for $1100 ($100 less), and my trade-in value was $600.