Latest Galaxy Watch 4 Plugin update renders the smartwatch unusable on non-Samsung phones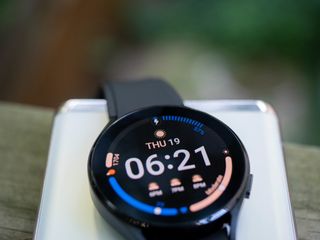 (Image credit: Daniel Bader / Android Central)
What you need to know
Samsung's latest Galaxy Watch 4 Plugin update appears to have a serious bug.
Galaxy Watch 4 users are no longer able to connect the smartwatch to non-Samsung phones.
It is likely that the issue will be fixed with the next update.
Earlier this month, Samsung rolled out a new update to its Galaxy Watch 4 Plugin app, adding notice for "Holiday watchface" and fixing runtime exception. Unfortunately, however, it looks the update has made it impossible for Galaxy Watch 4 owners to connect the watch to non-Samsung phones. Android Central reached out to Samsung regarding the issue but did not receive a comment in time for publication.
Going by recent reviews (opens in new tab) on the Play Store, the app asks users to update to continue using it — even though a newer update isn't available yet. Disappointingly, there's no workaround either.
Even if you try uninstalling and reinstalling the app, it remains stuck on the same "update" screen. This also means that if you recently ordered a Galaxy Watch 4, you'll have to wait until Samsung rolls out a fix to be able to start using it with a non-Galaxy phone.
Needless to say, it is quite disappointing to see Samsung releasing an update that makes its best Android smartwatches unusable when paired with phones from other manufacturers. What is also disappointing is that the company is yet to acknowledge the issue.
Seeing how there are several one-star reviews complaining about the latest update on the Google Play Store, there's a good chance that Samsung is aware of the issue and is working on a fix. The next update for the Galaxy Watch 4 Plugin, which will likely arrive within the next few weeks, should bring a fix for the issue.
Android Central Newsletter
Get instant access to breaking news, the hottest reviews, great deals and helpful tips
Samsung treats customers the same no matter whether it is a watch or refrigerator. I bought their watch 4 and promptly returned it when I found out my Pixel 6 wouldn't work completely on it. Our fridge is a $2500 unit with a bad ice dispenser that is widely published as defective in many articles and websites yet they don't do anything about it. There is a class action ongoing for a year and Samsung won't acknowledge they have a problem.

Yes agree they are not very honest and not toyota like japan. But at a 2500 fridge they seem to be learning by customer testing.

I use the galaxy wearable app and it's fine...

This writeup stinks of Samsungphobia. It is all written to suggest it's a general issue even though it looks more like a bug affecting some.

I am using my Samsung galaxy watch 4 with Microsoft surface duo 2 and it is working ok. only the contact's names sometimes are not shown until I changed the default contact app which solved the problem.

I am a former employee of samsung. This korean company in competition makes employees work for 16 hrs a day Trying to become apple may lead to downfall. As it is galaxy4 lte
Is not value for money. No providers in canada support phone calling at reasonable rates. Nor does this watch had approval for ecg etc. This step will make the ship sink faster . Better for them to be open source and follow android. Being a turtoise by nature and trait you cannot become a tiger suddenly Your nature makes you exceed by being what you are. SAMSUNG originally a korean shipping company is loosing selfconfidence and innovation by trying to ape the west. My advice be what you are and your customer base will follow .

I got a Galaxy Watch 4 Classic for Christmas and had no problem adding it to my Pixel 6 Pro.
Android Central Newsletter
Get instant access to breaking news, the hottest reviews, great deals and helpful tips
Thank you for signing up to Android Central. You will receive a verification email shortly.
There was a problem. Please refresh the page and try again.