5 reasons why you should consider the Huawei MediaPad M3 Lite 10 as your next tablet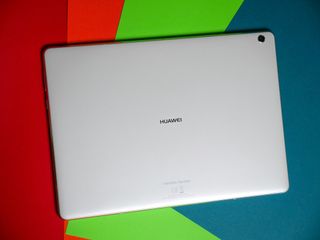 It's easy to make the clichéd claim that Android tablets are dead, but the reality is that not every would-be tablet owner wants an iPad. The MediaPad M3 Lite 10 is a powerful yet affordable tablet from Huawei with a lot of compelling features for the price. Here are a few reasons why you might want to pick one up for yourself — or as a great holiday gift!
See at Amazon (opens in new tab)
Large display
As the name suggests, the MediaPad M3 Lite 10 boasts a 10.1-inch IPS LCD display with a respectably sharp 1920x1200 resolution. It gets impressively bright and has great viewing angles, meaning you'll be able to use it in dim rooms and the bright outdoors alike.
The MediaPad M3 Lite 10 is made for use primarily in landscape orientation, making it great for split-screen multitasking, and its 3 to 4GB of RAM help keep things running smoothly. In addition, the MediaPad's natural orientation makes it ideal for keyboard accessories, keeping features like the fingerprint sensor and navigation controls at the bottom of the device.
The MediaPad M3 Lite 10 also supports Eye Comfort, Huawei's blue light filter, displaying warmer colors and easing eye strain to prevent visual fatigue, irregular sleep cycles, and other negative effects of blue light.
Quad speakers
The MediaPad M3 Lite 10 has four speakers (two on top, two on bottom) for an immersive surround sound experience. Backed by Harman Kardon, the speakers deliver balanced and incredibly loud audio, and whether you're holding the tablet in portrait or landscape orientation, it's a fantastic listening experience.
Huawei also utilizes its own SWS 3.0 sound management software to custom-tailor the experience to best fit various situations, including watching movies, listening to music, or talking on live chat.
Expandable storage
Though microSD expandability is still fairly commonplace with Android phones, tablets are a bit of a different story. The MediaPad M3 Lite 10 is one of the few modern tablets that still features a removable microSD tray, making the default 16GB of storage much more usable. It accepts any microSD card with up to 256GB of space, exceeding the maximum capacity of many non-expandable tablets.
EMUI
Depending on who you are, this will either be a benefit or a disadvantage, but EMUI 5.1 on the MediaPad M3 Lite 10 brings some great additions to the standard features of Android 7.0 Nougat. You're able to customize the look and feel of your device with various EMUI themes, and Huawei has a myriad of in-house apps for weather, voice memos, contacts, backups, and more.
Tablet Manager is also a useful service that allows users to run virus scans, turn on power saving mode, and optimize their MediaPad for the best possible performance.
Kids Corner
Any parent or babysitter knows that one of the best reasons to own a tablet is to keep children entertained and occupied. With Kids Corner preinstalled on the MediaPad M3 Lite 10, you're able to set up parental controls and determine what apps your children can use, and how long they can be on the tablet.
By default, Kids Corner gives the options to record audio, take pictures, draw, or view saved content from within the app. Exiting the app requires a PIN, meaning kids won't be able to jump out of the app and into something they shouldn't be in.
See at Amazon (opens in new tab)
Get the Android Central Newsletter
Instant access to breaking news, the hottest reviews, great deals and helpful tips.
Hayato was a product reviewer and video editor for Android Central.
Hardware home and capacitive buttons. No. Please take it away.

I'd rather have the 8" version.

I'd rather get the Mediapad M3. Too bad it's STILL on 6.0 🙄

Easy enough to upgrade the M3 to Nougat. I've done it to both of ours. What isn't "user adjustable" is being stuck on May 2017 security patch, but the tablet has replaced my Nexus 7 2013 admirably.

Ibought the wife a MediaPad T3 10 which is a less expensive version.
It comes with aluminium chassis and is very well built, 4800mAh battery, Android 7.0, expandable storage and is pretty damn good for £120, far better than the Lenovo Tab 3 10 it replaced.

That quad speaker is really luring me. I use my tablet a lot for gaming and movies and rarely use headphones aside from listening to music but I'm not sure I can give up a 8" 2k display with decent speakers for 10" FHD display with superb speaker. Dang it. Maybe wait for m4 and hopes that it will have a 2k display.

If you haven't taken a look at the Shield tablet K1, you should. If you're in the market for a tablet, the K1 is powerful and has great gaming experience. The front facing speakers are loud and clear. I've had mine for almost a year and love it! If it ever takes a dive, I would have no problem with buying another.

With 2G of ram, no thanks! I just gave my shield tablet to my niece and then got a Huawei media pad M3 during the Black Friday.