Five great Android time-wasters for this weekend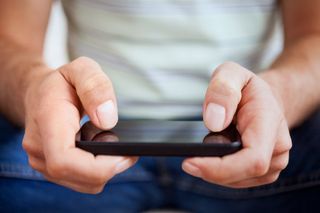 Hey, it's Labor Day weekend. And as far as we're concerned, we're going to do everything we can to not lift a finger. In fact, we're not even going to bother writing any more. Without further ado, here are five Android apps that will help you waste away the weekend and not take up too much brain power:
Don't think. Just ski. You're controlling Sven, who's doing all he can to escape the avalanche. You have to help him hop, flip and catch rides to keep ahead of the rushing snow. You've got some friends to help out as well, in the form of a yeti, a wolf, eagles and more. Challenges help keep things interesting. Works great on tablets, and is fine on phones.
This one's in the same vein as Ski Safari. You're trying to go as far as you can, collecting coins to upgrade your jetpack, or purchase gadgets and utilities. You have missions to complete, scientists to high-five, and vehicles to hop onto. We've been loving this on the Nexus 7, and it's OK on phones as well. The only downside is that it's still only available on the Amazon Appstore.
You're a big pilot controlling a tiny plane, shooting your way through eight levels and three modes. There are 56 planes to be unlocked as you progress, each with different armor, speed and armaments. Flying is as simple as pointing the on-screen stick in the direction you want to go, though you'll have to watch your attitude, lest you stall your plane.
I love these games. My kids love these games. You have to clear the way for water to reach Swampy the alligator, or to activate Agent P's tube transport thingy. Collect ducks (or gnomes) to unlock bonus levels. If you have kids who love Phineas and Pherb, they'll love Where's my Perry.
5.
(opens in new tab)
Temple Run (free)
(opens in new tab)
An oldie but a goodie. Keep ahead of the monkeys, run as far as you can, collect coins for boosts, and slide under rocks and leap over voids. Gameplay's simple, though it can move so fast you'll wonder how you ever got that far in the first place. There's also Temple Run: Brave (99 cents), themed after the movie.
Android Central Newsletter
Get instant access to breaking news, the hottest reviews, great deals and helpful tips
I paid .99 for Ski Safari..Is it free now?

nope, still $.99 I think this proves Phil is human.

That's pretty much what I thought to myself when I saw it, either way it was worth it for entertainment/fun.

I can't find the free version so I'm guessing it was an error in the article.

Says .99 in the article.... where are you guys seeing free?

He edited the article already, so these comments were pre-edit

It's my birthday on the 4th. AC doesn't happen to have a Nexus 7 or One X laying around as a spiffy present, do they?

Can't find where ski safari is free

Phil changed it. I thought there was a sale! It's such a good game. Totally worth 99 cents!

Football is back so I don't think wasting time should be a problem, but this guarantees that I will not move from my couch at all.

I'm gonna try all the Temple Run clones this weekend. Panda Run looks fun.

Are you kidding? Guild Wars 2 was just released. That's all the time wasting I need :-).

If you like flight simulators, check out F-Sim Space Shuttle Simulator. I have it on my Nexus 7. It's an AMAZING flight sim. Here is a link to their website: http://www.f-sim.com/ And yes, it's now available for Android!

Granny Smith is so addicting!

Forever Drive and Granny Smith FTW.

I'm playing old school game boy games baby. None of this fancy stuff.
Android Central Newsletter
Get instant access to breaking news, the hottest reviews, great deals and helpful tips
Thank you for signing up to Android Central. You will receive a verification email shortly.
There was a problem. Please refresh the page and try again.