First look at HTC Media Link HD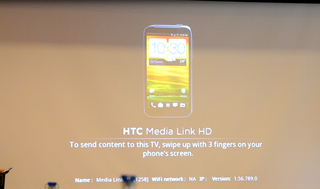 HTC's new Media Link accessory -- a Wifi Direct device that lets you easily connect your phone to a big-screen TV -- has been seen in fits and starts over the past couple months. One of the shining features is that it's not just mirroring what's on your device. It's a multitasker, so you can stream a movie to your TV while doing something entirely different on your phone. New to us today at the HTC Frequencies event, though, was a demo showing a third-party application using an early version of the Media Link API, as powered by HTC Dev.
The API's still in development and not quite ready for public consumption, but it seemed to work pretty well in our demo. Check the video after the break.
This really good , just like DLNA (I guess , I never used it) only better right ? I mean it doesn't require an active WiFi or a DLNA certified TV or whatever gadget you are trying to connect to. does The Media Link HD thingy connects via USB ? it looks like it , If your TV doesn't have USB ports you are screwed ! Can I connect this thingy to a car stereo if it have USB port?

Since it's called "HD", I assume it would connect just through an HDMI port.

Right , I forgot about that part , my bad ... So long for the car-related part (unless it have an HDMI port) . Thanks man

And since the HTC One X has DLNA, whats the point of this? I suppose its portable to more old-school TV sets? Who uses this stuff anyway? Who carries movies around on their phone (with no expandable memory) and wants to show them on the bigscreen TV? This seems more like a technology demonstration than a viable product.

Youtube, video you've shot yourself, pictures, games, etc.

And does every HDTV,projector,monitor,etc. have DLNA? No? Well there's your reason.

Except HTC came out with a DLNA receiver for any TV that had HDMI inputs LAST YEAR. It hardly sold like hot-cakes, but at least it was a standard DLNA target and you could stream to it from any DLNA capable sender.

by the way , Phil : You the Man !!!!

Dang, what's the cost?!? This would completely get rid of the need for an MHL adapter, no?

I would like to know that too , I guess it will be around 80 bucks Yea I guess , No more MHL adapters
I never understood why HTC & Samsung decided to use them ! I mean whats wrong with HDMI ports ? Motorola & Sony uses them

Two ports vs One.
More cost.
More holes in the case.
More mobo real estate.
More case design restrictions. Why incur the expense of an HDMI port for all 7 people who would ever use it? Let those guys buy the cable and the rest of us enjoy the saving.

Shouldn't Google be pushing a device out that would support all Android devices as an Apple and AirPlay competitor? Or does Google TV do that? Just wondering since I'm not up on all the DLNA stuff or options to send my phone's screen to a tv. Not sure I'd buy an HTC only device that will most likely only work with HTC phones running Sense.

100% agree. Hoping we see something about Android@home with a media streamer like airplay at I/O. I would buy it in a heartbeat.

If they brought this to market for everyone (maybe just make an app that will run in the background) I would surely buy the dongle for the TV and the app. This is something that would be extremely useful, especially with the multi-tasking as well.

I can't wait for this! It will go nice with my Htc Evo 4g Lte when I get that as well.

This is great, I just wonder how much is this gonna cost me, an arm and a leg? And would it be possible to hook up 2 TV's at once?

DLNA from what I'm told cant do the dual screen like this can. Also this is simple set up for anyone to do vs DLNA. It has two ports on it one HDMI for video/audio and one USB for power which most newer TVs have a USB the provides power other wise tou would have to plug it into wall via a usb oulet pug thingy

I have both EVO LTE and the media Link HD and it buffers alot. Even with videos recorded on the phone itself. Its hooked up to a new Panisonic Plasma tv and its hardly usable really.
Android Central Newsletter
Thank you for signing up to Android Central. You will receive a verification email shortly.
There was a problem. Please refresh the page and try again.