First look at the Archos G9 tablets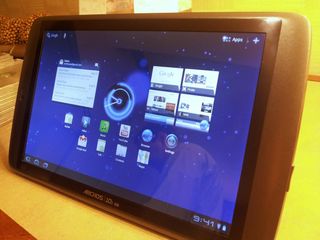 ARCHOS has officially thrown its hat into the Honeycomb ring with its upcoming G9 line of tablets, and we got another sneak peek this week in New York's Times Square. The G9 line, according to ARCHOS Senior VP and General Manager Frédéric Balaÿ, is the fruit of the company's ongoing commitment to Android and Google, which started with the Android 1.5 Cupcake-flavored ARCHOS 7 Home Tablet back in early 2010. Balaÿ says that it is this history with Android, coupled with ARCHOS' over ten years experience in the tablet market, that gives the manufacturer a unique insight into how best to optimize both hardware and software to meet the users' needs. Hit the break for a closer look.
The G9 will come in two sizes, each with a number of options. The 80 G9, the company's 8-inch version, is available for presale starting today through ARCHOS.com and will arrive in retailers on September 30, starting at $299. The 101 G9, a 10.1-inch device, will be available in October starting at $399. Both models will sport Android 3.2 Honeycomb and will be powered by an OMAP 4 CORTEX A9 processor, which Balaÿ says can offer higher performance at a lower price point than competitors like Tegra 2. The 101 G9 is clocked at 1.5 GHz, while the 80 G9 is clocked at 1 GHz, with a "supercharged" 1.5 GHz model landing in late October.
ARCHOS will be offering options for either flash or HDD memory for each model. The 80 G9 will both 8 GB and 16 GB flash options, and the 101 G9 will arrive with 16 GB flash storage. Should you choose the HDD option for either device, you'll have a whopping 250 GB of storage to play with, though it'll cost you some additional weight and girth. And about that HDD option: it'll be a Seagate Momentus Thin hard drive with 4 GB cached specifically for the Honeycomb OS, which Balaÿ says will translate into less spinning and longer battery life.
You'll notice a slot for a 3G USB stick on each model, which ARCHOS advertises as an option for network connectivity. Don't get your hopes up: unfortunately, U.S. carriers don't support this type of 3G connectivity, and require tablets to have internal 3G radios. Our friends across the pond, however, will be able to enjoy this feature.
Initially, you'll notice that the G9 line feels significantly less "sturdy" than some of the competition. The body is made of noticable plastic and certainly lacks the high end feel of devices like the line of Galaxy Tabs and even the Xoom. ARCHOS has included a kickstand on both devices, which seems like an absolute no brainer. It's certainly a unique (and extremely useful) spin on what's currently being offered. Software wise, Honeycomb is running as smooth as butter, and in our initial walk through, I noticed no slow down or lags of any kind.
It's refreshing to see a manufacturer committed to high-end guts at a low cost to consumers. Sure, there are some trade offs. You might miss the camera, and the G9 line isn't the sexiest, sturdiest tablet out there. But with storage of up to 250 GB and options that max out at $469, the G9 line offers something different that what we've come to expect.
Below you'll find full specs for each device, along with some hands on photos and a video walk through of the 101 model. ARCHOS provided us with an 80 G9 model which we'll put through the paces and review in the coming weeks.
Specs
Display characteristics
8.: 1024 x 768
10.1.: 1280 x 800
Processor
ARM dual-core CORTEX A9 OMAP4 1.5 GHz
3D OpenGL (ES 2.0)
Capacity
Flash Memory: 16 GB + microSD Slot (SDHC compatible)
HDD memory: 250 GB
Video Playback
MPEG-4 HD (up to 1080p)
MPEG-42 (ASP@L5 AVI, up to DVD resolution)
H.264 HD (HP@L3.1 up to 1080p)
WMV9/VC1 (AP up to 1080p)
Cinema: MPEG2 (up to DVD resolution MP/D1) (with optional plug-in)
With the above codecs, the device can play video files with the following extensions: AVI, MP4, MOV, 3GP, MPG, PS, TS, VOB, MKV, FLV, RM, RMVB, ASF, WMV
Audio Playback
MP3
WMA, WMA-Pro 5.1
WAV (PCM/ADPCM)
AAC3, AAC+ 5.13
OGG Vorbis
FLAC
With optional software plug-in:
AC3 5.1
Photo viewer
Webcam
720p front camera with 720p encoding
Interfaces
USB slave: Mobile Transfer Protocol (MTP)
USB host: Mass Storage Class (MSC) (Micro USB/USB Host cable sold separately)
microSD (SDHC compatible)
HDMI output6 (Mini HDMI / HDMI cable sold separately)
Communication protocols
WiFi (802.11 b/g/n)
Bluetooth 2.1+ EDR
Miscellaneous
Built-in GPS
Built-in speakers
G-sensor
Vibrator
Compass
Built-in kick stand
Built-in Microphone
Power source
Internal: Lithium Polymer battery
External: Power adapter/charger
Dimensions & weight
ARCHOS 80 G9 Flash series: 226 mm x 155.3 mm x 11.7 mm (8.90 x 6.11 x 0.46 inch) - 465g (17 oz)
ARCHOS 80 G9 Hard Drive series: 226 mm x 155.3 mm x 14.7 mm (8.90 x 6.11 x 0.58 inch) - 599g (21.9 oz)
ARCHOS 101 G9 Flash series: 276 mm x 167.3 mm x 12.6 mm (10.86 x 6.59 x 0.50 inch) - 649g (23.8 oz)
ARCHOS 101 G9 Hard Drive series: 276 mm x 167.3 mm x 15.6 mm (10.86 x 6.59 x 0.61 inch) - 755g (27.7 oz)
Battery life
Music playback time: up to 36 hrs
Video playback time: up to 7 hrs
Internet navigation time: up to 10 hrs
80 G9 (flash memory)
101 G9 (flash memory)
Sign up for Black Friday email alerts!
Get the hottest deals available in your inbox plus news, reviews, opinion, analysis and more from the Android Central team.