FCC chairman Ajit Pai set to depart in January 2021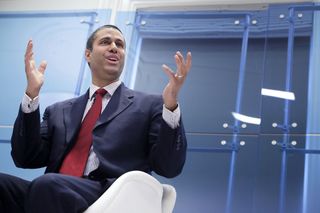 (Image credit: FCC)
What you need to know
FCC chair Ajit Pai has announced his intention to step down from the body next year.
His departure is set for January 20, 2021.
Pai presided over the FCC for four years, beginning in 2017.
FCC head, Ajit Pai, is set to leave the body in January 2021 with the exit of the Trump Administration. Pai would have served in his role as the FCC chairman for four years when he leaves, and stands as the only FCC chair under the administration.
Commenting on his exit, Pai shared the following remarks:
Pai also shared his appreciation of the FCC staff and the contribution of the commission towards the expansion of 5G coverage in the country.
Pai presided over the FCC through some of its most controversial decisions including its successful campaign against net neutrality in 2017. He also watched over the merger of T-Mobile and Sprint, two of America's then-four largest carriers.
Oh hooray. Send this guy back to the private sector where he belongs. Toodles.

Thank god! Its time to send this curmudgeon/supervillian back to where he came from! Let him screw up the private sector and bring the public sector back to its glory days!

This **** muncher won't be missed.

Woohoo! Woohoo! Woohoo! (minimum three words to post)

This is the best news I've heard all day! Hopefully the next FCC chairman will undo the net neutrality damage this fragin' bastich caused.
Android Central Newsletter
Thank you for signing up to Android Central. You will receive a verification email shortly.
There was a problem. Please refresh the page and try again.