EA Games launches weekend promotion for Father's Day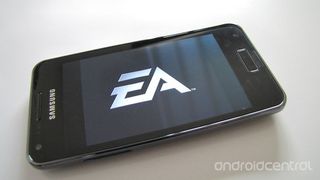 EA Games is offering a 40% discount on a selection of games this weekend to celebrate Father's Day. Jolly decent of them, too. Need For Speed Hot Pursuit, Dead Space, FIFA 12 and Plants Vs. Zombies all have the discount applied, and are available right now.
If you haven't picked up these games yet, now is the perfect excuse to go and grab them. From a personal perspective I have played all but FIFA 12 (yes, I am British and hate football) and they're all top-notch titles with hours of fun to be had.
Head on over to Google Play and grab them while they're hot. You can find all the Play Store links for the featured titles after the break.
Android Central Newsletter
Get instant access to breaking news, the hottest reviews, great deals and helpful tips
I'm English too and can't stand football. Rugby FTW

I just downloaded and played Dead Space for the first time on a EVO 3D. The controls on screen controls are good. The graphics look really nice. I eed my MHL to play this on the big screen. Or go play golf with my dad bc its Fathers Day.

These are tablet games only.. You should state that in your article here so we know it before hand... Thank you

Shows compatible with my gs2..?

Is $4.99 the sale price for dead space? Seems expensive for almost half off.

Dead Space still not available on my RAZR!!!!!! And I payed for it months ago. WTF!!!!!

Yeah..4.0 was released in November and still nothing..

Same here, Droid Razr Maxx.. Not compatible

OK, seriously, Need for Speed is not compatible with my RAZR as well???? What is going on????

Been wanting Plants vs. Zombies ever since I went Android. Apparently, both my tablet and phone have TOO MUCH RESOLUTION??? WTF, quit being lazy developers and make your games scale up.
Oh, and they just released Tiger Woods, which I can download for my 4.3" phone, but not my 7" tablet (which is what I play games on). Go screw yourself EA.

EA is the worst android game developer. Been screwed too many times to even try any more of their games. What they release is what you get. Hardly ever do they update a game to actually work.

Thanks for the info. I will not buy Gameloft games either. Almost purchased FIFA 12 until your comment.

EA are the worst developer!! i have quite a few purchased games that DONT EVEN WORK on my HTC ONE X. plants vs zombies isnt even available on the market now for my region/phone.
need for speed shift is available on the market, wont download game data AT ALL.
real racing 2 - downloads game data, but fails to boot the game, error. lets also add that they NEVER-EVER update any of their games, dont even bother sending in a support email - they dont ever reply. (and i mean, NEVER EVER) even their new game, Mass Effect isnt available for me. (even though its supposed to run well on the HTC ONE X - must be region crap.) --------- and lets get into the 'sale' of these selected games, they are seriously overpriced, if this is a sale, its a joke! - id rather just buy a different game all together, one that works, gets updates & offers support to its customers.

Every time I send in a support e-mail, I get a reply. The problem being that the reply is an automated response that tells you to go read their faq page. That is it, as no one ever even see's these e-mails, they are all auto reply and tell you to not respond to them as no one will reply. I would say EA has the worst CS ever for their mobile gaming division, but that would entail that they have CS to begin with, which they don't. Never purchase games for Android from EA, EVER!

Agreed. I was also tempted to buy FIFA 12 as well and I would have before I got my Galaxy Nexus. I have a bunch of EA games bought from the .10 cent sale and Plants vs Zombies. Problem is, my device doesn't support most of them (Need for Speed Shift, Sim City Deluxe and Plants vs Zombies). Emailing the app developer got me know where as they directed me to their site which doesn't even list some of the games. So in the end, screw you EA and your no longer getting anymore of my money.

Gameloft & EA are the worst developers for Android, if you want to experience their games get an iPad.

Can't even use these games I bought on my new Evo 4G LTE (previously I owned an Evo 4g). Contacted EA and all I got was an automated response. Don't even try to contact support because its non existent and if you do the support center is in India.

EA fails no matter what platform they are developing for.

Is there a tablet version of Dead Space and a Phone Version? I'm playing it on the Asus Prime and the graphics seem to be downgraded...Not sure if i downloaded the wrong one. Played Mass Effect - graphics were fantastic!!!! Also the EA insignia in the beginning changes to a larger more pixelated EA once the game starts - that and the actual gameplay are my only clue I might have downloaded the wrong version. Time to look up Mr. Munoz' review and see if his Acer changed graphics or are nearly as bad

Not impressed with EA. SimCity just freezes on my ASUS Transformer Pad 300 and this "sale" isn't much of a sale. The discount is actually "up to 40%" - some of the discounts are actually around 20% or so. Finally, apparently I'm not much of a dad as I'd rather play games like SimCity, Life and others not part of the stereotype. I don't care much for FPS games, racing games and kill the zombie games.

I tried to download FIFA 12 on a I9100 Galaxy s2 but it says that it's not compatible with my device. Is any one else getting the same problem

PvZ works on my GNex from Amazon but not from Google Play...
Android Central Newsletter
Get instant access to breaking news, the hottest reviews, great deals and helpful tips
Thank you for signing up to Android Central. You will receive a verification email shortly.
There was a problem. Please refresh the page and try again.