Far Cry 5: Lost on Mars - what's changed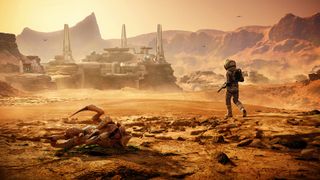 The latest Far Cry 5 expansion is out for those who want to extend their time in its murderous world. It's called Lost on Mars, and it's not quite what we expected to see.
What's new in Far Cry 5: Lost on Mars?
As the name implies, this DLC takes you to the planet Mars. As pilot Nick Ryes, you find yourself flying so close to the stratosphere that you're teleported to the red planet by a character named Hur Drubman Jr. Hurk was seemingly on a mission in space when he was dismembered by martian arachnids.
That's right — Lost on Mars is all about finding someone's reproductive organ, and other weird body parts, too. (The term "space junk" suddenly takes on a whole new meaning.) Hurk himself is somehow still alive despite being little more than a floating head inside a space helmet at this point.
Alongside finding his fond parts, Hurk's ultimate goal is to reactivate an alien AI he's fallen in love with. To do so, you'll be tasked with collecting power cores to reactivate the alien structures found on the planet.
Alien enemies
Your task won't be a walk in the park. You'll find resistance in the form of an arachnid army. Some of these guys have sniper rifles and hardened armor. And there are queens in the background controlling them.
You eventually learn about their true goal: a plot to take over the earth. Your job, of course, is to stop them.
Zero gravity
You'll traverse the planes of Mars with your gravity belt and a wingsuit. The belt allows you to make some incredible leaps, and it's not just for dodging incoming enemy fire.
Your first need is to keep your boots off the sand. Enemies can detect your presence if you're walking, so you'll want to be jumping around as much as you can. But more than that, you'll need to use the belt to scale the various puzzle towers in the game to activate those power cores. It makes for some fun new gameplay possibilities that wouldn't have made sense in the base game.
Space weapons
A trip to Mars wouldn't be a trip to Mars without being able to use some alien weaponry. You'll have your usual range of laser-equipped rifles, pistols, and the like, as well as some unique things like the Blaster of Disaster, Hellfire, and the Morphinator.
That last one is a grenade that summons chickens meant to distract the aliens. There's also a power glove that basically turns you into Luke Cage.
Back on earth, you'll get to play around with weapons named Obliteratorrrr, Taser Phazer Annihilazer, Nerve Reaper, and Grape Popper. Those cults haven't seen crazy until they've seen you use some of this stuff.
Far Cry Arcade
Those who enjoy making custom maps using Far Cry Arcade will appreciate the addition of the Mars assets. You'll be able to make cool sci-fi maps as a result.
When can you play it?
Lost on Mars is out now on PlayStation 4, Xbox One, and PC. You can buy the DLC for $10, but those who purchased the season pass for $30 will have access to it with no additional charge.
Get the Android Central Newsletter
Instant access to breaking news, the hottest reviews, great deals and helpful tips.