Facebook Messenger app updated with texting support*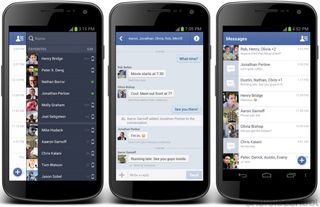 You read that correctly - starting today, Facebook Messenger 2.0 will support sending text messages. However, that asterisk in the title denotes that there's a catch. Initially, only the HTC EVO 3D, HTC One X, LG Optimus Black, LG Optimus Hub, Samsung Galaxy Ace, Samsung Galaxy Nexus, Samsung Galaxy S3, and Samsung Galaxy Y will support texting from the app. Facebook promises that more devices will be supported over the next few weeks.
Besides redesigning your messages inbox look like a SMS app, Facebook Messenger lets you swipe your finger to the left anywhere in the app to see who's available, and from there you can send a message. You can also put the friends you message most to the top through Favorites so they're easily accessible.
Along with the updates coming to Facebook Messenger, the main Facebook app is getting an update today as well. It will receive the same SMS-style look for your messages and there will be an icon in the upper-right of your News Feed that shows who's available to chat. In addition, Facebook says that the new app has been made more secure and they've ironed out some bugs with push notifications and multi-photo uploads.
Source: Facebook
Does the HTC EVO 4G LTE count under the One X name?

Yea its updated for the EVOLTE just dont see the text messaging part

I'm still trying to see the need for a stand alone messenger app if it's all the same within the Facebook App. Is there a benefit of having both?

I hate surfing Facebook on my phone since the stock app never works(and I haven't found a good third party app) so when someone sends a message on Facebook, I can quickly reply with Messenger. And one of my friends doesn't have a texting plan so they will send a message that way and it's easy for me to reply.

Holy crap, someone actually remembered my EVO 3D exists!

Lol no kidding. I'm downloading to see how my 3D handles the new app. Facebook doesn't have a good history with their app working well with my 3VO.

Um...I'm getting an update but I don't have the Facebook messenger app, it is the Facebook app itself. I guess we will now see how "pretty" they made it in comparison to the app for ios.

The Messenger app is a separate download in the Play Store.

Then both apps have been updated.

It seems that they've made it very pretty... But lacked the common sense to sign out of the messenger portion under the main app. All of my iOS user friends(sheep) still have the option to sign out. I just get the option to change the noise it makes (or doesn't) when someone messages me. Kinda makes me look like an ass for not responding.

Incompatible with Nexus 7? WTF Facebook?

Got two updates for the Messenger app. Then Facebook itself was updated. WTH with no Galaxy Note compatibility for the text messaging part.

Waiting til they add the EVO 4G LTE for the texting part. Otherwise, the app came out great

Any one with one of the supported phones get it to work? I'm on a Galaxy S III and my mobile contacts don't show up and manually putting in a number doesn't work either.

I did the DL yesterday and it worked on my GNEX. It looks alright and it seems like a great concept for some; not me so I turned off the SMS/MMS portion right away. I got spoiled by Chomp SMS to be honest; I like the customization. It does work though and I will use the app for FB messages.

Works on my Evo 3D. Did the update without looking into it and about an hour later this cool notification popped up. I tapped it and a cool new messenger for Facebook was on my screen, with bubbles and all. (Real Time Facebook'ing)
Android Central Newsletter
Thank you for signing up to Android Central. You will receive a verification email shortly.
There was a problem. Please refresh the page and try again.