Facebook can now send you notifications through Google Chrome on Android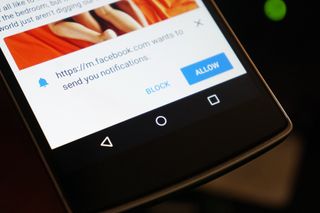 Those who use Facebook's mobile website will now be able to receive notifications through Chrome on Android. The social network has worked with Google on the new mobile web alerts standard to make it so said users are no longer left in the dark should they not use the Facebook app.
Now when you visit m.facebook.com using Chrome you'll be asked whether or not you wish to activate notifications. It's a great addition for those who rely on mobile site access. It's also an interesting advancement for Facebook's website, which is now at a level to better compete against the native application.
Source: TechCrunch
I never received notifications from Facebook unless I have a message or its a request for a game.
Facebook lite works though Posted via Android Central App on 1+1

I experienced notification since last week from my mobile Facebook through Chrome. Since have picked few of friends with notification update. Problem is, make sure Chrome is running background and isn't Greenify. Posted via the Android Central App by OnePlus One

Just what we need. Lol. Posted via the Android Central App

As long as you can manage the notifications, this is exactly what I needed. I don't want to have apps for everything when the website should be fine. Not just Facebook, but everything. Work on the web across more platforms. The danger is as someone else mentioned, is this more or less battery efficient than the app.

Any way to keep them snagged in their ecosystem. Dropped them cold turkey 2 years ago and I'm amazed at all the time I used to spend on it Posted via the Android Central App

Good for you. How are you spending your time, instead? Gaming? :)

I wonder what kind of battery impact this would have? Some sort of service would need to run all the time wouldn't it?

There's already a service for push notifications running on your phone. Google Messaging service or smth like that..

I have been using the mobile website specifically because I don't want notifications. I don't want them.

You could always turn them off, you know that, right?

If it reduces my memory footprint on my phone, then I'll use Facebook on the web and get rid of the app. Posted via the Android Central App

ki1023lou@gmail.com
dari mohamed

Looks like it's time to get rid of the ever-so-bloated Facebook app.

That, and you can drop messenger too. Google knows why kids love the taste of cinnamon toast crunch. And they're willing to sell it to you.

Seriously, before you try this, try FaceBook's Lite app.

Dam..... It's getting harder and harder to keep Facebook out of our lives. Posted via the Android Central App

Working on Opera too Posted via the Android Central App

I like this idea, was using the mobile site for a while but when I would try to upload a pic I kept getting a low memory error and it wouldn't upload?? Having kids, I am always sharing pictures so I had to go back to the bloated ram and battery consuming app :( Maybe someone reading this can help me solve that low memory error, put me back onto the mobile site?? Rogers LG G3 with 5.0.1 and always 1.5-2 GB of free RAM..."Unable to complete previous operation due to low memory" to be exact....I have tried uploading a pic from both internal and SD??

Now this is useful! OK, well, now please get rid of the horrid side bar you added to landscape mode on tablets, Facebook... please! hehe

"Unable to complete previous operation due to low memory" to be exact....I have tried uploading a pic from both internal and SD??

Yup and I turned them right off immediately. Posted via the Android Central App

I'm not a heavy FB user, but I have FB Lite running and it is night and day compared to the 'normal' FB app in terms of battery life. Lite uses virtually nothing when it's in the background (where, for me, it is most of the time).

But the notification disapears after a minute or 2 Posted via the Android Central App

I keep going to Facebook and I'm not getting the notification popup. Posted via the Android Central App

Not working on my lg g2. I set up the notifications, uninstalled the Facebook app, but I'm not getting any notification by Chrome.

I can not get any chrome notifications. Settings all look right to me. Am i missing something?

I discovered this quite by accident earlier this week. I don't recall being prompted to allow Facebook to give me notifications, however.

I've logged into Facebook and allowed site notifications, but after several it hasn't worked yet.

Doesn't work, am I missing something? I go to facebook in Chrome on phone and never get a request to allow notifications. I'm up-to-date and running M preview 3. Tried in Chrome and Chrome Beta

How do I turn this feature off?

To turn this feature off in chrome from your mobile device: 1. Open chrome
2. Click the three vertical dots on the top right of chrome.
3. Select settings
4. Select site settings towards the bottom
5. Select notifications
6. If fb is listed, you can choose fb to edit the notification settings to disabled.
Android Central Newsletter
Get the best of Android Central in in your inbox, every day!
Thank you for signing up to Android Central. You will receive a verification email shortly.
There was a problem. Please refresh the page and try again.