Experiencing delayed group texts and MMS with AT&T? You're not alone [Update: AT&T comment]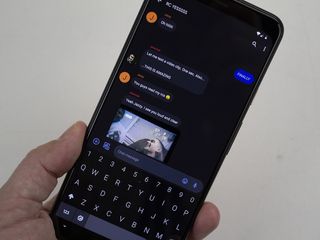 (Image credit: Android Central)
What you need to know
AT&T users are reporting delayed Group MMS.
Messages sent are received as late as the next morning.
As more users work from home, all networks may be experiencing increased stress, leading to delays and congestion.
Multiple US users have reported issues with receiving texts from other AT&T users in group chats.
"I and my wife are in a few group texts with other non-ATT users. We've had a big issue lately where say 1 out of every 10 messages we send to the group won't arrive until hours later for the others in the group. I'll get hers and she'll get mine pretty much right away, but the other members won't see it until hours later at times. And not all messages, just a few here and there," complained one Reddit user on the carrier-specific subreddit r/ATT. Similar complaints could be found on other subreddits belonging to other carriers, with the common denominator being AT&T users for the most part.
"Connectivity is always essential to our customers – doctors and nurses, first responders, governments, banks, grocery stores, pharmacies and others delivering vital services," AT&T's CEO said this month, "It's even more critical during a public health crisis that's challenging everyone. In fact, as a critical infrastructure provider, AT&T believes we have a civic duty to step up and keep our customers and communities connected."
With more users engaging in increased group conversations, WiFi calling, tethering and straining the network to the limit, these delays can be expected. It's especially going to be hard on things like SMS and MMS which rely on a third-party for things like inter-carrier messaging. AT&T is not the only connectivity producer suffering, Spectrum also experienced some connectivity issues over the past day.
Update: AT&T says it's all good.
In response to this story, an AT&T spokesperson gave Android Central the following statement:
In other words, if you're experiencing delayed messages, it's probably not on their side.
US carriers are waiving fees during coronavirus — here's how that affects you
Be an expert in 5 minutes
Get the latest news from Android Central, your trusted companion in the world of Android