BlackBerry's President of Devices on the Priv, Android, security and keyboards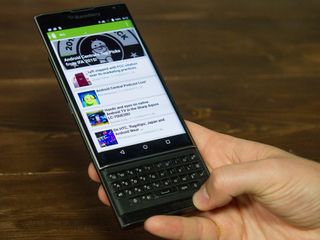 Already available for pre-order, the BlackBerry Priv begins shipping on November 6th. For BlackBerry, the launch of this Android-powered slider is a BIG deal. For the first time in the company's long history of building smartphones, BlackBerry is shipping a device that doesn't feature a proprietary operating system built in-house. Instead, they have committed to Android, a move that immediately solves the app gap that has been plaguing BlackBerry users for years, by bringing onboard the Google Play app catalog and Google services.
When I interviewed John Chen, BlackBerry's CEO, in November 2013, about possibly going Android, he told me: "It's way too early for me to make an informed statement on that. It would be very, very premature. Whatever is the right thing for the business, you need to preserve the reason why BlackBerry is around. I think just jumping to Android without a thought through of why BlackBerry needs to be around and what makes us relevant and all that ... is inappropriate."
Since then, BlackBerry has clearly thought things through and decided going Android was the next the logical step. With the Priv just days away, we had a chance to sit down with Ron Louks, BlackBerry's President of Devices, the person tasked with bringing the company's first Android handset to market.
On going Android
Kevin Michaluk: Let's just get it out of the way — why Android, and why now?
Ron Louks: We've had an Android strategy for some time now – whether that's supporting Android for Work on our BES12 platform or Samsung/Knox. Priv on Android is the next big step: It's a new paradigm to advance security, privacy and productivity while meeting modern cross-platform user needs and filling our "app gap."
Michaluk: BlackBerry has until now only ever released devices running its own operating system; what were the biggest challenges and hurdles in developing Android for the Priv?
Louks: BlackBerry has a unique heritage in security, privacy and hardware design. While some might say a BlackBerry Android smartphone was a long time coming, we wanted to make sure we had all of the elements in place for a highly differentiated Android device true to those principles.
Michaluk: Many Android handset manufacturers have heavily customized Android to try to differentiate their devices and add new features and services. But those customizations can bog down the device and slow the rollout of software updates. From what we've seen so far of the Priv, it's a sparing amount of customization with a few visual tweaks, a few BlackBerry apps, and a lot of under-the-hood security work. What is BlackBerry's philosophy on customizing Android?
Louks: Our approach to Android customization is focused on security, privacy and productivity. You will not see us experimenting heavily with the native Android theme unless it is in support of those things. We wanted to ensure users who would buy a Priv coming from Android would have a familiar experience for them when they picked it up. Being as close as possible to stock and then enhancing the model is what we are driving for, and the enhancements are meant to add additional value or productivity – not get in the way.
On keyboards
Michaluk: Most Android phones we see these days are full touchscreen slabs, but for the Priv you chose to go with a slider. Why did you choose this over a full touchscreen or the more classic BlackBerry design where the physical keyboard is always present?
Louks: We're sure longtime BlackBerry fans as well as new customers will love the unique form factor – which offers best-in-class virtual and physical keyboards. The slider means you get the best of both worlds. Simply open the slide-out-keyboard when you need it, and close it when you don't. Our engineers were able to add the BlackBerry touch-enabled physical keyboard, which can be used like a large trackpad to scroll web pages or flick predictive text onto the screen, without taking anything away from the full touchscreen experience when the device is closed. A real advantage to the physical keyboard is that when the slide is open, our users can view much more content on the screen – typical virtual keyboards take up 30-50% of the usable area.
Michaluk: There's long been a subset of Android users — former BlackBerry, Palm, and Droid users — that want a good keyboard again. Is this phone for them? Or is the Priv about giving existing BlackBerry owners an upgrade path that gives them what they've been lacking — namely apps — while retaining as much of the traditional BlackBerry experience as possible?
Louks: The Priv answers both needs. For Android users longing for a physical keyboard, they get top-notch slider styling from BlackBerry with full access to the Google Play store's app ecosystem. For longtime BlackBerry owners, it offers familiar, best-in-class productivity and messaging tools in BlackBerry Hub, all the privacy and security that BlackBerry affords, and that same access to the universe of Google Play apps.
Michaluk: I, like many early smartphone adopters, have a soft spot in my heart for the physical keyboards we had on BlackBerry and Palm devices. But today there's billions more smartphone users, most of whom have only ever typed on glass. Is a physical keyboard today only for legacy users, or will it appeal to those that have never experienced a phone with a keyboard?
Louks: Priv is about productivity, security, privacy and choice. Users new to the joys of a physical keyboard will be blown away when they realize how much more they can accomplish. We believe there is an underserved market out there for this device – and that the keyboard is something that will appeal to many of those consumers that have never used a keyboard on a smartphone.
On updates and bootloaders
Michaluk: When do you expect Android 6.0 Marshmallow for Priv, and can you make any sort of guarantee on the frequency of updates now that others are moving to a monthly cycle for security improvements?
Louks: Launching with Android Lollipop was the most expedited way to get Priv to market. We will be supporting software upgrades for Android M in coming months as Priv rolls out. And we've committed to speedy updates for security improvements.
Michaluk: With a name like Priv, the primary messaging around this phone is about privacy and security. But what about the Android enthusiasts? Can the bootloader be unlocked? Any other consideration for the huge community of Android tinkerers?
Louks: It cannot be unlocked. As John Chen has said several times, we would not bring Android to a BlackBerry device unless we could do it securely. With Priv by BlackBerry, our goal is to ensure that users are safe and secured knowing that the phone cannot be tampered with.
On pricing and excitement
Michaluk: At $699, the Priv is priced at the higher end of the smartphone range, and this is at time when we're seeing good specs and performance in mid-range phones at half the price. What's behind the pricing for the Priv?
Louks: Priv is a flagship handset with top-of-the-line specs including best-in-class battery life, a fantastic camera and BlackBerry's legendary keyboard that sets it apart from every other Android flagship. And it's built on BlackBerry's signature secure hardware platform and privacy principles. All of that adds up to a price point in line with premium phones from other Android OEMs.
Michaluk:. You've been using the Priv for a while. What are your favorite features and things about the phone that you think we'll love when we get our hands on it?
Louks: I'm always on the move – especially when getting ready to launch a new phone like I am this week! I can say without hesitation that the combination of a slide out physical keyboard and a full screen gives users the ultimate productivity tool. I love being able to use the virtual keyboard for a quick reply, but nothing beats the physical keyboard for longer replies, editing and simply ensuring accuracy. I think people will be amazed at the design – there truly isn't anything like it on the market today.
Get the Android Central Newsletter
Instant access to breaking news, the hottest reviews, great deals and helpful tips.