Everything you need to know to get started using the Xposed Framework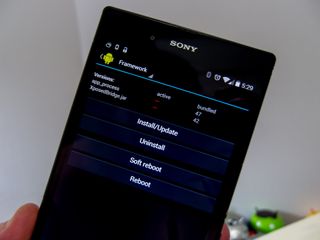 There is a lot to know about the Xposed Framework, and a lot that could go wrong — use this guide to get started
So you have an Android phone because you know you can bend and twist just about everything in the software until you make it just right. You've done the custom ROM thing, but there are still things you want to tweak. That's where the Xposed Framework comes into the picture.
Xposed is a base system that allows you to download modules, each of which can make one or more changes to the UI of your device. Things like adding the three dot menu to every app, or enabling the full 20MP sensor for Superior Auto in Sony cameras, or any manner of changes. There's a whole list of modules you can download and install at the Xposed repo site.
Because it's such a powerful tool, there are also a million things that can go wrong if you just jump in without knowing what you're doing. You should definitely read all the documentation, but AC Forums Ambassador Golfdriver97 has also whipped up a really handy getting started guide to keep you pointed in the right direction. Read it. Twice.
Half the fun of hacking your phone is fixing it when you've broken it, but some tools are a bit more complicated than others. Xposed is powerful, and guides like this one are a great way to keep things going smoothly.
Android Central Newsletter
Get instant access to breaking news, the hottest reviews, great deals and helpful tips
Senior Editor — Google Ecosystem
Jerry is an amateur woodworker and struggling shade tree mechanic. There's nothing he can't take apart, but many things he can't reassemble. You'll find him writing and speaking his loud opinion on Android Central and occasionally on Twitter.
Love using xposed on my G2 love to change my nav button icons/actions changing the status bar to all white like KitKat and the transparency on both the nav and status bar on all launchers. Posted via Android Central App

Xposed pretty much makes custom roms moot. There is so much you can do, it's amazing. If your on a Samsung device, the Wanam module is where you want to be. There are also modules to get music controls on the s-view screen. BaAAH

But you still have to root Posted via Android Central App

Rooting and rom'ing are not the same. You need root access to access the system level files to make certain changes. Rom'ing requires another level of access and some phones never get that level of access. Also, Rooting your phone is not usually dangerous, it's what you do after that can be. BaAAH

Couldn't agree more Posted via Android Central App

I love me some Xposed on my Note 3. While I've run custom ROM's on all my devices, including the Note 3, I've since gone back to stock and simply mod my heart out with Xposed and various modules. I'm hoping more and more customization can be achieved with Xposed over time.

Lol just got it last night in fact and I've been messing around with it here and there and it's awesome especially for galaxy s4 Posted via Android Central App

I've heard good things and have been meaning to install it. Looks like I'll be rooting my X soon.

Love xposed. Been running it on my G2 since I got it. Posted via Android Central App

Between Xposed, Wanam, and a custom launcher and wallpaper of your choice. ..There is really very little to bother and bout using a custom rom. These things tweak your entire device so thoroughly you don't really NEED to a rom. I have a Kit Kat rom( the first and only thus far called KNOXRAID on my att note 3 using Safe strap method to bypass the bootloader lock and NOT trip the Knox security that's in place but not required) but if I hadn't rommed it, it would still be awesome because of Xposed and Wanam.

Xposed Framework is a favorite.
I have a number of tweaks installed on my phone and tablet. While both have custom kernels installed, they're both on stock ROMs with Nova launcher. Posted via Android Central App

I love xposed! Hello transparent status/nav bars on nexus 10! -Nexus 10-

Hey I am thinking about putting this on my Nexus 10, did it work well? Any performance issues?? :D
Thanks!

Since I had been seeing mention of Xposed come up a lot recently, I thought it would be a good idea to write this up. Thanks for the shoutout Jerry! -Golfdriver97: AC forums Ambassador Posted via Android Central App

Saved ugly TW colour scheme. _______________________________________________
This message was brought to you by the numbers 0 and 1

Unicon Xposed Module let's me change icons system wide, while still using the TouchWiz launcher and lock screen. Posted from my "KNOX-FREE" 4.3 Sprint GS3 Maxx...!!!
(ZeroLemon 7000mA battery and ZeroShock Case)

While we're talking about xposed, does anyone know of a possible module that allows me to set a live wallpaper on my G2 and have it show on my lock screen as well while STILL using the stock lg lock screen?? I like the stock G2 lock screen better than the aosp lock screen, but HATE how I can't set it to show whatever live wallpaper I set on the home screen. I like the Muzei live wallpaper but it won't show up on my lock screen unless I switch it to the aosp lock screen which kinda sucks I doubt there is a way, but any help would be appreciated! Posted via Android Central App

Gravity box may be able to do that. Even then, no guarantee. Posted via Android Central App

Cool I'll look into it, thanks Posted via Android Central App

No bueno... here's to hoping someone can figure it out eventually Posted via Android Central App

I use Slim RC3 on both my N5 and HTC one and use RomToolbox for tweaks. It doesn't get any easier than this. Also, their new Pie control will leave your home screen a barren wasteland. It's that good.

Using XVoice+ to integrate Google Voice on my Moto X is fantastic, thanks to Xposed

I love Xposed, and I cant live without, but this comes as a gift and a curse. Especially since I want to use ART instead Dalvik, but Xposed will never support it.

Who said never? Xposed will certainly support it whenever it actually replaces dalvik...

I've run so many roms since the Nexus S days, but with Xposed + Gravity Box there's no reason whatsoever to run anything other than franco kernel on my N5. Kitkat is beautiful (esp w/ GEL) and it flies. Never had many bugs with roms on Nexus devices, but can't say the same for others I've owned ran. Stock + Xposed is the shiite.
Android Central Newsletter
Get instant access to breaking news, the hottest reviews, great deals and helpful tips
Thank you for signing up to Android Central. You will receive a verification email shortly.
There was a problem. Please refresh the page and try again.