Here's what's new in the Google Pixel 2 launcher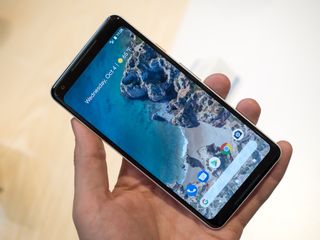 Google's Pixel line, like the Nexus line before it, features Google's vision for Android, and nowhere is this truer than the home screen. The Google Now Launcher (is that ever retiring?) is still one of the most popular launchers on Android, even though it hasn't had an update since 2015 (opens in new tab).
The Pixel Launcher (opens in new tab) is Google's current vision for the home screen, and this is what will be coming to it with the Google Pixel 2.
Search moves south
Google has kept the search bar top and center on its home screen for many years now, and it's still a major part of the home screen on the Pixel 2 and Pixel 2 XL. It just moved from the ever-more-distant top of the home screen to the bottom, where it'll be easier for users to tap. I don't quite see the need in having the search bar there when Assistant is a tap away on the home button directly below it, but Google wants users to use Search more, and having it right there, between your dock apps and navigation bar, should raise its visibility and hopefully its use. It also stays present when swiping between home screens
The search bar now has rounded edges to help it fit in with the default circular Adaptive icons on your home screen. It'd be fun to have the search bar adapt along with the other masks available to Adaptive icons, but who knows what the future will bring to the Pixel Launcher.
Get Google's notifications at a glance
With the Google Search bar at the bottom, the Pixel Launcher's home screen is a little bottom-heavy. To help things even out while still allowing the beauty of your wallpaper to shine through, Google has a new, completely transparent widget up top giving you information from Google Calendar and Google Assistant a glance, like upcoming meetings and, soon, traffic. Google's previous widgets from Google Now were bold, white, and completely clashed with most home screens. This version is much more refined and theme-friendly. Here's hoping it makes its way to more devices.
Living Universe Live Wallpapers
Live wallpapers, which have fallen into relative Android obscurity, are getting some beautiful new life in a series called Living Universe. These wallpapers feature movement, both when you switch between home screens and movement within the scene, like waves on a beach. They're quite beautiful, and we're looking forward to seeing the rest of the series. Last year's Pixel wallpapers came from the Google Wallpapers app (opens in new tab), and then to the rest of Android. It's not yet clear if Living Universe will be Pixel-exclusive or eventually come to Google Wallpapers, but we can only hope.
Your turn!
Which home screen element from the Pixel 2 are you most looking forward to? Does moving the search bar throw off your home screen balance? How long do you think it'll take for these new features to come to third-party launchers? Tell us in the comments!
Ara Wagoner was a staff writer at Android Central. She themes phones and pokes YouTube Music with a stick. When she's not writing about cases, Chromebooks, or customization, she's wandering around Walt Disney World. If you see her without headphones, RUN. You can follow her on Twitter at @arawagco.
Not a fan of the search bar or the new weather widget.

The date and weather are growing on me, but the search bar at the bottom looks atrocious.

Aside from how it looks making the graphic design of the home screen appear bottom heavy, I like the functionality of not having to reach all the way up to the top of the screen for it. I see what Ara is saying about having Assistant just a tap away right below the search bar, but I still do most of my searching through the good old fashioned search bar myself. Assistant is pretty darn good, but I like being able to self curate my results from the all the sources that Google's search brings up, rather than just the limited number of sources Assistant chooses to pull from.

I actually like having the search bar at the bottom. Having used Phablets for as long as I have.. I grow tired of reaching all the way to the top of the phone to get to the search bar. To circumvent that, I've been using Google Assistant for general searching...because the button is at the bottom of the phone. Now, Using Action Launcher, I've emulated that same effect and honestly... I freakin' love it. the only thing I am really missing is the notification part of the weather app... I'm hoping that Action Launcher grabs a hold of that before I switch phones to a Pixel XL 2. If not, then I guess I just deal with it until then. Still, if you're looking to customize your set up, Action Launcher is literally the best launcher that I've found, while yeah, you've gotta pay for the full service... I'm actually completely okay with that. Worth the couple of bucks it costs, due to the fact that you can customize the living snot out of it.

Saying that Google Now Launcher hasn't been updated since 2015 isn't strictly true. The app is just a stub that enables it, the actually stuff is part of the Google app which is of course regularly updated.

The launcher is the launcher. The Google updates are only for the Google Now pane, which is still seeing updates but isn't strictly part of the launcher (and is part of other launchers now, too).

I am wondering when these features will come to OG Pixel phones? Having an XL I actually dig the search bar moving south, though I can see how that will rub a lot of people the wrong way. The widget I care less about, it is fine, i suppose.

I wonder the same too but I really want that widget. Very simplistic and straight to the point. It finally gives me what I used to have on Windows Mobile with the live tile for the calendar.

Sorry to comment twice but I'm seeing on Reddit that this launcher will come in the 8.1 update to the original Pixels. This info was confirmed by a Google customer service agent...

Excellent! I appreciate the additional update. Thanks!

So confused. In some pics the bezels looks quite large, and in some very small. Is one of the a 2XL?

If the screen has rounded corners it's the XL version (smaller bezels), squared off corners is the smaller version (larger bezels).

What he said. Big bezels mean it's the smaller phone, small bezels mean it's the bigger phone.

Don't hardly ever use my search bar so I like it better at the top. It's just easier to just say "OK Google".

Isn't this user movable anyway? Don't see what's special about this. It is it just outs default setting?

Nope. Not user moveable. It stays with the dock.

I am loving the transparent widget. Now that looks good. I wish that the search bar was more translucent.

Is this really going to be a Pixel 2 exclusive? I think it would be silly to maintain 3 different versions of the Google Launcher all at the same time. While I can maybe understand limited exclusivity at launch there's really no good reason why this couldn't be a simple update to the Pixel Launcher in the Play Store. I also don't see why the Pixel Launcher can't once and for all be a universal replacement for the Now Launcher? Both versions of the Pixel Launcher are minor tweaks to the Now Launcher anyway.

Digging the new widget, not so much a fan of the search though.

Can basically replicate all this with Nova Launcher. And what currently can't be replicated, will be within a couple months.

I'd rather have the option to remove the search bar. OK google is all that is needed. I want to free up more space on my home screen

👍 I have a shortcut to the Assistant on my home screen versus a 'search bar'. I find that more convenient.

I hope Nova adds that 'at a glance' widget.

That's the only good part of the new Pixel Launcher

I actually prefer the search bar at the bottom, especially for the 2 XL and other large phones like my Galaxy Note8. The reason is that it's one of the most frequently used things on my phone and when it's down low (you know, where your thumb is), it's much easier to reach with one hand. Of course, you won't be using something like a Note8 entirely single-handed (I actually am able to. I typed a full conversation with just one hand with it), but such conveniences are nice.

Agreed...it looks a little odd but it's way more usable

No thanks, Google. I'll stick to using a gesture if I need to search. Much cleaner solution.

Is the search bar just a widget that you can remove?

Love the new look. Hoping it comes to OG Pixel.

A bottom persistent search bar? No thanks. If this gets pushed to the OG Pixel, I'll be switching back to Nova Prime to disable it.

This bottom persistent search bear was pretty much inevitable. It's always seemed stupid to me that I have to reach to the top of the phone, far away from my fingers, to do something I do all the time

I hate the search bar staying present when swiping between home screens, and I prefer it at the top, but I like the new rounded edges.

Needs option to remove search bar! Nova until that happens.

I use Nova. So what's a Pixel Launcher?
What's a Pixel 2 XL? Over price and under deliver?
HTC U11 -> $649
LG V30 -> $800

The reason people buy this is the same reason they buy iphones. A sympathy of hardware and software.

I have placed the Google pill widget on my action Launcher home screen as far south as possible for this reason. Guess I've been a year ahead of the game...

Do the live wallpapers work on Nova Launcher? And does the pixel 2 have a dark theme?

I just want to know if I can remove the search bar or move it back to the top. I HATE it down bottom.

Does anyone know the default icon grid 5 x 5. 5 x 6 or even 5 x 7??

Nova Launcher:
Desk Grid - (7,5)
Persistent search bar - off
Search bar Style - your choice!
Dock - off
Scroll Effect - Wipe
App & Widgets drawer - (Swipe to Open ON!) On row 7, at the bottom, on all homescreens - (go to widgets, nova launcher, Quick search widget) On row 6, on all homescreens - ( shortcuts that were in the dock) THIS LAYOUT WORKS REALLY WELL.

Desk Grid - (8,5)....
Row 8 - search Widgets
Row 7 - shortcuts

I can live with the search bar at the bottom, but I really don't want that weather calendar widget at the top. Can that be removed?

Makes much more sense to have the search bar at the bottom but I haven't been able to see the point of the whole bar for a while now. Been using a Nova action shortcut for Google search in the dock
But looking forward to trying out the new Google widget, it's about time to remove the white backgrounds

Same. I feel Like the bar is a waste of screen.
Android Central Newsletter
Thank you for signing up to Android Central. You will receive a verification email shortly.
There was a problem. Please refresh the page and try again.