Essential is reportedly making a phone based primarily on voice commands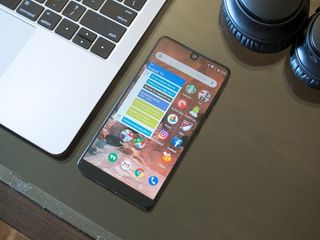 The future of Essential has been something of a mystery for the last few months, but thanks to a report from Bloomberg, we now have new details on the company's latest project that should hopefully give it a new lease on life.
Although the Essential Phone 2 is dead, it's reported that Andy Rubin and his team at Essential are developing a new type of smartphone that's centered primarily around voice interactions and artificial intelligence that can make calls, text, and do other things automatically for you.
Such a device would be drastically different from our current smartphones, and as such, it's said that Essential will market this new gadget as either a complimentary phone to your primary one or as a standalone handset for people that are trying to spend less time looking at a screen.
In order to properly work on this mystery device, Bloomberg also reports that Essential has "paused development" of its Essential Home smart speaker/display that was first announced alongside the Essential Phone in May 2017.
It's said that we can expect to see Essential's new phone as early as CES 2019 this coming January, so we'll be keeping our eyes peeled for more info over the coming months.
Google Pixel 3 and Pixel 3 XL hands-on preview: Screens worth staring at
Get the Android Central Newsletter
Instant access to breaking news, the hottest reviews, great deals and helpful tips.
Joe Maring was a Senior Editor for Android Central between 2017 and 2021. You can reach him on Twitter at @JoeMaring1.
Anything to avoid looking at Android's light theme... This could be a huge boon for visually impaired and blind people, though they won't target it that way because it's not very sexy lol. Colour me intrigued.

Duplex will be a huge boon for vision impaired people too. Duplex will take the inherent power of the Google Assistant make it even better.

Great for using your phone in public.

Google Assistant doesn't work well for me even when I speak slowly. Essential should focus on getting the more important characteristics of a smartphone right this time.

I agree. They should focus on being the spiritual successors of the Nexus line (great hardware, great price, essential features) since Google is convinced they can charge over 1k for vanilla Android.

Yes I agree so much with this.

Except it isn't vanilla Android is it? You think duplex is coming to a phone near you anytime soon? Or those awesome cameras? Duplex isn't a part of Android, it is a part of the Pixels.

I wish the best of luck for them but I think this is a failed idea. Nobody pays $1k on average for a device to not look at it.

Who says it's going to cost an absurd 1k?

Essential, fix me a sammich

In other news, Essential is developing something that Essential engineers want to make, which appeals to 37 individual consumers. Should be another home run for the Essential team.

And the visually impaired, which are many. But... you know... let's not think logically about it or anything...

Love my Essential PH-1, but my knee-jerk reaction to this idea is that it's ill-advised and too early in the AI realm for something like this. Of course, I reserve the right to change my mind when/if it comes to market and I know more about it. The PH-1 was panned at launch, along with their ill-fated 360-degree camera attachment, and these misfires killed any chance Essential had to make significant market penetration with these initial devices. Since then, however, Essential's reputation, both for the PH-1 and the company as a whole has grown by leaps and bounds. The phone's camera, through software updates and an improved camera app, is no longer an issue. And other than Google itself, Essential is without peer when it comes to timely OS updates and patches. Plus I can personally attest to their top-notch customer support, which is the most responsive I've ever experienced. I'm of the opinion that, given their improved reputation in the market, they would have been better served to resume development of the PH-2 and position it in the mid-range market to compete against the likes of OnePlus. People are no longer blindly accepting the flagship status quo given the capabilities of these new mid-range offerings. JMO.

Agree, unless they've got a way to cram *reliable* voice control into the phone itself without having to rely on the cloud to operate, the new product is not going to turn out well. They learned a lot with the PH-1 that could have made for a stellar PH-2.