EE, Vodafone to acquire Phones 4u stores and safeguard hundreds of jobs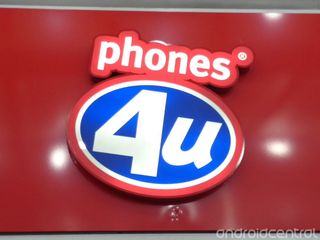 UK retailer Phones 4u has recently gone into administration, announcing the closure of 700 stores and placing 5,600 positions at risk. Luckily for those involved, there is - at least - some light at the end of this tunnel with multiple parties picking up stores and absorbing employees, including both EE and Vodafone.
EE is set to acquire 58 stores from Phones 4u, safeguarding 359 jobs. On Friday, Vodafone announced the company would take over 140 Phones 4u outlets. While UK mobile operators and Dixons Carphone (Currys PCWorld) are looking to absorb Phones 4u property and take on employees who face losing their jobs, there are still thousands of jobs still at risk.
It's reported that the closures came about due to mobile operators limiting the amount of hardware and contracts sold through third-parties to bolster earnings. Carphone Warehouse remains as the sole third-party retailer of wireless phones and service in the UK.
Source: BBC
Get the Android Central Newsletter
Instant access to breaking news, the hottest reviews, great deals and helpful tips.
Run them out of business and then pick over the cheap remains.

Just what I was thinking Posted via Android Central App

yep and you know P4U has some popular places in some busy area so they can grab a bargain on them places Posted via ACA on my LG G3

Exactly! « Posted via my HTC One M8! »

Every article I read about this say that Vodafone and EE have "safeguarded" X number of jobs. I guess they safeguarded them in the same way a a mugger safeguards his victims' lives by not stabbing them once he's stolen what he wanted?!?

Precisely. Posted via the Android Central App

Yeah, this is an incredibly dubious move. It seems like this should be covered by some kind of anticompetitive business law... And the idea of EE and Vodafone "safeguarding" jobs like a couple of white knights is laughable. They've saved no jobs, they've simply cost a few less than we initially thought. Posted via Android Central App

Agree with this, and all of the comments above too Posted via Android Central App

That's at least morally wrong, I know round here ee won't be taking over the shop across from it as its too quiet as it is in my area. Posted via Android Central App

Hmmm, while I'm glad for the ex-Phones4u staff, I think EE, Vodafone (and potentially O2) have acted without morals here, although I don't know whether there is more going on behind the scenes than is in the news. They force a competitor (and customer) out of business and then they expand themselves on the 'carcass' of their victim /erstwhile customer...

Wait waIt, let me get this right. Cell providers (EE, Vodaphone, etc...) drive Phones4U out of business by not allowing them to sell phones/contracts for their networks; then buy up portions of it while it's in "administration"? How is that remotely legal? At the very best that is so immoral it's sickening.

This is a super shitty deal. It's legal, but morally corrupt. EE and Vodafone are behaving with very few scruples. Posted via Android Central App

Very sharp practice, picking over the bones of phones4u like greedy Vultures.

And that is why everyone should go over to Three.

I'll be doing that in the next couple of weeks... Posted via Android Central App

Why am I not buying EE and Vodafone's reasoning?

Vodafone and ee dining on their victims flesh like the animals they are. Take down the pray and take all the good bits. That's the problem with business nowadays there are no morals, just money hungry suits at the top Posted via Android Central App from my moto x

This sounds like it was the whole idea in the first place
But now at least Vodafone and EE will have staff thar do no the difference between a iPhone and Android but I can't see those staff working for Vodafone or EE some how sounds like they have been after the stores and customers
My local car phone warehouse has taken on six out of eight members of staff from the phones4u store Posted via the Android Central App

Vultures, they circled and now they are pecking at the carcass. Revolting lot, they might employee a few but what about the office and support staff? Posted via Android Central App