EE 4G LTE network extends into rural Cumbria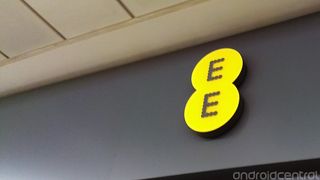 (Image credit: Android Central)
UK mobile operator EE, currently the country's most widespread 4G LTE network, has announced that it's switched on 4G service in parts of rural Cumbria as part of its latest network expansion. The carrier says this gives 2,000-plus residents and businesses in the area access to its 4G LTE services, and it's launching new promotional prices for 4G mobile broadband designed to let Cumbrians use LTE as their main means of connectivity.
From Dec. 6 to Jan. 31, customers in Cumbria will be able to get 20GB of data for £25 per month, after which it'll cost £30. Additional data rates are 2GB for £7.50, 4GB for £10, and 10GB for £15. The service comes with a Huawei B953 LTE Wifi router for £69.99. And while the rollout is targeted as a replacement for a traditional fixed connection, EE phone and tablet customers in the area should also benefit from the expanded coverage.
The launch of 4G LTE networks in the UK has gone hand in hand with promises from providers to do more to extend access to those outside large towns and cities. To that end EE says it plans to light up 4G across another 100 square miles of Cumbria by March 2014, and bring it to Cornwall's Bodmin Moor by summer 2014.
Press Release
EE SWITCHES ON SUPERFAST 4G BROADBAND IN RURAL CUMBRIA
· Over 2,000 residents and businesses in rural Cumbria to have access to superfast home and office broadband for the first time, powered by 4G from EE
· New rural wireless broadband plan offers best value data package with 20GB for £25
· Roll out demonstrates economic advantage of using wireless technology to bring superfast broadband to rural Britain
· Government and regulatory policy that supports investment critical to advancing rural 4G roll out
Monday 11 November, 2013 – EE, the UK's most advanced digital communications company, has switched on its expanded 4G network in rural Cumbria, bringing superfast home and office broadband to over 2,000 residents and businesses for the first time.
The rollout follows EE's 4G commercial trial in the area of Threlkeld, where users experienced average speeds of 24Mbps. The network has been extended to cover more than 100 square miles, spanning from Wigton in the north to Threlkeld in the south.
New rural wireless broadband data plan
From 6 December, residents and businesses covered by EE's 4G network in Cumbria will be able to sign up to a great value 4GEE wireless broadband data plan for their home or office, with a promotional offer of 20GB for just £25 per month*. Additional data bundles are available at 2GB for £7.50, 4GB for £10, and 10GB for £15.
The new wireless broadband plan comes with a home-based device for £69.99. Connecting to the new service is simple - customers just need to plug in the router and turn it on. The device, the Huawei B953, has high-gain internal antennas and is designed specifically to suit the needs of rural locations. It delivers a Wi-Fi broadband signal, just like a being connected to a fibre broadband network.
EE CEO Olaf Swantee said:
"Our goal is to enhance the digital lives of everyone in the UK, and this major expansion of our superfast broadband service in one of the most rural and geographically challenging areas of the country is a big step towards that goal.
"There is a lot of work to do in 2014 to reach more people and businesses in rural areas, and investment-friendly government policies have an important role to play in supporting this, but today we have proven that 4G has the capability to connect this country's unconnected, and EE intends to continue to be at the forefront of that."
Rural economics – 4G vs. Fixed
4G presents a new opportunity to enable superfast mobile broadband in areas where the provision of fixed services has been largely ruled out due to economic challenges.
The Northern Fells Broadband Group estimated that the cost of delivering superfast broadband to this area of Cumbria using fibre would be around £10m. The cost of delivering superfast broadband wirelessly using 4G is approximately 10% of this.
At the Cumbria network launch event taking place today in St John's in the Vale, Olaf Swantee will highlight how 4G makes connecting rural Britain a possibility, and will detail some fundamental policy considerations necessary to improve rural coverage in the final 10%:
· Reduction of the proposed spectrum Annual Licence Fees, currently set to increase for EE by £82m per year – the cost of delivering superfast broadband to an area the size of Wales
· Re-balancing of Government's broadband funding to increase support for wireless technologies for rural communities, rather than maintaining focus on fixed infrastructure
· Broad reform of the Electronic Communications Code to reflect the importance of mobile to users, and the challenges that mobile operators face in maintaining and upgrading networks
Future plans for superfast rural 4G mobile broadband
EE plans to roll out 4G across the rest of Cumbria (approximately another 100 square miles) by March 2014. By summer, EE also plans to bring 4G to Bodmin Moor in the South West of England, an area that has never been serviced with superfast broadband.
A year into the launch of its 4G network, EE already has 1.2million 4G customers, and a 4G network that covers approximately 60% of the population. As announced in October, the UK's first 4G network is now also live in Carlisle, in north Cumbria – one of 131 towns and cities covered by the superfast mobile network.
EE's 4GEE plans are available from £18.99 per month and offer data bundles up to 50GB. Last week, EE launched the world's fastest mobile network in London's Tech City, offering theoretical maximum speeds of 300Mbps. 4G from EE is being rolled out to meet the digital needs of all types of users, everywhere in the UK.
For more information, please visit ee.co.uk.
Alex was with Android Central for over a decade, producing written and video content for the site, and served as global Executive Editor from 2016 to 2022.
Finally. Looks like 4g finally coming to Cornwall! Posted via Android Central App

Pointless article! Posted via Android Central App on my VZW 4G LTE GS4

If you don't live the the UK obviously... Like you.... Posted via Android Central App

Most things US related are pointless to us in the UK. we have the decency to be able to live alongside it quietly! Posted via Android Central App

Not pointless at all! There are plenty of rural customers here in the US who depend on things like Verizon's mobile Jet Pak as their primary source of internet because that is ALL THAT IS AVAILABLE to them. Ask me how I know. I currently pay Verizon $50 monthly for 5GB of data so that I can have some kind of connectivity for my home. Even factoring in the exchange rate, that's a pretty damn good price for the amount of data you're getting. Verizon and other companies in the US should pay attention to this. It's a bigger market than they know.

if they did that deal ( £25 for 20gb) other than that area I would of finally signed up to EE, because am paying the same on three for only 15gb oh well one less customer for them Posted via ACA on LG G2

Why not switch to the rolling monthly tariff? £12.50 a month with all you can eat data Posted via Android Central App

It would be good if their coverage was as good as they like to make out. In Carlisle, the 3G is at times faster than the 4G unless you're in the centre and the map has places that tell you to expect good 2G/3G/4G indoors and outdoors and there's barely 2G service. I hope their rural rollout is better than what they've done in the city.

I was in the middle of Glasgow (wide 4G coverage reported) and neither my personal phone or business phone hooked onto the 4G network all day. The 3G (H+) was terribly slow too. Been disappointed with there service recently. Coupled with the slow rollout in Scotland can't say I'm too impressed right now. Posted via Android Central App

Given that some of the places mentioned in the press release can barely get a strong 2G signal (on any network) or even FM radio I don't hold much hope for super-duper lightspeed 4G; the topography just doesn't support it. Posted via Android Central App

News like these tell us that we are not too far to reach the generation when the download speeds will be so high that you just don't need to wait for the download, just press 'download' and the file is in your storage. RESPECT THE TECHNOLOGY

file sizes always seem to increase to balance out. Years ago we sat waiting hours for a 5MB MP3 to download, now we wait just as long for a 1GB MP4 to download.....

Well im with EE and i get H+ when out and in most area's, that said its not as fast as i would like and i patiantly await 4g although im expecting that to be 3-4 years as im in the far north of Scotland. We are the forgotten bunch up here lol Posted via Android Central App

What the hell is this all about, EE has some really screwed up rollout plans, they bring 4G to an area of the UK which is mostly fields and sheep. Yet They seem to forget that there is more to Scotland other than Glasgow and Edinburgh. There is only another 4.5 Million people they're forgetting about. And don't get me started on the lack of 3G coverage a mile outside of the city I live in. Get a phone service that's usable to the majority before doing these token gestures of 4G for the local sheep.
Android Central Newsletter
Thank you for signing up to Android Central. You will receive a verification email shortly.
There was a problem. Please refresh the page and try again.