Editors' roundtable: Weighing in on Android 4.3, Chromecast and the new Nexus 7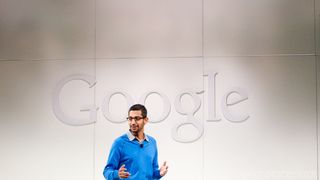 This morning during a (relatively) intimate breakfast in San Francisco's Dogpatch neighborhood, Google unleashed what we'll call an Android fan trifecta. We got Android 4.3, an updated Nexus 7, and the Chromecast HDMI dongle, which takes the place of the aborted Nexus Q living-room media device. Not a bad summer haul at all.
Android 4.3 is available now on Google's Nexus devices, and we should see it hit others relatively quickly. The Nexus 7 goes on sale July 30. Chromecast is available now in several channels and should start shipping directly from Google by the weekend, if not sooner.
Today, Google announced three things. And we think things about these things. Read on for thoughts from myself, and editors Jerry Hildenbrand and Alex Dobie. Plus, we've got writer Casey Rendon, forum moderator leader Kevin O'Quinn, and our man on the west coast, Andrew Martonik — who covered the event for us on Thursday — on Android 4.3, the new Nexus 7, and Google's Chromecast.
On Android 4.3 ...
Phil Nickinson: I've said it before, I'll say it again: There are no "minor" updates. Don't look down on under-the-hood changes. Google's got the basic UI fairly well dialed in. (Though I wouldn't rule out some sort of tweak later this year.) It's better at this point in time to improve how well things work more often than change the way things work. Bluetooth Low Energy could well turn out to be a game-changer, depending on how well (and how quickly) it's implemented. And any overall improvement in graphics performance is a good thing.
And Googlers deserve some major props for getting it pushed out onto Nexus devices and AOSP — and Nexus factory images as well — in a matter of hours (if not minutes).
Alex Dobie: It looks the same, but it's faster and it does more stuff. Don't be fooled by the fact that it looks almost exactly like 4.2 — Android 4.3 gives away some vital clues about areas of future focus for Google and Android. Wearable devices — think Glass and the widely rumored Google Watch — are going to be huge in the next year, and Bluetooth Low Energy support means you can connect extra stuff to your phone without killing your battery.
At the same time, iOS continues to lead when it comes to high-profile games. And OpenGL ES 3.0 support will allow Android to gain some ground in graphical fidelity.
Besides those two major "behind the scenes" changes, Android 4.3 brings more buttery performance and the kinds of important little optimizations that lead to a more reliable, more mature mobile OS.
Jerry Hildenbrand: Plenty of folks will be saying that the Android 4.3 update is a minor one, because on the surface it looks much like Android 4.2 and 4.1 did. We're at the stage where Google no longer needs to refresh the user interface, and focusing on what's under the hood is what they've done with 4.3. The important changes to me are the OpenGL ES 3.0 support, which means better and more robust APIs for developers to build apps that look better and run smoother, and the new "Parental controls" in the tablet multi-account option. Nobody wants their kids or little brother to run up their credit card because Candy Crush Saga tempted them with extra lives, and this is going to help. Allowing parents to more easily control how their little ones can use a device like an Android tablet means that more little ones are going to be exposed to them. We need little nerds to grow up with Android-powered devices in their hands.
Andrew Martonik: Although I haven't had my hands on Android 4.3 for long at this point, I'm looking forward to everything in this release. Building on multi-user support to add restricted accounts is a big deal for parents and those who lend out their tablet — and although it isn't a feature that will "wow" everyone, the people who need it will love it. Back-end improvements in OpenGL and Bluetooth Low Energy also don't mean a whole lot on day one, but they open up serious possibilities for developers (and device makers) going forward. Google took a lot of time at its event today to explain how much OpenGL ES 3.0 means for graphical performance on Android, something that hasn't always been the greatest strength of the platform historically.
Best of all Google is pushing out the Android 4.3 updates to Nexus devices starting today, which is exactly how it should be done (if you know a Googler, buy him or her a beer this weekend). This update brings a nice bit of polish and tightening of the screws to Android, and I can't wait to get deep into the new features of this platform release.
Kevin O'Quinn: While on the surface things look the same, under-the-hood changes should not be brushed off. Bluetooth Low Energy will be great for always connected devices, like Glass and the oft-rumored Google Watch. Historically Bluetooth Low Energy has been released only on non-AOSP devices, so seeing it in Google's build of Android means it will probably be a standard feature for all future Android devices.
OpenGL ES 3.0 is a big deal for gamers. It should open up capabilities for developers to make even more immersive games than we're currently seeing. Things like better shadows, more particle effects, and other eye candy that we all like to see in games. The UI getting even smoother is also a benefit here.
Parental controls are also a welcomed feature, and one that any parent will tell you has been sorely needed on Android. Now we can just hand our tablet to our kids and not have to worry about them spending money, or watching shows on HBO Go that we don't want them to see. This will make me far more comfortable as a parent when letting them use my tablets.
Casey Rendon: I've been waiting for Android 4.3 since Google I/O a few months back, and am very excited about this morning's announcement. This time around, the release of the next version of Android seems much more coordinated and organized. Almost immediately after the announcement, the Android 4.3 factory images for Nexus devices were on Google's servers ready for download. This saves Nexus users much scrambling and waiting for those slow OTA rollouts to begin. Instant gratification — thanks, Google.
As a Nexus 4 owner, I'm very happy about the touchscreen improvements in this release — my favorite phone just got better. Updated Bluetooth has been a long time coming; I'm looking forward to toying around with lots of Bluetooth accessories that can stay paired without killing my device's battery. Also — full HD Netflix! The new DRM APIs will no doubt bring our mobile devices closer to providing the same experience as laptops and PCs.
While some things about this update and previous Android updates make the OS just more "up-to-date," the new OpenGL ES 3.0 is Android leading the way into a new standard. Gaming potential for Android just got a huge boost. I can't wait to get my hands on a new Nexus 7 and the games that take advantage of OpenGL ES 3.0.
On the new Nexus 7 ...
Phil Nickinson: A great tablet gets even better. I'm loving the addition of stereo speakers. That's been sorely missed on the Nexus 7 (and any number of other tablets.) I haven't ever wished I had a rear-facing camera on the Nexus 7 (or any other tablet, for that matter), but better to have it and need it than to need it and not have it. I'll have to withhold judgment on the overall design of the thing until I get to hold it, but chances are it'll be just fine. And LTE. Finally.
Jerry Hildenbrand: I love the 7-inch form factor. I use a tablet strictly as a content consumption device and have found that holding a 10-inch tablet while laid back in a lounge chair or in bed isn't nearly as comfortable as holding a 7-inch tablet is. That being said, the thing I do most on my tablet is read e-books, so the bump in resolution will be a welcome change. I'll miss some of my Tegra-enhanced games, but I think I'll get a lot of use out of the new Nexus 7.
Alex Dobie: LTE has been a long time coming, and for me, the 4G version of the tablet will be the one worth waiting for. It's a significant step towards the next Nexus phone sporting unlocked LTE, as well.
A slimmer, lighter and sleeker form factor is welcome, especially when you see how bulky the old N7 is compared to the iPad mini. Google's conscious decision to make the new Nexus tablet "jacket pocket friendly" is a smart move too, as Apple's miniature tablet suffers from being just too wide to allow for easy portability. The combination of faster performance, a narrower body and LTE support make the new Nexus tablet a tempting proposition, and it'll be interesting to see how Apple responds.
Andrew Martonik: This is a serious update inside and out for the Nexus 7. Google knows how important the original N7 was for pushing tablet apps and expanding the Android ecosystem to larger form factors, and it is taking the new Nexus 7 just as seriously. On the hardware side Google (and ASUS, really) have stepped up its game in terms of fit and finish, with subtle touches like the screen glass that rolls off the edge to the sides — this is absolutely top-notch hardware. The device is also thinner, lighter and narrower — everything that's important for one-handed use.
On the inside you basically have the Nexus 4's internals, and together with a new 1920 by 1200 screen I have no issue with the $29 bump in price on the base model. Google also deserves a serious pat on the back for broad LTE support in one SKU, which has me hopeful for LTE Nexus devices going forward.
This is a device worthy of the "Google" and "Nexus" names printed on the box.
Kevin O'Quinn: Leading up to the announcement this is what had me most excited. I use the Nexus 7 all the time, for all kinds of things. Ok, mostly consumption and gaming. It's far easier to browse the web on a smaller tablet, and holding it in front of me while sitting on the couch or laying in bed is just comfortable. Google has stepped it up with the new Nexus 7. A much faster processor, higher resolution display, and stereo speakers are geared towards those that consume media on their tablet. Netflix will be streaming in 1080p, so video and audio will be much better than the outgoing model.
Casey Rendon: I love my (old) Nexus 7. It was a huge deal when it was announced, bringing Jelly Bean with it. There were noticeable shortcoming with that tablet, however. Especially after using later Nexus devices like the Nexus 4 and Nexus 10, the original Nexus 7 began to feel sluggish.
The new Nexus 7 addresses this problem with a faster CPU, faster GPU, and double the RAM. Add to that a rear camera and dual speakers, as well as a thinner profile both in width and height, and you've got yourself a winner. One of the most popular 7-inch tablets just got its creases ironed out, and will be a strong competitor for some time to come.
On the Chromecast ...
Jerry Hildenbrand: Goodbye Nexus Q, hello Chromecast! This is what I'm most excited about of all the things we saw Google announce at their San Francisco event. Being able to play movies and music from my Google account through my living room entertainment center is something I really enjoy, and it certainly looks like the Chromecast is an easy way to do just that.
I'm also pretty excited about the APIs that go along with it, and what cool things developers -- especially web developers -- can do with them. It may not be Android in your living room in a technical sense, but the features it offers are exactly the ones I've been waiting for.
Alex Dobie: This is the anti-Nexus Q -- ten times as useful for a tenth of the price. Unlike Phil, my own Nexus Q has gathered dust for close to a year, it's usefulness diminished by its insistence that I do everything through Google's services, even when some of those services weren't available outside the U.S.
Chromecast is an impulse buy, and it's low price, combined with the fact that it works with just about everything, could make this little HDMI stick a runaway success. For $35, every screen in the world can become an accessory for your Android, iOS, Chrome and Windows devices.
Andrew Martonik: Having never spent time with the Nexus Q in my own living room, I'm extremely excited by the potential of a cheap dongle that brings the best content from my phone, tablet or laptop directly to the big screen. At just $35 with Youtube, Play Music, Play Movies & TV and Netflix support on day one, the Chromecast is a no-brainer purchase even if you just plan to use it for one or two things.
I see huge potential for the Chromecast going forward. With such a low barrier to entry on the consumer side and simple ways for developers to integrate "cast" functionality in their own apps, we could see some really interesting things happen in this space by the end of the year.
Phil Nickinson: I think my Nexus Q has been looking at me funny, like it's known this day was coming. For as much as I loved the Q — the function as well as the design — that little sphere was simply too expensive to be viable. That's not to say it was a bad product. There's a place for ridiculously high-end. Just not in this case. As exciting as it is to regain the Q's streaming functionality, perhaps even more exciting is the prospect of the Chromecast SDK, and what other apps and services we might see take advantage of it. One-on-one Hangouts on TV, anyone?
Kevin O'Quinn: Leading up to today, the new Nexus 7 is what I was looking forward to. After seeing the event, this is what has me most excited. Google has taken what they started with the Nexus Q and made it better in every single way. It streams everything the Q did plus some, and adds a few surprises. Want to view a web page on your tv? No problem. And by-the-way, you can choose which tab to show. That's really cool. Making playlists on Youtube to watch on your tv. This is most of what I want to be able to do with a media device built in to a single product. Netflix support is a bonus. The fact that it's only $35 is icing on the cake. Since Google is releasing an SDK to complement Chromecast, it will only get better with time.
Casey Rendon: A Nexus Q for $35? Yes, please! At this price point, you really can't afford not to buy one — especially those of us who love tech gadgets (which is probably anyone reading this). The seamless multi-platform integration is very likely to make the Chromecast a must-have tool in the average living room, bedroom, or any room with a television.
Not depending on a mobile device or computer to stream content to a television should be huge for functionality, and the "it just works" factor. That is the real key to reach a widespread user base, and Google know
Get the Android Central Newsletter
Instant access to breaking news, the hottest reviews, great deals and helpful tips.