Editor's Roundtable — how we enjoy reading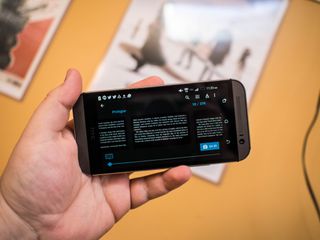 One of the cool things about ebooks is the sheer number of ways you can consume a book. Whether you're jumping between device with cloud sync, ePaper all the way with a nice standalone device, or you lay across your bed with a Chromebook tilted on its side (hey, no judgement here), the ability to access all of your books wherever you are is an incredible feeling. At the same time, having a physical book to hold is a timeless experience that doesn't require power or internet. Since we're all pretty much plugged in 24/7/365, it seemed kind of obvious that the AC editors would all use some kind of gadget to get some reading in, but there's some impressive variance in how we all get access to and read our books.
READ MORE: Editor's Roundtable — how we enjoy reading
Alex Dobie — Smartphone first
I carry way too many devices as it is, so I've never really bought into a dedicated gadget for reading. When I do find the time to read — which admittedly isn't as often as I'd like — I'm finding myself switching between my primary phone and the Nexus 7 (2013) tablet. Right now I'm bouncing between the Samsung Galaxy Note 4 and Nexus 6, two devices with big, high-res screens that are great for reading. And the fact that both use AMOLED displays means that I can use Google Play Books' "night mode" to save battery power and read more comfortably in the dark.
On the Nexus 7 I normally alternate between Play Books and the Amazon Kindle app. It's easy to shut off almost all distractions on the N7 thanks to Lollipop's interruptions system — that and the Nexus's size makes it a great stand-in for a dedicated e-reader.
Andrew Martonik — Mostly Online
I read so much every day while working that my usual relaxation is a combination of music and podcasts, but when I do choose to read for pleasure it's online. My Nexus 7 or Shield Tablet usually does the trick (along with a couch and a beverage), and I primarily use the Press app to read from my custom list of RSS feeds on a variety of topics.
I like the simple interface that strips out all of the nonsense on the pages so I can just get to the content, and it's easy to scan through and find just what I want to read. Because I switch devices so often I also like that my read/unread articles can sync up with the Feedly backend and I won't lose my place.
Phil Nickinson — Physical books are cool
I miss reading. Long before I started to read for a living, not a day went by in which I didn't have a book in my hand. And to date myself even further, that'd be be an actual book. With paper. And sometimes a spine. There's still something about holding a hefty hardback that just makes the words feel that much more important.
I don't read anywhere near as much as I used to, however. And I've mostly traded the bulky book for the convenience of the tablet. Being on the road as much as I am, you pretty much have to. But we've still got a decent library at home — my wife has a weird habit of reading more than one book at a time, something I'll never understand — so it's not like I never turn pages anymore. Books still give a more satisfying experience, and they're easier on the eyes.
When I do read on a tablet, it's the Nexus 9. I prefer the 16:9 aspect ratio of the Nexus 7, but the times they are a changin'. I generally use Google Play Books, simply because it's there, but I have no problems loading up Amazon or even Barnes & Noble if the need arises.
Jerry Hildenbrand — No more Paperwhite
I make it my goal to read two books per week. It's something I enjoy, and I always find time to read each day. Until recently, my primary reading device has been a Kindle of some sort of another, but I've decided that I don't have the time nor the desire to keep one more device charged and ready.
While I miss my Paperwhite, I'm satisfied with the Google Play Books experience on the Nexus 6. I can import my DRM free books into the app and read them, or I can purchase books from Google's ever-expanding content library. The Play Books settings and controls give me what I need to keep things easy on my eyes, and the Nexus 6 provides a great experience on that big screen. Of course, I also have the Kindle app installed for books I purchased while chained to Amazon, and it works nicely on Android so I've no complaints.
Russell Holly — All over the place
I split my time pretty evenly between physical books and digital books still, and unfortunately for me my digital books are all over the place. I've got a couple in the Kindle app, a few dozen in the Google Play Books app, and a few living in the Kobo app. Since each of these apps has their own fun way of implementing DRM, I've not yet taken the time to convert everything to ePub. When I do, though, I'll probably switch to using Moon+ Reader for all of my digital book consumption.
As for where I read, while I love my Kindle Paperwhite I find myself more often than not just using whatever phone I have on me at the time. Recently that has meant the 2014 Moto X and OnePlus One, and generally speaking I don't notice a difference in reading between those devices despite the resolution difference.
Get the Android Central Newsletter
Instant access to breaking news, the hottest reviews, great deals and helpful tips.