From the Editor's Desk: Call me, maybe?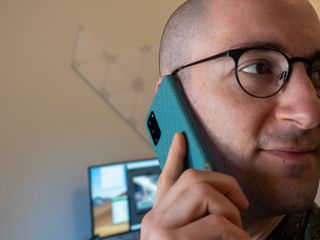 (Image credit: Daniel Bader / Android Central)
"Do you mind if I call you?"
It was a simple text, but last Saturday, before most of North America was told to stay inside and only a few days after we learned what social distancing was, it hit me pretty hard. I don't really call my friends that often — we text, or use WhatsApp, or respond to one another's Instagram stories. Increasingly Telegram, too. But now we call.
The change happened quickly, as if people were breathless and needed to refill their lungs with the spoken word. Friends I haven't spoken to in months, years even, wanted to meet my daughter over Skype, or Duo. Like they may never get another chance.
I can't really describe the unease of the last week's daily routine without manifesting a knot in my stomach: wake up, check the numbers. Get the kid breakfast and try to put on a happy face. Make coffee, start work, and recreate a semblance of normalcy. But nothing is normal right now, is it? We're all stuck, pretending that, even sequestered at home, we're still progressing towards the same goals. The reality, though, is that we're just trying to wait this out.
So we do what's natural: we talk. In the absence of physical closeness, we establish the next-best-thing. We text, we write emails, we check in on Instagram or Facebook, but most of all, we call. We try to recreate what we've lost in the only way we know how, and we do it naturally, without really thinking about it.
I've really struggled to balance my masochistic need to know every small detail of how things are going wrong with the desire to free myself from the maelstrom, to disconnect and try to focus on the people I do have near me, my wife and daughter. (And my dog, who is a Very Good Pup.) But the need to reach out is strong, and it's relentless, and despite my predilection for interiority, I can't help but want to be around other people. So I call.
I've also been listening to a lot of podcasts, both about the COVID-19 pandemic and about literally anything but, depending on my mood. The comfort of conversation in my ear has been gratifying, from my morning dog walks with The Daily to whatever brilliant album Dissect is, well, dissecting at the time. I try to listen to every Reply All (and if you haven't listened to episode 158, do it right now) and This American Life, and the latest season of Invisibilia has been incredible.
One of the prevailing pieces of wisdom going around the internet is not to waste the time you have. Take this downtime and make the best of it, they say. If you can't work, learn a new skill; if you're stuck at home without the amenities you take for granted every day, find — even build — alternatives. There is well meaning in these epithets, the same tone that sells millions of airport books with F*ck in the title, but I wouldn't blame anyone for ignoring the imploration to dig up hidden nuggets of productivity from the excrement of this very bad situation.
I'm scared, and I'm certainly not scared to admit it. I'm worried about the health of my family, of my friends, of the economy and, not a little melodramatically, the very fabric of our shared society. I don't think it's alarmist to say that this is unprecedented, and that, like few other events in our lives, we're all going to remember what we were doing, or not doing, when the virus hit. The main difference is that this time there's the internet, and a shelter-in-place order, and no finish line.
If you're new to working from home, welcome. We've got a whole section of WFH content that I hope helps you figure out how to make the best of this new reality. Everyone at Android Central has worked exclusively from home offices since the beginning, so it's not really an exaggeration to say we're well prepared for this. At least for the work part of it. The rest is still new for us, as it is for you, and we're dealing with it the best we can.
So instead of learning a new language (which is great!) or starting a new podcast (listen to ours instead), why don't you take the time to call the people you've been meaning to, or dreading to, for the past few years. It'll make you feel better, I promise.
Get the Android Central Newsletter
Instant access to breaking news, the hottest reviews, great deals and helpful tips.
Daniel Bader was a former Android Central Editor-in-Chief and Executive Editor for iMore and Windows Central.
'I don't think it's alarmist to say that this is unprecedented' Hardly unprecedented... Spanish Flu, among several others?

Indeed. Although hopefully it won't be as bad as that 1918 H1N1 outbreak. We really should have learned more from the last SARS outbreaks in the rally 2000s... And, to be honest, the Chinese government should have been far more responsible with details about the outbreak. Although it is fair to say it's unprecedented in most of lifetimes... Even those original SARS outbreaks were much more contained, although the mortality rates were very similar.

Well, we are in different times. I hope, and pray the world learns from this. meaning, work life / home life balance. Working from home should be the new norm for any "office" worker spending 80-90 perecent of their time on a computer. We have to take back our lives from the corporate greed. We are sitting at home, I am working on starting my new businesses, and my wife is now working from home in her home office. We are enjoying the time together with our son who has autism. This is a bad way to get some more enjoyment of life. Stay safe and stay home everyone. Have fun with your technology. this is the reason we have all this cool stuff.

I work at a retail essential store so my norm is staying on task with making sure my team and I are stocking daily everyday. It is not easy being at the front end of seeing people at both their best and worst behaviors. But it is what we have to do right now for people to have what they need.

The work I do is essential work in the oil and gas industry, but our numbers are being reduced due to COVID-19, so the potential as a maintenance contractor is day to day. I work in an extremely dangerous environment every work day, and safety is critical. Working compressed work schedules of 7 on, 7 off 12s is the norm, and in normal times there is plenty of quiet time, and I miss the social activities I enjoy. COVID-19 is serious, and it is early in outbreak. I do question whether or not the world is prepared for 7 or 8 months of social isolation... My guess is no. People are scared and angry right now, but that will likely move to acceptance within 6 weeks that COVID-19 isn't going anywhere any time soon. In America, the political blame game is par from the course, which is perhaps surprising given Americans faith in private, for profit health care....ok, there is a federal election in November, political blame games are par for the course. Opinions are like something something, everyone has one.... But I find a lot of logic in this article 👇 National Post: Stopping COVID-19 could require eight months of 'aggressive social distancing,' outbreak modelling shows
http://nationalpost.com/health/could-the-covid-19-crisis-mean-well-be-so... I do agree Daniel, cell phones should be used more for calling friends, rather than much more impersonal text....what, the next best thing to face to face body language is verbal inflection in a voice.

Yeah, been a big change for me. Even people at work hug me and strangers will walk up and just start talking openly or ask to sit at my table if I happen to be alone. There's a few people I was just waiting for our schedules to clear so we can go to the movies or hang out for lunch. Those days are over, but at least I get personal interaction at home and the "how you doin?" from friends. Northern Arbiter is right: Face to face is best, voice is second, but texting is the WORST! Just a couple weeks ago I lost someone I thought I was close to, all because of misunderstood texts and her mother blowing things up worse.

Not everyone uses social media to interact with their friends and loved ones. Unbelievable it's gotten to that point for many.

Yeah, it's like "Can I call you?", and they respond with "Why? You're talking to me now?".
It's not the same.