From the Editor's Desk: Is Android 12 done or not?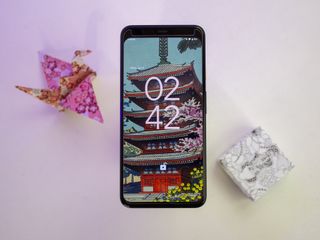 (Image credit: Nick Sutrich / Android Central)
Android 12 — or "Snow Cone" if you prefer — officially launched October 4. But good luck finding an official update on any existing phones, outside of public beta builds for Samsung and OnePlus devices. So instead, Google's official announcement of Android 12's release to the Android Open Source Project (AOSP) states:
It's highly unusual for the open-source release of a new version of Android to not be accompanied by official updates for Google's phones. Even before the Pixel series, Nexus phones were guaranteed day-one updates when a new version dropped. So what's going on here? Is Android 12 really finished and ready to go, or is Google pulling a fast one?
To answer this, we need to unpick the Android bits of Android 12 from the Pixel bits. And it's clear that the Pixel bits aren't quite done yet. Google has said it's "putting the finishing touches on a special release with Pixel-exclusive and Pixel-first experiences on Android 12." But those are Pixel features. So there's no need to delay the open-source code drop and thus other manufacturers' work on their Android 12 updates just because the Google-specific features need more time in the oven. There's no need for the best Android phones from other brands to wait on the completion of Google's Pixel code.
Those Google-specific features, by the way, apparently include most if not all of Material You, the company's new design language. Sources from two major Android partners have told Android Central that Material You isn't part of the current AOSP release, with a future release — Android 12.1, perhaps — likely to give manufacturers access to Pixel phones' dynamic color-changing features. This is likely why Samsung has built its version of dynamic color in the recently-launched One UI 4 Beta 2.
Though this isn't explicitly confirmed yet, I'd bet that Google's phones will still be first with "official" Android 12 updates. Current Android 12 betas from the likes of Samsung and OnePlus are pretty far from final at present, with incomplete features and bugs aplenty in the most recent builds. These aren't going to be anywhere near stable status by the end of the month when we're expecting existing Pixels to receive an update to Android 12 alongside the newly-launched Pixel 6 series.
Not all new versions of Android are equal. Some change more than others, and some have an easier path to release. For instance, Android 10 and Android 11 were done by August 2019 and 2020, respectively, as evidenced by their highly stable final beta builds and earlier public launches. But Android 12 is a big change.
In addition to the new APIs and features we expect to see with every new OS version, Google is monkey with the system UI — the core look and feel of Android — in a way it hadn't the last significant Android redesign in 2014. Android 12's betas have been rougher, to the point where even the current public "release candidate" build for Pixel phones has noticeable missing features and bugs, as well as a "known issues" section in its release notes.
The result of all this is we have Android 12 having officially launched, except not really. You can download the open-source code and compile it, but that's not the same as over-the-air updates rolling out to consumers. For enthusiasts, that's an unsatisfying situation, though I suspect we won't have to wait long to see what "Pixel-first and Pixel-exclusive features" Google has been cooking up. These should debut alongside the Pixel 6 on October 19.
When it comes to Android 12 updates on non-Pixel phones, we should probably temper our expectations. Given the essential parts of Material You haven't been released to manufacturers yet, it's unlikely any of the big phones getting Android 12 updates in 2021 will receive the same design overhaul enjoyed by Pixel devices. (Given how prominently Material You features in current Pixel 6 ads, perhaps it's not surprising to see Google holding back on allowing other brands to use it.) Instead, expect to see manufacturers following the lead of Samsung with their own color-changing features.
As with Material Design in 2014, the new design language will take time to propagate throughout the Android ecosystem. Android is a big ship to steer, and software design is one area where, although Google exerts more control than it used to, manufacturers still have a lot of leeway.
So Android 12 is technically completed, and the code is available to download. But for the final Android 12 consumer experience, we'll be looking to Google's fall Pixel event in just over a week's time.
Android Central Newsletter
Get instant access to breaking news, the hottest reviews, great deals and helpful tips
Alex was with Android Central for over a decade, producing written and video content for the site, and served as global Executive Editor from 2016 to 2022.
It takes months (at least) for non-Pixel phones to get major OS upgrades anyway. None of them were going to get 12 this year anyway, so what's another few weeks "delay"?

The S21 is in beta 2. It'll be out before the years up.

Entirely possible. It's being quicker every year.

As long as there are BUGS to fix NO version is done! Android (put version here) is still NOT done. This obsession with creating a new version every year is the biggest problem of all!

As I've said before, it's always nice to hear from people who have no idea how software engineering and computer science work lol.

Please explain! You mouth off all the time... As a 23 year experienced Software Architect, I would like to know what your take is... 😂

If the At A Glance and clock widget have anything to say about it, HELL NO, it's not finished!!! Who needs the date and day TWICE on the home screen!? And where is the weather!!??

In terms of public facing customer releasing, this is an utter disaster. It's done they say. But wait .. the biggest part of Android 12 (Material You) isn't in it for 3rd parties. It might come in a TBC build 12.1. No date. Samsung has even coded their own solution. Their own phones (prior pixels, not the unreleased 6) haven't got it. They try and sell it as "finishing touches" for their Pixels. Um ok. They should just have held back releasing until : It's properly done!
It includes Material You to 3rd parties.
It's available on all pixels.
6 Pro is released with it. How hard was that to avoid this complete mess ?

I'm waiting for what I call "Finite Android.".... That is when Android will stop screwing around with cosmetic changes and sub menu changes.... And the only future releases will be security updates. We run apps on phones... This isn't mission control, and year over year Mobile operating changes are just not necessary.

What else is new? Android is a mess, and Google really wants people to think it will be any different with their new 1st gen custom chip?

I've been running the last beta 12 on my 4a 5G and it's awesome! No bugs. Smooth. Looks great!
Android Central Newsletter
Get instant access to breaking news, the hottest reviews, great deals and helpful tips
Thank you for signing up to Android Central. You will receive a verification email shortly.
There was a problem. Please refresh the page and try again.