DoubleTwist updated again, no longer requires payment for podcast streaming [updated]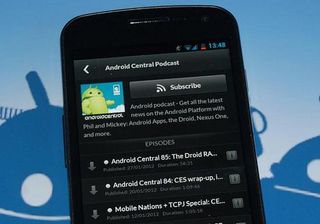 Update: As doubleTwist's Monique Farantzos points out, streaming podcasts is now free, but you still have to upgrade to the premium version to download, subscribe and manage podcasts.
Original: Seems that the guys over at doubleTwist have been listening to the comments from the community. The application has been updated again about a week after they first brought in podcast streaming, to remove the necessity to pay for them.
A lot of you out there weren't too impressed by the charge imposed to unlock the podcast feature. Considering you can sync your subscriptions from iTunes for free if you already shelled out for the AirSync add-on, it seemed a little steep. All that is put to bed now though, as with this latest update podcasts are available for all -- which naturally includes the worlds greatest Android podcast. No word on whether or not they intend to refund anyone who did fork out, but we're guessing that not many of you parted with your cash.
Aside from this, we also get a couple of improvements elsewhere in the app. Fixes come for video and podcast position saving, last.fm scrobbling and general bug fixes. We also get support for the Ice Cream Sandwich lockscreen which is always a welcome addition. You'll find the download links after the break.
Charging 5 dollars was over the top for podcasts. Happy they made it free.

You can actually pause and skip tracks from the lockscreen like Google Music? So it's an API anyone can use? Why isn't EVERYONE doing this?

The changelog only says that streaming podcasts is free. AFAICT, subscribing and downloading is still a paid feature.

I haven't used DoubleTwist in a while. There has to be bookmarking in podcast listening, right? Is there seamless syncing between device and computer so you can begin listening on your computer, sync, and then continue listening on your mobile device? (And vice versa?) That's a feature I really enjoyed with iTunes and my old iPod Classic and I've yet to see it replicated anywhere else.

I just downloaded iSyncr, so far the bookmarks work!
http://is.gd/rQOFML

I kicked it off the phone after the last update. It would sit there running the podcast feature in the background and I could not kill it. I had not paid for or subscribed to podcasts. Uninstall required some file cleanup of what it left behind using memory.

I got a free podcast promo code from Doubletwist thanks to AndroidCentral!!!

I gave up on DoubleTwist.

Why do they think anyone would pay for subscribing to podcasts when you can use google listen, google reader, and any one of the many others for free? I use BeyondPod which at least allows you to inport directly from Google Reader, so people don't have to look for all their favorite podcasts again
Android Central Newsletter
Get the best of Android Central in in your inbox, every day!
Thank you for signing up to Android Central. You will receive a verification email shortly.
There was a problem. Please refresh the page and try again.