Dolphin Browser HD updated with UI enhancements and improved performance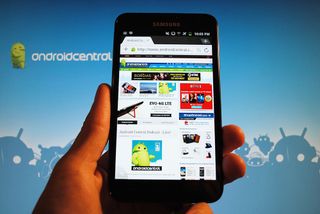 For some folks, using the stock Android browser just isn't something they do. One alternative browser out there is Dolphin Browser HD and its had a fair amount of success on the Google Play Store and they've just rolled out the latest update bumping it to version 8.0 that adds some noteworthy enhances.
Re-designed Dolphin Sonar and Gesture: New interface, design, and easier access to help menu
Menu bar: New design that gives easier access to most commands without having to leave the home screen
Add-on Sidebar: New design that displays both Add-on icons and names
New context menu and long press menu for more efficient browsing
All of that plus the usual stability and bug fix improvements have been included with this release. The addition of visual aids in the sidebar has been a long time coming and is certainly appreciated. You'll find some screenshots and the download past the break if you want to get a better look.
I just noticed the update this morning, I love how you can bring down the tabs now by quickly scrolling up (moving your finger down on the screen).
It was annoying finishing a long article and having to scroll up to the top. I know a gesture would work or you could just open the bookmark bar and load a new page, but the option now just works and is much better.

I have been using Dolphin Browser HD for a while now and I love the changes the update brought. It seems to be a slight bit faster also when it comes to loading pages.

I used and loved the Dolphin browser up until I discovered Boat browser.

I always get FC's from Dolphin on the note. Maybe I'll switch to Boat.

So far I've been unable to find the option of removing the updated Sonar/gesture "button" in the bottom left corner of the screen. Since you used to be able to remove the gesture button from the same spot, I'm assuming it's possible... has anyone found where this is in Settings yet?

click the gesture button and settings is in upper right hand corner. Uncheck enable bottom left button

Press sonar/gesture button, then settings icon in upper right corner. De-select "Enable bottom left button".

For tablets will this open sites by default in full mode or does it go to mobile version?

I would assume it is based on your user agent setting which is generally Android (mobile) by default.

Where's the home button at?

Need to enable it in the settings

Really? Well, that sounds easy. Thankee.

Woot! Freaking love Dolphin!

It does feel cleaner and doesn't yank you off the page to do simple stuff. Dolphin just gets better. Digging it.

The update is ok I guess. I don't like the bright white gesture screen as much as the darker screen of the past but that's a very minor gripe. I also really don't like that the exit button has moved from Menu>Exit to Menu>More>Exit. An additional keystroke is a step backward in my book. Everything else is fine and not much different really than how I used it before. I don't use the voice commands but they really seem to want to shove it at me. I'd be slightly irritated if I liked my gesture button on the right as well but I like it where it is placed so this isn't a negative to me.

I was also a fan of Dolphin HD on both my Evo 3D and my Acer A500. I've switched to Boat browser for both several weeks ago and haven't looked back. What's up with these "water" themed names? Dolphin and now Boat. Anyways, give Boat a try if you haven't yet.

I didnt want to like this, but I have to say I am impressed. And it supports FLASH! Nice. Maybe I will be using this instead of Chrome after all.

Of course it supports flash. Dolphin is just a custom skin/UI on the default Android browser.

Dolphin HD cannot hold a candle to Boat Browser. More people need to know about boat browser. I just tried the latest version of Dolphin and it's unusable compared to Boat browser

The redesigned gesture/sonar button is a regression in my opinion. I am in the habit of tapping the gesture button and drawing the gesture, and it used to be fast. With the new feature, even on my dual core Galaxy Note, there is a noticeable delay between tapping the gesture button and getting the gesture screen, so I tap the gesture button, do the gesture, then the gesture screen comes up and waits for me. I much preferred the old gesture screen, but could possibly get used to the new one, but the delay is very annoying. How is this an improvement? A
Android Central Newsletter
Thank you for signing up to Android Central. You will receive a verification email shortly.
There was a problem. Please refresh the page and try again.