Getting unlocked phones 'right' is hard — and Samsung does it with the Galaxy S20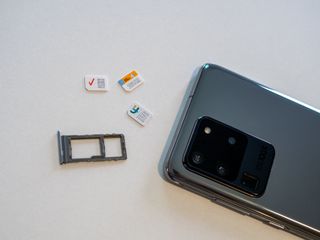 (Image credit: Andrew Martonik / Android Central)
Samsung built its smartphone empire on a series of restrictive, confusing, and convoluted carrier relationships. For years it made bespoke carrier-specific Galaxy S variants with completely different designs at first, and later different specs and radios to fit the carriers' needs. But after paying its dues for several years, it took its position at the top of the Android pyramid ... and unexpectedly became one of the best companies when it comes to selling unlocked phones.
Samsung's launches are, in many ways, confusing, with so many moving parts, but one thing that can't be argued is how well the company handles its unlocked models. Sales, support, network compatibility, and updates are all excellent — and unique among the big companies selling phones in the U.S.
First and foremost, Samsung sells its unlocked phones right from the start of availability — there's no carrier-exclusive waiting period. That's a big deal because the kind of people who are big smartphone fans and want the latest phone right after launch are often the same people who want it unlocked, not from a carrier.
When they go to buy, right at launch or later, they also have a wide choice of retailers. If you want a Galaxy S20, you can go to Amazon (opens in new tab), Samsung (opens in new tab), Best Buy (opens in new tab) or a vast number of other retailers and and buy the exact same unlocked phone. And it's not just one model; you can get the S20, S20+ or S20 Ultra, and in each of their respective colors, from multiple retailers. In the case of the Galaxy S10 series, Samsung even held back specific high-end models from carrier stores, and you could only get them from Samsung's online store directly.
Selling unlocked doesn't mean nearly as much if the number of carriers you can use it on is limited. We've seen this issue most recently with the OnePlus 8 and 8 Pro, which still have a long list of restrictions and caveats in how they will work on each of the U.S. carriers — you can't get 5G on Verizon or AT&T, and miss out on advanced calling on the latter. That's not the case with Samsung's latest phones: compatibility is universal, including both mmWave and Sub-6 5G and advanced capabilities like Wi-Fi calling and VoLTE. It's a truly impressive accomplishment to have a phone with universal 5G considering the wide range of network technologies in use across carriers.
Samsung obviously has great relationships with carriers — both in the U.S. and around the world — and that has certainly helped it build out compatibility. But the important thing here is that it didn't reserve any technologies for the carriers. And you get it all in a single unlocked model, not a range of variants, so you can buy the unlocked phone and know you can take it to any carrier, whether that's right away or a year down the road.
Unlocked Samsung phones haven't ended up being second-class citizens to carrier variants, either, as the company has done a surprisingly good job with software updates. Samsung's one of the best companies when it comes to updating its top-end unlocked phones with monthly security patches, often matching Google's own Pixels on timing. And while it isn't the fastest with full Android releases, it has proven to be reliable in getting its older unlocked Galaxy S and Note phones updated with two major releases. (Its cheaper phones are another story, and not as positive of one.)
Along the same lines, Samsung actually stands by its unlocked phones with customer support rivaling the same level as carrier devices. Carriers often pick up a lot of the burden for customer service on devices, and when you buy unlocked, it can be tough to get the company to back up the purchase for warranty help, exchanges and repairs. Samsung has a huge customer service team, relatively well-regarded warranty policies, and actual physical stores (both its own and partner locations) where you can get phones repaired. That's more than you can get from most companies, and can be a reason for just going with a carrier device.
After being the least-friendly company for enthusiasts who want to buy unlocked phones, it's interesting to see Samsung become one of the best out there. It doesn't need to be this great with unlocked phones, but it is — and I wholeheartedly appreciate it.
Quality unlocked experience
Buying unlocked doesn't have shortcomings with Samsung
The Galaxy S20 builds on Samsung's well-deserved reputation for making fast, feature-packed phones. Its specs are top-notch, and its new camera is strong from top to bottom. Plus, it's available unlocked with no strings attached.
Andrew was an Executive Editor, U.S. at Android Central between 2012 and 2020.
It is all about leverage. Samsung is the 800lb gorilla and the only manufacturer who can dictate terms to the carriers. None of the carriers want to be the only one not selling Samsung phones. None of the other manufacturers has that kind of leverage against the carriers (except Apple). LG, Motorola, Oneplus etc can't dictate terms to Verizon, AT&T, T-Mobile. So they are stuck making special versions only available through the carrier, which won't work on other carriers. Verizon can't have its phones work on AT&T, that would make it easy to switch networks.

Unlocked phones are a new thing. Who knew! Seriously though, I've been buying my phones unlocked for years. Except for iPhones because it makes little difference. The big advantage for me back in the day was being ability to stop by the store to have any issues taken care of, but that advantage went away, and the stores are now staffed with salespeople who can't help you with anything but purchases.

First thing I do when shopping for a phone: check if unlocked is available and not "gimped". Verizon is the absolute worst carrier in the business when it comes to making phones "exclusive" and I refuse to use them as a carrier for it.

Most of the pain points in buying unlocked direct come from the carriers. Verizon will only activate phones it's added too it's database. AT&T won't enable certain features unless you bought it from them. Sprint has issues because of legacy CDMA tech. One of the main reasons I enjoy T-Mobile service so much is that they basically allow any unlocked phone and while they have a certification process for features like VoLTE and WiFi calling. It's simple and straight forward enough for the manufacturers to follow. Also of close the lower prices, great support and excellent coverage I get in NJ make them my top carrier

Sammy builds good phones for the most part, and relatively speaking, they charge for it. OK, you get what you pay for. Took YEARS for Sammy to get local repair for their phones and they finally woke up to reality! Been using their phones for years, I like the phones, and not the customer service from the company. My biggest complaint moving forward is... only two year's OS support? With the hardware they offer in the flagships... increase it Sammy! Otherwise, there are alternatives!

Samung routinely discounts their phones and offer great trade deals on their older phones. If you can wait a couple of months you should never pay full retail for any samsung phone. Just today i saw they are discounting all S20s on their website by $200 per androidpolice. My wife will only use Notes. We traded her Note 9 (it was too big) on a Note 10 in March. We received $500 for the note 9, plus had a $200 credit from when we bought the note 9, so we paid $249 for her new Note 10.

100% everything you said. In fact, I did the exact same thing with my Note 9 as I didn't care for its size and weight but love the N10's dimensions. I am eagerly awaiting the N20 but will likely go with the plus if it has the higher refresh rate screen. But regardless, you are right about them routinely discounting phones and offering FANTASTIC trade-in values for Samsung, Apple and Google phones.

Yep, my wife loves the Note 10, she has been using Notes since the Note 3 and wont consider using another phone. I forgot to add we (me) also received AKG N700AC m2 headphones as a throw in with the deal.

What do you want me to say? Yes I'm not a Sammy fan but Sammy has earned their stripes and are the only real competitor to Apple in the Android space that's why they're the only Android OEM that can dictate terms to carriers but carriers can still put bloatware on their carrier branded Sammy phone and that's why I like about Apple, they won't allow a carrier to put any bloatware on their phones whatsoever.

They may not have carrier bloatware, but all 14 of my iPhones had unwanted apps that I could not delete.
And in terms of Samsung being "only real competitor", that would be in terms of sales, not actual features. This is why, even though I personally own the iPhone 11 and XS, I use an Android because it has features and capabilities that Apple cannot provide.

Just have more on the distinction between unlocked vs unlocked/unbranded. For instance an unlocked phone with the AT& software load will allow WiFi calling, whereas the unlocked/unbranded will not.
Android Central Newsletter
Thank you for signing up to Android Central. You will receive a verification email shortly.
There was a problem. Please refresh the page and try again.