Doing all of your reading through the Nook app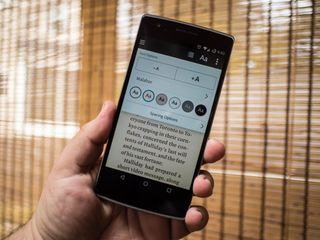 It's not uncommon to hear someone refer to their ereader app as being a bookstore on their phone or tablet, but the folks at Barnes & Noble get about as close as you can towards making that statement literal. The Nook app is much more than just an ereader app attached to a store, it's an access portal for movies, television shows, newspapers, magazines, and even puzzles and toys that are sold in physical B&N locations. A content portals go, the Nook app is perfectly capable of delivering a tremendous amount of content to your mobile device. Whether or not that means you want to use this app as your primary reading mechanism is another matter entirely.
The ever-changing Nook landscape
While Barnes & Noble has net to see a great deal of success with their Nook devices, even after a partnership with Samsung late last year, the Nook app has taken advantage of the ability to be installed just about anywhere and flourished. Nook's pricing is usually competitive with the rest of the ebook market, and since their Nook tablets run Android the experiences are usually quite similar — though in the past Nook Android devices have been solely focused on delivering content from Barnes & Noble.
One of the things that has endeared Nook to many readers has been the ability to download and upload books to the Nook service with ease. Nook Books were initially just epub files, which has been an industry standard for quite a while. It meant Nook users could add books at will with no problem, and download all of their books if the user decided to try a different app. There's even support for .cbz files, which is a format almost exclusively used for comic books, and was a big deal for Nook users in the early days of comic books making the switch to digital.
Unfortunately, things changed late last year. Barnes & Noble implemented DRM into their books and made downloading their content next to impossible through the app. Books can still be downloaded through the Nook website, and if you know where to look there are tools for removing the DRM, but Barnes & Noble heading in this direction isn't exactly a good sign, especially when importing books from other sources is still fully supported and encouraged.
Reading in Nook world
As ereaders go, Nook hits all the basic check marks. You can sync your progress across multiple instances of the app if you move from phone to tablet, bookmark important sections, and jump from chapter to chapter in much the same way you'd expect any epub-compliant reader to do. The Nook app is broken into three zones when doing the actual reading, making it so you can tap anywhere on the left or right side of the screen to turn the page, with a center section open for access the in-book settings.
Nook users have access to a healthy selection of font and color choices when reading through the Nook app, which helps make up for the lack of app-specific brightness controls while reading. Font spacing and size options aren't buried like we've seen in other apps, which adds some flexibility if you're jumping between books for research purposes. Leaving notes for yourself is also front and center, allowing you to highlight a section with your finger and look up the notes in a list over in a separate section of the app. Overall, the Nook app is simple and straightforward when reading a book, which is impressive given how many options you have for consuming content in the rest of the app.
All about choice
Barnes & Noble does a lot of things right with the Nook app. There are very few places where the app shoves suggested content in your face, it's plenty easy to use, and Nook users aren't necessarily bound to any one ecosystem. As ereaders go, the Nook experience is capable but basic, and as content gateways go it's frustrating to see the recent addition of DRM. The friendly and over all pleasant user experience is more than enough for many users, which is a very good thing, and as an extension of a physical bookstore, the Nook experience stands out in the crowd.
Download: Nook (Free) (opens in new tab)
Android Central Newsletter
Get instant access to breaking news, the hottest reviews, great deals and helpful tips
this is a badly researched article. bn books have always been able to support DRM if publishers ask for it. what bn has done of late is to move to a new form of it, and try to make the files containing the books they sell much harder to work with outside of their programs. the net result is much more negative than the author chooses to recognize - many longtime bn customers are replacing nooks with generic tablets or kindles, and most recommend against both the devices and the store as an eBook vendor - but the fall doesn't come from a drm-free state of grace by any means. it's the present state of affairs following a long series of decisions seemingly designed to wean bn from the eBook revenue steam by forging a brand identity as a mismanaged and inconsistent business which can't be expected to understand, let alone honour, commitments in the ebook marketplace. at this point, I'm surprised to see an article even consider nook as a viable option rather than giving a guide to moving off of the platform.

I have both the Kindle and BN apps and purchased books in both. I much prefer the BN app and enjoy reading my magazine subscriptions through the NOOK app. I have downloaded ebooks outside of both and found loading them into the NOOK app to be easy and the reading experience to be good. Posted via the Android Central App

I wish the b&n app was half as good claimed in the article. I have bought nooks, I have subscribed to magazines through the b&n app, bought books, of course, and gone to my local b&n store. All this because I want the last national bookstore chain to succeed. But b&n and the app have annoyed me to the point where I have cancelled all my magazine subscriptions, I've stopped buying books through the app, and I don't get to the store much anymore. My magazines became very hard to read and no fun as I would get text and no pictures. Books became unnecessarily difficult to download and access. I got tired of fighting with the app and I switched to buying books from Amazon or Google Play Books. My magazines now come from Google Play. I now have a much more intuitive interface and the apps don't get in my way. B&n lost a loyal customer because, imo, they ruined their app. Posted via Android Central App
Android Central Newsletter
Get instant access to breaking news, the hottest reviews, great deals and helpful tips
Thank you for signing up to Android Central. You will receive a verification email shortly.
There was a problem. Please refresh the page and try again.