Does the Oculus Quest support cross purchasing?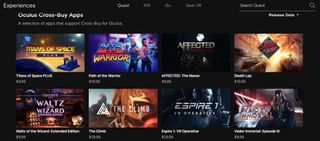 (Image credit: Android Central)
Best answer: Yes. VR games purchased in the Oculus store can be played on the Oculus Quest, and the Oculus Rift S. However, not every game in the Oculus store supports this. Thankfully, there is a list of games available so you can find out which games can be cross purchased.
What is cross purchasing?
OK, so you have or want both an Oculus Quest and Oculus Rift S, but you don't want to buy the same game twice. No worries because with cross purchasing, you can purchase and share games on both headsets, provided you know which ones are compatible. Cross purchasing is simply buying a game on one system and being able to play that game on a different system without having to rebuy it.
There are a good number of games in the Oculus store that you can play on the both Oculus Quest and the Oculus Rift S using this method. Oculus refers to this as cross-buying, and since both the Quest and the Rift S use the Oculus store, you're able to share games across platforms. To do it, just make sure both headsets are signed into the same Oculus account.
Advantages of cross purchasing
Cross purchasing lets you have the best of both worlds. In the case of Oculus, the Rift S offers a lot of computing power since the headset requires a PC to run your VR experiences. Games will feel bigger with top-of-the-line graphics, high-quality audio, and faster and more effective motion tracking.
On the other hand, the Quest gives you the ability to take VR gaming on-the-go since the headset is a tetherless device and doesn't require a computer to deliver a VR experience. There is a dip in the quality of the visual, audio, and overall performance of the game, but the trade-off is you can have a VR experience without the need of a computer.
In the end, it's about giving you options on how you can access your VR experiences. Cross purchasing encourages you to explore games knowing that there is the extra added value of being able to play on either device.
How do I know which games support cross purchasing?
Several VR experiences in the Oculus store support cross purchasing. Unfortunately, knowing which games support this isn't that easy. The Oculus store doesn't provide an icon or any indication of which games support cross purchasing. So, how do you find out which VR experiences on the Oculus Store can be played on the Quest and the Rift S?
To help you sort that out, we have a collection of every game you can cross-buy in VR for Oculus Rift and Oculus Quest. When new VR experience that supports cross purchasing arfe uploaded to the Oculus store, we update our guide to show all the latest titles.
What about the Oculus Go?
Cross purchasing between the Oculus Go and other Oculus headsets is a bit trickier. In most cases, there isn't a way to cross purcahse titles. There are, however, a few dozen titles that are available on the Oculus Go and the Oculus Quest. That being said, only some of those titles will appear on your Oculus Quest for free and automatically if you purchased them on the Oculus Go. Oculus shares the list of apps and games that support free upgrades on a support page.
VR On the Go
A full VR experience without a PC
The Oculus Quest requires no PC and no cables, so you are completely untethered! This is the first truly standalone VR gaming experience.
PC Powered VR
Supercharged high fidelity VR
The next evolution of the Rift brings improved lenses, a display with a higher pixel count than the original, and a redesigned head strap and tracking system. It's the Oculus headset that will deliver the highest quality VR experience.
Oculus Store (Free at Oculus)
The Oculus store is full of great VR experiences ready to transport you to fantastic, imaginative worlds or have you working up a sweat slicing virtual boxes in half with a saber. Simply create an account and download games to your VR headset. Cross purchasing lets you buy the game once and then play on two different systems.
Get the Android Central Newsletter
Instant access to breaking news, the hottest reviews, great deals and helpful tips.