Does the Nest 3rd generation work with multi-stage HVAC systems?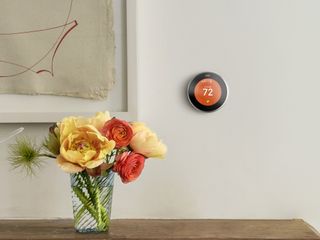 (Image credit: Nest)
Best answer: Yes. The third-generation Nest Learning Thermostat supports up to three stages of heating and two stages of cooling for most homes.
Amazon: Nest Learning Thermostat ($204)
What is multi-stage HVAC?
HVAC stands for heating, ventilation, and air conditioning. Just about every home has an HVAC system, but depending on your HVAC equipment, it may be either a single stage or multi-stage system.
Single stage HVAC is essentially either on or off, with no way of adjusting the intensity of your heating and cooling. Often times, this means you'll reach your target temperature faster because your thermostat is always set to full blast, but it's not energy efficient, since your air will need to constantly cycle on and off to maintain a comfortable temperature.
Multi-stage HVAC addresses that energy inefficiency by giving you more control over your heating and cooling. A three-stage heating system, for example, means that you get a high, medium, and low setting to choose from, and the same goes for cooling.
The third-generation Nest Learning Thermostat can support up to three stages of heating and two stages of cooling for most homes, making use of Nest's Time to Temperature algorithms to determine which stages to use and automatically switching to the appropriate stage as necessary.
How do I know if I have a multi-stage HVAC system?
When you're first setting up your Learning Thermostat, there's a handful of wires you need to connect from your wall to the base plate that help control the various parts of your HVAC system. During setup, it's easy enough to just match the wires with their original configuration on your previous thermostat, but understanding what each wire controls will help you figure out what kind of HVAC system your home has.
If you need to refer back to the wiring of your Learning Thermostat, just remove the faceplate from the base to uncover the wires — if you followed the initial setup instructions properly, they should already be labeled. Heating is controlled by the wires connected to the W terminals; if you only have one W wire, you have a single stage heating system.
If, on the other hand, you have W2 and W3 wires, congrats! You've got multi-stage heating. Similarly, a single cable leading to the Y terminal on your base plate means that you have single stage cooling, while two Y cables indicates multi-stage cooling. Alternatively, if your Learning Thermostat is already installed, you can check more simply by opening the Nest app and tapping your thermostat — it'll display which heating or cooling stage it's currently in.
Our pick
The most versatile Nest thermostat for your home.
While the Thermostat E is newer and cheaper, the third-generation Learning Thermostat supports more HVAC systems, making it a viable option for almost any home. It'll keep your house at a comfortable temperature and cut down on your energy bill in the process.
Sign up for Black Friday email alerts!
Get the hottest deals available in your inbox plus news, reviews, opinion, analysis and more from the Android Central team.
Hayato was a product reviewer and video editor for Android Central.