Do you prefer a flat or curved display on your Android phone?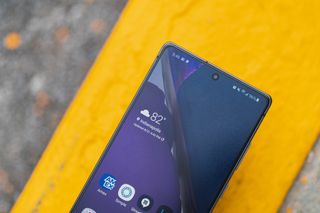 (Image credit: Hayato Huseman / Android Central)
While not as common as they used to be, several of the best Android phones these days like the Samsung Galaxy Note 20 Ultra or even the OnePlus 9 Pro and Oppo Find X3 Pro still have (slightly) curved displays. It seems that for right or wrong, many manufacturers have largely given up on the curved display form factor and have rediscovered the joy of flat displays. And yet, there are definitely people out there who like a curved screen. Are you one of them?
This topic has sparked an interesting conversation over on the AC forums:
We want to hear from you — Do you prefer a flat or curved display on your Android phone? Let us know!
Join the conversation in the forums!
Get the Android Central Newsletter
Instant access to breaking news, the hottest reviews, great deals and helpful tips.
Jeramy is the Editor-in-Chief of Android Central. He is proud to help *Keep Austin Weird* and loves hiking in the hill country of central Texas with a breakfast taco in each hand. You can follow him on Twitter at @jeramyutgw.
I've never used a curved display and don't see the point to it. I'll take flat.

I hated older curved displays, but I've got an S21 ultra and it's so subtle it doesn't bother me.

Ugh I hate curved screens. They are awful from a usability standpoint and a durability standpoint as they are more fragile and extremely hard to find a decent screen protector for. I've spent the last few years avoiding all curved screen phones like the plague and I'm so glad the trend is dying out. BTW I DID own a curved screen phone, the note 7 lol. Well I owned it for a few months before returning it due to you know explosions lol.
But I was glad to see that phone go 😁

Flat because I'm not a filthy animal.

This is why we love you Jerry.

Flat is better, for screen protectors, no false touches, it's that simple folks! Yes, the curve may look better but not very practical!

Flat only. I held onto an old phone much longer than I should've waiting for a good flat screen phone to come along, just so I could skip that awful trend.

I owned the Pixel 2XL, and now a Motorola Edge+. I don't mind the curved screen at all. The only issue is getting a screen protector, but otherwise no issues with false touches.

I do not mind them, but if I was given a choice of the exact same phone with curved or flat screen I would most likely go with the flat screen.

I prefer flat. Not a fan of curved displays.

I have had them, and they are worthless, useless, fragile, and for those who want a decent "cheap" tempered glass screen protector, nearly impossible to protect! They offer nothing better than a flat one! If they're so "cool" why don't we curve the edges of our TV's? Sounds silly right! Same principle here. Whoever started this must be in league with the same idiot who thought notches, tear drops, and PUNCH holes were cool!

My s9 had a curved screen and it was fine. i actually liked my old LG G4 "curved" screen better. Ihave a S20FE with flat screen and I'm ok with it too. I just kinda hate its bigger in my hands than my S9.

I have a Oneplus 8 Pro and the curved screen is fantastic. I don't get many touch errors at all, and it is easy to slide down the sides to scroll and really useful for unpacking multiple notifications from the same app. I still have the factory screen protector on it and it's fine, but I get it that glass screen protectors are tough to apply and fit.

Definitely flat! As I write this I'm standing out in the sun and super annoyed by the glare on my curved screen.

Flat every time. I've had a few curved and hated every one.

Flat!! Flat flat flat flat flat!

FLAT, no question. I have a curved screen currently, and miss the old flat screens. Unintended touches when just holding the phone, and not being able to touch the very edge of the phone (when a case is on, at least) when you want to - curved screens are just a pain in the a$$.

Curved. It looks and feels better and I don't feel like I'm giving anything up in usability.

Flat all the way. Curved looks cool, but is too awkward and difficult to avoid accidental side touches...

I am currently using the galaxy A51 5G which has a flat screen, but I have used both flat and curved in the past. I don't have a problem with either one, and the type of screen doesn't make or break a phone design or purchase for me

I've had many of both and there are no more curved screens in my future.