In 2020, Samsung 'rediscovered' the joy of flat displays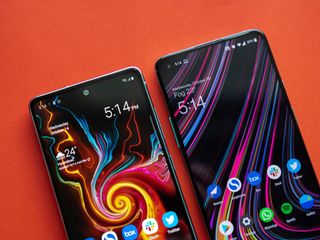 (Image credit: Apoorva Bhardwaj / Android Central)
For years, the curved displays on phones have been a gift and a curse. Seeing the glass flow over the edges and meet the aluminum frames invokes a sense of beauty and wonder. Samsung was the first on the scene with the Galaxy Note Edge, and that trend just continued to grow in the years leading up to now.
It only makes sense for Samsung to be the company that is trying to squash the curved display, with the introduction of the Galaxy S20 FE. But that's only on the "mainstream" level, as Samsung's mid-range and budget phones have largely not seen the curved displays that have been a sense of frustration for some.
Accidental touches be gone
With the Galaxy Note Edge, one of the premises was that this extra screen real estate would open up your world to being more productive. Adding applications to the almost-secondary display for easy access was a convenience we didn't know how to handle yet. But since then, the curves were removed from just one side, bringing them to both edges of the display.
This has ended up with a slew of accidental touches, forcing smartphone makers to create additional software features to combat this. Whether you are hastily using your phone, or just perusing the interwebs, there's always a time where your palm ends up resting on the display. This renders any intentional interaction with the display useless. No, it's not going to bring the rain and ruin your day, but it's just a frustration that is long past the days of needing to be solved.
As is the case with many trends in the Android world, Samsung leads the way, which is why there's much more focus on that company. Looking at the smartphone market even six months ago, just about every new device has a curved panel. From OnePlus with the OnePlus 8 Pro to LG and the LG Velvet, almost all of the best Android phones have a display that curves over the edges.
Is the trend finally over?
Samsung surprised everyone late in the Summer with the release of the Galaxy S20 FE. Of course, if you paid attention to the rumors, you would know that an "in-between" device was on the way as Samsung geared up for its yearly Galaxy Note release. But the S20 FE represented something that all smartphone owners have wanted for years. A great smartphone experience, with most of the flagship specs, but with a more conservative and traditional design.
The S20 FE was announced, and it managed to hit every one of the checkboxes that the majority of smartphone owners wanted. A gorgeous AMOLED display with a high refresh rate? Check. Long-lasting battery life? Check. A combination of a good processor and enough RAM to handle multi-tasking? Check. What about the cameras? Oh yeah, Samsung included a triple rear-camera system that may not be as great as the $1200 Galaxy Note 20 Ultra, but it still performs quite well in most situations.
But more importantly, at least here, the biggest change was the display. Gone were the curved edges that melted into an aluminum frame to make it seem like there were no bezels on the sides. Nope, just a good ole' flat display that looked good and removed the potential for accidental touches.
We then saw OnePlus follow things up with the launch of the OnePlus 8T — providing a great overall and solid experience, with a flat display. It's truly refreshing to see, and after spending time with the S20 FE for a few weeks, it was like a breath of fresh air. And before that, we had the launch of the standard Galaxy Note 20 which also embraced a truly flat display (though at a much higher price).
Here's to hoping that flat displays are back
There's a reason why the Galaxy S20 FE became an instant hit, and why it's the best Android phone for the majority of the market. It's the perfect combination of specs and design with a full complement of software features that will make you feel like you're in control of your phone, and not the other way around.
Throw in the decision to move to a display that will react when tapped, the first time, and it's a grand slam. The rumor mill has already ramped up for the Galaxy S21 lineup, and by most of the renders, it seems that Samsung may be finally sticking with the flat displays for its next flagship.
Since we've already seen the likes of OnePlus change its tune to a certain extent, here's to hoping that curved displays will become a thing of the past. It's been a long time coming, and I'm here for the upcoming trend.
The best Android phone
(opens in new tab)
A flagship-tier phone at an unbeatable price point
Take everything from the Galaxy S20 lineup and replace it with a flat display with a 120Hz refresh and solid cameras. That's what you'll get with the S20 FE and just one part of the reason why it's the best phone of the year.
A different approach
(opens in new tab)
One of the fastest phones for the money
The combination of a fast processor, 120Hz AMOLED display, and some of the fastest charging makes the OnePlus 8T a no-brainer for many. Add-in the more conservative software interface and OnePlus has another winner on its hands.
Android Central Newsletter
Get instant access to breaking news, the hottest reviews, great deals and helpful tips
Senior Editor - Chromebooks, tablets, and wearables
Andrew Myrick is a Senior Editor at Android Central. He enjoys everything to do with technology, including tablets, smartphones, and everything in between. Perhaps his favorite past-time is collecting different headphones, even if they all end up in the same drawer.
I use the ☁️ red FE & while the edge display looks nice i luv the flat display. Plus the 120hz screen is fantastic. I never knew a 1080p display could look so good. That's what Samsung does best!

Me years ago... "Oh, that curved display sure is pretty. But why would anyone need that?"

1. Make the phone smaller but have a larger screen.
2. Access Apps, access Clipboard. Samsung have added useful snippets to the edge.

Reading this from my S10 Lite. I managed to keep my previous phone long enough to miss this trend. A flat display was always a must for me. I've never met anyone who actually liked using a curved display.

Flat displayer here. I hope I have missed the trend for the next phones I consider buying. I still worry about accidental touches with edge to edge screens. I even prefer a little bezel (don't hate me).

The curved display in the S20 ultra is not bad. A lot better than they used to be. You still get the beauty but it's not as curved as it used to be

I love the look of a curved display. Made Samsung a bit different than every other boring rectangle out there.

Exactly! I think it's mainly guys with humongous hands who keep screaming for flatter and bigger screens. I love the curves and smaller screens. Phones are getting too big for my petite hands.

I may be in the minority but I definitely love the curved screen. It's one of the reasons I skipped this year's note series. Holding on to my Note 10 as long as I can. I hate those ugly rectangle slabs, looks like every other boring phone out there. If I wanted boring, I would go with the iPhone.

Yeah exactly. Makes the phone better.

Thank goodness, and good riddance. I have the S9, and while I've adapted, I still hate the curved edges.

One can only hope that flat displays stay FOREVER! Curved glass is right at the top of the list of useless changes to phones. At least now we can get back to using tempered glass screen protectors that actually fit and do the job they were designed to do.

I love love love the curved displays and think there should always be options. There is no reason every phone should look the same.

Hopefully curved screens are consigned to the history books now. Every single edge display Galaxy I've owned has ended up smashed on their first drop even in a good case. 5 in total! Switched from the S20 Ultra to the S20 FE now and couldn't be happier

Having dropped your phone 5 times I'd suggest it's you not the phone. Have never seen a cracked curved edge phone.

Every phone gets dropped.

I've never dropped a phone

I probably drop mine once a day.

If you've never dropped your phone 5 times in around 5 years then you're not using it Curved edge displays. They're too fragile, too exposed, and way too unprotected in a case. Only top and bottom are protected as opposed to all 4 sides on a flat screen. One of the times my phone simply slid off my passenger car seat onto a rubber mat and the whole right side of the screen spiderwebbed.

"This has ended up with a slew of accidental touches" A slew! Bollocks. I don't know what these people are doing with their phones. Very ocasional is how I'd describe it. "Whether you are hastily using your phone, or just perusing the interwebs, there's always a time where your palm ends up resting on the display. This renders any intentional interaction with the display useless" Always a time! No there isn't. I've had the S7 Edge and now S10 for nearly 4 years. It's non-issue. One that sadly due to all this nonsense press is going to take phone design back years.

So Samsung are going down market. Shame.

Two things would have made my S20+ better. Flat display and polycarbonate back. Better still would be to bring back the top bezel with an actual proximity sensor, infrared lit iris sensor, and a finger print sensor that actually works properly, maybe placed on the power button.

Garbage, what marketing hype and these tech media types bought into it. They (this website) pushed curved screens and glass sealed backs...junk. Now that we're getting plastic backs and flat screens they're on that train.

Yes i hope Samsung finally using a flat screen will bring the trend back! I mentioned this back when the FE first came out. Only thing wrong with your article is saying that OnePlus followed the FR with a flat screen 8T. No they followed a flat screen 7T with a flat screen 8T. I have been lucky not to have to buy a curved screen phone yet by using LG and now a OnePlus 7T. But before Samsung came out with the FE I was worried in the near future I would have to go curved screen. One thing not mention in the article but in a couple comments, lets hope the FE will also bring a non glass back to being a trend also!!!!

It was cool for a second in the S7 edge, didn't care for it since...........

Love the flat display. Had an S10+ and loved it except for the curves. Sold it and got an S20 FE which was great but for serious touchscreen issues. Returned for an A71 5G. It's perfect. I hope we never go back to curved screens again.
Android Central Newsletter
Get instant access to breaking news, the hottest reviews, great deals and helpful tips
Thank you for signing up to Android Central. You will receive a verification email shortly.
There was a problem. Please refresh the page and try again.