Do you have a secondary/backup phone?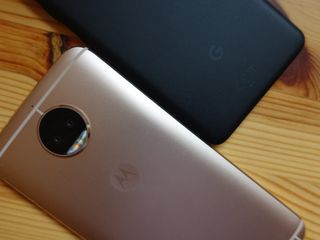 Although they were a brand-new type of technology just a few short years ago, smartphones have become ubiquitous at this point. They last longer, are more affordable, and just about everybody carriers one nowadays.
Some people, however, go the extra mile and carry two devices. This is sometimes done as a way to experience two different operating systems (such as Android and iOS), but in other cases, a secondary phone is held onto for backup/emergency situations.
One of our forum users recently reached out to the Android Central community for suggestions on what a good backup phone would be for them to pick up, and these are a few of the responses.
Now, we want to hear from you – Do you carry a backup phone? If so, what is it?
Joe Maring was a Senior Editor for Android Central between 2017 and 2021. You can reach him on Twitter at @JoeMaring1.
Seem to collect old phones.
Don't like selling as I feel they are worth more than what I would get.
My official back up phone is a Moto G5 but I also have a Pixel a couple of Samsung's and a Nexus 5X in the house somewhere.

I have every phone I've ever had. I never get rid of them. Dating back to 1999

Same. Any one of them can be a backup

had Lumia 1020-1520 duo during WP days. have S9-Redmi note 4 right now.

Always. My daily driver is the fabulous LG V30. Backup, ZTE axon 7. I always keep a backup. Just in case.

I carry three phones . . .

Interesting to see an Android user with an old iPhone as a backup. One of the biggest pros of an iPhone are the long support life's so I guess it makes sense. You can keep upgrading your primary phone and keep the same backup for 5 years...

It's not as interesting to me. I love the idea of having an iPhone and an Android phone in my arsenal. Both platforms have positives and it's nice to use both.

Might have to try that someday. I've been an Android user from my first smartphone and have never used an iPhone for any period of time. I always think I'd like to try one for comparison purposes but might actually make a good backup/secondary device

You should, just choose well! Thankfully, older iPhones are not only cheaper but still have most of the benefits of the current generation. I have a iPhone 7, even though I could have bought the 8, but the differences really weren't significant to consider getting the 8.

I carry two. Honor 7x and Redmi note 5 pro. Maybe i get 3rd for backup.

When did the note series get a "pro" version?

Redmi note 5 pro launched in India last month. It's true successor of Redmi note 4. Because regular Redmi note 5 has same SD 625 proceesor as Redmi note 4. Redmi note 5 pro hase SD 636 with 4000 mAh battery. In China it launched just as Redmi note 5, without pro monicker.

Use Galaxy S8 Plus daily. Have Lumia 950xl and 640 as back ups. They still work fine even though I guess you'd call them dead in the water.

Primary is OP3T, backup is HTC One M9

I've kept my dtek 60 charged and up todate with all the latest apps and security updates....just incase. But i also have a Microsoft phone for work. I try notnot use it too much.

Epileptic power supply where I live. The networks (carriers) are only slightly better. I carry 2 phones, each dial sim. Wireless charging isn't an option since I only buy metallic unibody phones. Battery capacity most be at least 3800mAh on either phone.

Hahahha I use 3 phones daily....Samsung S9+ redmi Note 5 pro and iPhone 6s

Just have one backup phone and it is the BlackBerry KEYone. Currently using the Samsung Galaxy A8 2018 as my primary device.

Always. I am a switcher anyway, so the idea of only having one phone is wild to me. Bonus when your phone gets fixed or something is wrong with it, you just switch to the other and move on with your life.

I have a S8+ as primary at the moment and the Essential phone as a backup.

I still have my Moto Nexus 6 that I could use, although my current daily is the Moto X4 Android One. I wish Google would bring back the Nexus brand as mid-range. I miss all the updates. Android One's don't receive them, sadly. Don't want to pay the premium Pixel prices.

Currently have a V30. Still have my Nexus 6 on a second line, and still one of my favorite phones ever. Use it on vacations for Nav and stuff to save data/batt on my main line. Also have an old Galaxy Nexus, not on a line, but use it as a music/chromecast player.

I'm looking at the Nokia 7 for just this reason.

Lol, most people here have such expensive "back up" phones. I currently have a z1s as a back up. I just changed the battery as well.

I use my phones until they die, as a rule, so I have only ever had one old phone still limping along.

HTC M8 is my back up phone to my S9

Mine as well! My OG Pixel is my daily driver 😁 Still love my M8 though 🤗

I have a PRODUCT red iPhone 8 Plus to backup my iPhone X. I don't have anything to backup my Pixel 2 XL.

iPhone 5C is my backup. I would rather have another android phone though. But the 5C has been great as a backup. I also use it as a backpacking/hiking GPS with a jogging arm band. IMHO the GPS radios are really great in iPhone 5 series phones. I love how I can just pop the screen and drop in a new battery for $10. Apple seems to be leaving it alone... no more obsoleting updates.

Backup is an iPhone 7 256Gb, daily driver is a OnePlus 5T, however I'm closer every day to retire the OnePlus and use the iPhone ¯\_(ツ)_/¯

Main phone is the galaxy note 8 and back up is LG Charge

HTC 10. One of the best phones built in 2016. Still fast enough to keep up with any budget phone today.

I use the s8+ as my daily and have an HTC10 as my secondary. The 10 was one of the best releases of 2016. If the u12+ is handled by Verizon I will definitely consider it!

Moto XPE as backup to the iPhone 7+ - though sometimes reversed too.

Moto Z Play Droid is my back up. V30 is my daily. Both great phones IMO!

Plenty of them 😂 XZ2 main phone as of now, Pixel 2 XL and iPhone X back up.

Have the HTC U11+ w/ The U Ultra as a backup

Primary: S9+
Secondary: Pixel 2 XL
Third etc: iPhone 6s, BlackBerry Z30, BlackBerry 9900 I'm too sentimental about phones, I fear. Although I have sold a few.

No, but with shiтту Google Pexles you probably need a few

Lumia 950XL Windows Phone + OnePlus 3T ... WM is dead but it was my favorite OS and it's hard to give up all the apps I wrote for it.

Yep. I have a G5 Plus and a LG Stylo 3 Plus that I switch between. My primary is my Nexus 6P.

I always keep my previous devices as backups. And after the backups are a year old, they're kept for replacement devices for the other people on our share plan. The rest don't really care for the most part about phones, except for general things like size or some features. So I use their upgrades to get new devices and they get in near mint condition (my phones are babied) on the cheap. Win-win.

OnePlus One and Lumia 930. Sometimes I get them out just to admire how sexual looking they are. 100x better looking than all the generic rubbish out there these days.

DD is V30, had a OP3T, OP one, and a nextbit Robin all on custom ROM used for Uber, lyft, food delivery and to play, all on my free lines from TMO. All but my V30 were stolen from my car last week, and two tablets used to run ads.

No, I figure b the time I would ever need it, it would be outdated. Besides, I can just pop into TMo and buy one

My backup phones are my LG V20 and my Note 4.

Primary do not have one switch between pixel 2xl and s9+ backup to those is a note 8 hard to decide between the pixel 2 xl or s9+ as a daily driver

They are more secure than Samsung devices... They have a simpler camera than Samsung... I think the hardware on Samsung devices are generally better (cured screens not withstanding), but their software is awful... And they have no excuse with their vertical integration of SoC (Exynos)...

I have extra phones because by the time I go to sell them they are not worth much. I have an Pixel 2 XL daily driver and iPhone 6S for work

When I changed carriers I had to get a new LTE-enabled phone (ZTE Grand X4) but I still kept my old phone (Motorola G2) though I removed the SIM card and cancelled my service with the old carrier. I let my kids use the old phone as though it were a small Android tablet.

No. Galaxy s8 currently. On my tablet most of the time at home anyway.

I just got a Alcatel A7 (yeah I haven't got a Pixel 2 XL yet so sue me, they ain't cheap) and its a great phone for its price, and my secondary phone is a cheap Chinese Leagoo M9 plus I have another Chinese phone I was using until I broke my screen (Oukitel K6, l loved that phone).

I have no need for a back up as I have a personal mobile and a work mobile. I try to ensure both are on different networks so if one is out of coverage I can use the other. I've never had an instance of complete lack of coverage. iOS for work android for personal. Best of both worlds. I definitely prefer android though!

I use a Galaxy s8+ as my primary and I switch between the Pixel XL, LG V20 and my LG G3(rooted). I actually still have my Droid Razr Maxx but it isn't really in my spare phone rotation. Truthfully, I'm still kicking myself for trading in my Note 4. It is such a beast and could still keep up right now. I might buy another one. Just like someone said earlier, I keep most my phones and all of them are in mint condition

Currently use a V30 & Pixel 2 XL as daily driver (Personal and work) and have an iPhone X as dust collector. Can also use my Nexus 6P as back up if needed.

I have a Nokia 8 as my primary and Lumia 950XL as a backup phone but I don't take the backup everywhere with me. I also have a Samsung ATIV S and an HTC HD7 somewhere along with a Galaxy Nexus and one of the last AMOLED HTC Desires and a dead Nexus 5X. Every one of the above phones are unlocked as well.

I think most Android users are smart enough to keep a backup phone. It only makes sense.

My backup is a G S5 I picked up a year ago new in the box for $130. It is a good backup for G S5 I have carried from when they first came out.😀

Two months ago, my primary device was a BlackBerry KEYone with a Moto e4 as a backup and an occasionally used BlackBerry Classic in the mix for nostalgia sake. After my much documented BlackBerry Care fiasco over the last two months on CrackBerry, I no longer own any of the above and now use an Essential PH-1 as my primary and an Honor 7x as my backup. Well, I own the e4 but may sell it soon because it unfortunately won't get used much even though it is a superb phone for the price. KEYone is a great phone as well, just BlackBerry Care RMA process and procedure is an absolute joke and the customer service personnel are garbage and haven't a clue. Too bad.

LG G2 for me. I really loved that phone. I had to recently use it when I sold my s7e and waited for my s9 plus.

My next-in-line is a Galaxy S3. Couldn't get any slower if it was turned off, but it keeps on tickin'!

I got sick of fragile glass devices and got a Cat phone. Tough, basic, waterproof to five metres, battery goes for a couple of days or more..
Back up device is my S8...

Nexus 5. It's always a pleasure to use (even with a cracked screen!)

Nexus 5 also...But it is pristine. Ringke slim case and tempered glass screen protector. Note 5 as DD.

Sony XA Ultra it's my new backup replaced it with the buget beast Huawei. Got an iPhone and Nexus 6 for backup backups

Ive got my S9+ as my daily but i have an Oppo Find 7S that i keep as a backup. Its also the phone i mess about with the ROM on to keep my hand in when it comes to tweaking and playing with devices.

A moto E 2nd gen just in case!

I went close to 10 years without ever breaking a phone (no case). My 2 week old Galaxy 8+ fell out of my pocket while cutting grass one day and I needed to buy something cheap to get me through the 3 day period that it would take my replacement to get to me. I went to my local At&t and bought a LG Pheonix for $89. Not only is it a perfectly capable backup. It is good enough that I bought my dad one for the limited use that he needs out of a smartphone. It sits on my desk to this day just waiting for it's chance to get calling back into the game.
Android Central Newsletter
Thank you for signing up to Android Central. You will receive a verification email shortly.
There was a problem. Please refresh the page and try again.