Do you have any scratches on your Galaxy Note 9's screen?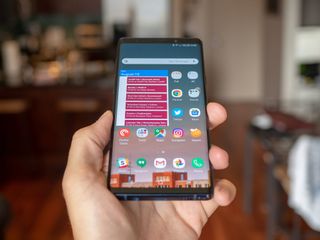 The Samsung Galaxy Note 9 stands out for a lot of reasons — one of which is its large 6.4-inch Super AMOLED display.
Having such a large screen makes the Note 9 great for browsing the web, watching movies, playing games, you name it. However, it also means you've got a larger canvas for picking up scratches throughout the day.
Just how well does the Note 9 hold up to general wear and tear with its display? Here's what the AC forum community has to say.
What about you? Do you have any scratches on your Galaxy Note 9's screen?
Joe Maring was a Senior Editor for Android Central between 2017 and 2021. You can reach him on Twitter at @JoeMaring1.
My S8 Active got scratches on it. It's the plastic covering that gets scratched easily.

When I had my Note 8. It got scratched day one somehow. I was very careful but it still happened. With my Note9 I got it 2 days before I went to the beach ( no screen protector yet) I wrapped it up in plastic wrap and put it in a ziplock bag and was VERY careful with loose sand on me etc. No issues. I didn't wanna take the risk, and got a Zagg shield at Sams Club and slapped that on. Its been good so far!

No scratches on mine(yet), no screen protector but I do have a minimal fabric case.

I got a Zagg glass curve screen at BB, there because I can't install anything without messing it up. The guy went through two before he got it. Had it with me at Dragon Con and at some point the Zagg got a crack, but the phone screen was fine. Got a replacement from Zagg (free for life of phone, well except $10 s&h), and BB reinstalled it. So far so good phone itself is still pristine. I will say the Zaggs have a slightly annoying vertical line down each side on the curves apparently that is the adhesive. Would go glass dome next if I could get an installer.

I never use screen protector's but I am a firm believer in wallet cases? I've had several glass sandwiches in the past, no marks or dings with any of them!

I put an Otao curved glass screen protector on my Note 9 the day I received it. Otao is the knock off version of the Whitestone glass protector. So no scratches here.

Otoa here as well. Satisfied.

No screen protector and no scratches. If and when it does get scratches I will install a Whitestone Dome protector so the adhesive fills in the scratch during the installation process but until then I will enjoy this screen as it was meant to be enjoyed.

I usually find the throwaway thin film screen protectors are always the best for protecting your screen. Dirt cheap and does the same job as those "glass" things at a fraction of the cost, as well as being infinitely easier to apply too.

I've used those in the past, but after like a week or two the curved corner likes to peel up and I end up getting fed up with it and throwing it away. That's the only main reason I've been using the glass ones as of late.

Yeah some of them can be quite bad if you don't apply them millimetre perfect. I imagine a curved screen might make the problem more pronounced. Usually a good case that overlaps the edges of the screen helps a lot for me at least.

I agree, but everyone I have tried fingerprinted so bad that I pulled them off after a few weeks.

I had Best Buy install the Zagg curved glass screen protector as well and it seems fine. However, not sure how well it will work in winter as the first cold day I was out you could see bubbling under the glass. Went away after the phone warmed up though. We'll see how it goes though as not sure if these are designed for Canadian winters, lol.

No scratches on the screen of my note 8 nor my note 9. I'm not extra careful with it either. I've taken it to the beach and used it with dirty hands from doing automotive work. So far so good!

This is the most hilarious rant against an awesome, big phone... More room for scratches.... 🤣 The real estate difference between a more standard 5.8 and 6.3 inch phone is tiny. That said, I do have tempered glass on my Note 8 just in case I drop it.... Doing the tempered glass has saved me twice. I tried the Whitestone thing.... It was like a science experiment gone real bad... I threw out the entire thing. Invisible Shield Glass Curve is the best... Only requiring multiple taps on screen in the upper corners occasionally. That said, I wouldn't mind if Samsung ditched the curved edges. When not using my phone and storing it in my back pack between breaks, I store it face down, snapped into my Otter box clip.

Have you noticed scuff marks near the center of the screen from contact with the Otterbox belt holster? Besides a nick near the top left of my screen, there are tiny scuff marks near the center, forming little clouds of scuffs.

After using my Note 8 for about 4 months without a screensaver I recently noticed tons of microscopic scratches that can only be seen under bright led light only at a perfect angle. Also from what I understand there is no such thing as a screensaver or gorilla glass screen with a 9h hardness. If you used a Mohs scratch tool kit... your device would be destroyed by the level 7 tool it would NEVER make it to a 9 most screensavers scratch by 4. In My personal opinion 9h is a blatant lie considering all of the micro scratches on my Note 8 from just pocket-lint, Hmm?

Gorilla Glass scratches at a level 6 with a deeper groove at a level 7 (OK, my name isn't Zack.....) Even a Sapphire display like one of the HTC U11 models starts showing scratches at a level 8. Yes, you're absolutely right about those protectors that claim a "9H" rating being hogwash, but Gorilla Glass itself never was rated for that.

If the protector gets scratched or broken, I don't care. I don't care about the rating. I'm buying it so that it can suffer the abuse and not my device's actual screen. These curved edges have made these phones not worth the trouble for me. Ugh. I am starting to feel so dirty going in to buy new iPhones. Samsung isn't giving me any option, though, since they're the only OEM I trust in the Android ecosystem (and I'm not interested in being persuaded).
Android Central Newsletter
Thank you for signing up to Android Central. You will receive a verification email shortly.
There was a problem. Please refresh the page and try again.