Do you have any interest in buying the Microsoft Surface Duo?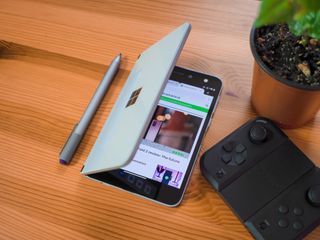 (Image credit: Daniel Bader / Android Central)
Thanks to the rise of folding phones, the smartphone market is getting weird and interesting again. Companies are trying out all-new form factors and designs to try and push the market forward, with one of those devices being the Microsoft Surface Duo.
The Surface Duo has some of the most impressive hardware on the market, and thanks to its two-screen design, it lends itself perfectly to unique multitasking capabilities. Unfortunately, a slew of software bugs have made the phone a difficult recommendation.
A few of our AC forum members have been talking about the phone, with some of their comments reading as follows:
This got us to wondering — Do you have any interest in buying the Microsoft Surface Duo?
Android Central Newsletter
Get instant access to breaking news, the hottest reviews, great deals and helpful tips
Joe Maring was a Senior Editor for Android Central between 2017 and 2021. You can reach him on Twitter at @JoeMaring1.
In terms of form factor I'm fascinated by the device. I'm not completely put off by the price but sounds like there's a long way to go in getting it stable.

The overall concept interests me, but I have no interest in this first version. With a better processor (for the $$), much better camera(s), and improved software (buggy, from reviews I have read), they might have something going forward. We will see. In the meantime, I will be watching other phone releases as well.

I have literally been going back and forth of returning my Note 20U for this. I have honestly been fighting back and forth just because of the reviews alone and know most can be fixed by updates (you would think). The thing that bugs me the most is MS had almost a year working on this. It would seems they do not have any idea how to utilize Android. I can live the lack thereof on features. I would miss the wireless charging. When I played with this at Best Buy the form factor just felt so damn nature in my hand when typing and not making my hands feel clutter typing with two thumbs. It just felt perfect for me. I'm going to have to force myself to wait and see (of if) of what will become of a version 2. I think MS is on to some beautiful, but all they did was polish a ****.

This is why I'm returning mine. Microsoft had seven months of finalized hardware to focus solely on the software experience, and there's too many bugs to think they actually did that.
In all fairness I don't think the software bugs are so bad you can't live with it, it's just that there so inconsistent and when they hit they're teribble. I love compose mode, but it often misregisters my touch input and will close out of the keyboard and go back to the home page on the keyboard half of the display. At times, you can have a heck of a time just getting the screen to display on the side you want, or recognizing that it's fully open and should be displaying on both. I'd wait till next year, because this makes me really excited to see what the Surface Duo 2 will actually perform. At this point though, it just doesn't feel like the product is ready.

Even when I played with in the store and was a bit buggy. I just passed it off as being a display model until all the reviews came in on the 10th and users reactions. It's way to consistent across the board that really kept me away from it. I didn't expect to be perfect, but things like disappearing keyboard and failure to recognize the flip the screen are simply basic things that shouldn't exist in the extensive build of this phone. I really hope MS is taking note of the bad publicity the way Samsung did with the Fold and make it better improved. I really want this to be my phone. Just not this 1st gen.

Absolutely! Pending my fave reviewer testing it with Noteshelf or Nebo. Not to replace my phone; to replace my Galaxy Tab that I use to take notes in client meetings and do even more important things, like stream the Tour de France while I'm at work.

Interest? Lots. Pulling out my wallet? Probably not just yet.

Yes, I ordered one. So far it's been awesome!

Got burned with Windows Mobile. Much more guarded this time. I'll consider version 2 and if it blows people away then I'll get it, otherwise I'll wait for version 3, (if that happens) I'll likely buy it then. Just like the Microsoft Band 3....oh wait, nope.

The device looks very interesting but unfortunately is not yet available in Europe.
I was impressed from the first time that I have seen this device to come and definitely I was thinking to buy it and try it for sometime.
However after seen the presentation from Microsoft I have several doubts about, mainly :
- impossible to check or reply to a phone call when the device is folded.
- only one camera.
- only 6 G of ram.
- small battery, seems that it will be impossible to last for a day.
- I am not sure that this form factor is practical to use on the go. If you use it folded as one screen then you get a small screen, if you use it unfolded I suspect that it will be very uncomfortable to type on it unless you are seated on a desk.

I do, very much so. I waited and hoped the hardware specs were better, more precisely the ram. I assumed until the phone gets the latest Android version it would limp along I was also surprised by the camera Now I must move on from my pixel 3 xl to iPhone....oh well

Have to admit that I considered returning it after 48 hours. And suddenly some update must have dropped overnight and now it's great. I have some learning curve that comes with having a new gadget but every few hours I'm getting so good at it. Honestly, I don't think I can ever go back to a regular smartphone.

I live in Australia, I imported one from BAB 😎, now I've been using the Duo, for about 4 days, so take that for what it is,on the first boot up, software update, and after updating all my applications, that had updates on the play store, speeding up the drawing to.5X, on developer settings like I do with every Android device,setting up numerous Bluetooth earbuds and headphones, and getting use to the navigation gestures system, which by the way takes time as it's quite complicated, and would be even worse for someone coming from a non Pixel, Or Android 10 full navigation gestures smartphone, the software is not as bad as people state, now I may be one of the lucky ones,but honestly other than a few hiccups here and there, the software been great, the camera is adequate at best, it will improve a bit with software updates, and possibly when GCam is ported, or maybe when Adobe universal camera application that ex Google Guru is working on is released, either way the Duo, is not a smartphone, it's not meant to compete with iPhones and Pixel, or even Samsung for photography, I have a Pixel 4 XL,and prior to the Duo, a Galaxy Fold, that I was using as my daily sole device, I haven't felt the need to go back to them,other than to update the applications on them, Microsoft will fix the teething issues with the Duo, I have no doubt about that.
Android Central Newsletter
Get instant access to breaking news, the hottest reviews, great deals and helpful tips
Thank you for signing up to Android Central. You will receive a verification email shortly.
There was a problem. Please refresh the page and try again.