Do you change the launcher on Pixel phones?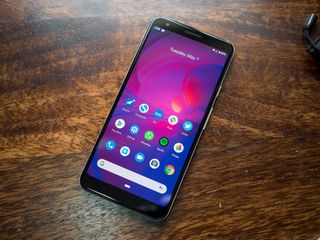 (Image credit: Android Central)
If you own a Pixel phone, chances are one of the main reasons you bought it was because of its software experience. Since Pixels are made by Google, they come with clean/uncluttered UIs, features you won't find anywhere else, and get access to Android updates and security patches before any other handset.
Google's custom Pixel Launcher is what ships on every Pixel phone out of the box, and while it may not be the most customizable option out there, it runs very smoothly and gives you easy access to Google Search and the Google Feed.
Taking a look through the AC forums, it looks like the Pixel Launcher is what most of our members stick with.
What about you? Do you change the launcher on Pixel phones?
Get the Android Central Newsletter
Instant access to breaking news, the hottest reviews, great deals and helpful tips.
Joe Maring was a Senior Editor for Android Central between 2017 and 2021. You can reach him on Twitter at @JoeMaring1.
I use Nova because I can't stand the labels on the home screen! Also I like my icons a certain size and shape. Nova just allows me to make it exactly the way I want instead of almost the way I want.

As soon as I got the 2XL I added the blackBerry launcher, along with the hub and services. Dont need all those additional features and customizations that other launchers give you.

Nope, Pixel is Pixel. I love to keep it simple as Google intended to be 😉

Exactly! I bought my pixel 2 xl for a reason. Still love all the google-ness.

Google gives me no choice. Their refusal to add a double-tap-to-sleep function to the pixel launcher means I'll always have to use Nova. Why have tap-to-wake and not tap-to-sleep? You shouldn't have to use the power button at all.

Not really any more. Sometimes I do because I don't use the search bar and with Nova I can get rid of it. Lately I have just ignored it though like I ignore the assistant and other google bloat.

I use Action Launcher, I love that I can customize it to work how I want and it runs great on Pixel 3XL. I didn't really like the stock launcher and switched it right away.

Nope. I just use the stock pixel launcher.

Nah. Have a Nova layout I've been nursing since ICS that just needs to be resaved when a new feature is added or I make a change to my folders. Serves me very well and I don't see that I lose anything vs Nexus/Now/Pixel launcher.

I use BlackBerry launcher on all my phones, whether they're Berrys or Pixels

I just wish they would being back the ability to move home screens around. I accidently moved a wiget and couldn't move it back to the same screen and now it's all jacked up and more trouble to fix than it's worth.

I can't stand how large the icons are on the pixel launcher, and the general lack of customization. If I wanted no customization, I would of gotten an iphone

I like most of Pixel Launcher except for that the search bar takes way too much real estate. I don't need it on my home screen. I was using Nova Launcher sans search bar but finally settled on CPL. I love it because it retains the Pixel Launcher look and feel but can tweak it to my liking. No search bar, and can hide other distracting apps.

I'm a former Windows Phone user and I like the Microsoft Launcher because it integrates with my MS services. Pixel Launcher is pretty good, too, though.

I love Microsoft launcher too! Also former windows phone/mobile user.

Nova. Double tap to lock screen, swipe on icons to open apps, quicker, gestures, and numerous other reasons make it far superior to Pixel launcher.

On my old HTC 10, I quickly changed the launcher to Nova. When I replaced it with the Pixel 3 last year, I stayed with the Google launcher. It's not as customizable, but it works well enough, so I'm happy with it. As time marches on, I find myself less inclined to take the time to fiddle with my phone. I just want it to work, then get on with my life.

I like the way Niagara Launcher looks and works . . Pixel launcher would be fine if it would let me get rid of the big ol' search box . . 🤷‍♂️

I've used Nova on every other Android phone I've owned, but I decided to give the Pixel Launcher a shot on my 2XL. I haven't regretted my decision, and haven't been tempted to go back.

I always use Nova or similar. It provides much, much more customization than the Pixel Launcher and I love it.

The older I get the more I realize I don't need to customize everything, the pixel launcher does what I need! So I stick with it..