Why pay hundreds to someone else when you can be your own repairman (or woman) and fix your tech all on your own for much less? All you need is the right YouTube video and an appropriate toolset like Tekton's 27-piece Everybit Precision Bit and Driver Kit. This kit is made to assist with repairing small electronics and other household items that require delicate precision, such as eyeglasses and wristwatches. Thanks to a sale at Amazon, you can order one for its lowest price in nearly four years. Now just $6.67, today's deal saves you a few dollars off its average cost and even more once you forgo a visit to the repair shop and decide to take matters into your own hands.
Tekton's Everybit kit comes with specially selected bits that can help you repair tons of devices from smartphones, tablets, and laptops to game consoles and desktops. It even includes pentalobe bits for the iPhone and MacBook.
DIY All Day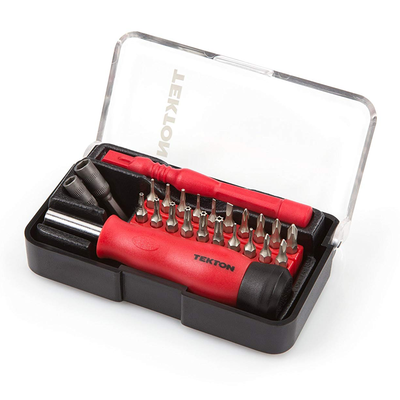 This 27-piece toolset includes carefully selected bits that can be used to repair devices like mobile phones, tablets, laptops, and even wristwatches and glasses. Today's sale brings its price lower than it's been in nearly four years.
$6.67 $10.09 $3 off
A precision driver comes with the set that has a free-spinning endcap, allowing for constant finger pressure to be applied while you're in the middle of a repair. There's also a spudger which lets you safely and easily pry open housings of devices without damage or hurting yourself. Tekton even includes a pocket-sized storage case to keep everything inside when not in use. At Amazon, more than 2,100 customers left a review for this toolset, resulting in a rating of 4.5 out of 5 stars.
Shipping at Amazon is free on orders totaling $25 or more, though you can also score free shipping on this item with Amazon Prime. If you're not a member already, starting a free 30-day trial will earn you free two-day shipping on thousands of items as well as access to the Prime Video streaming service and more.
We may earn a commission for purchases using our links. Learn more.