Did anyone actually buy the OnePlus 8T?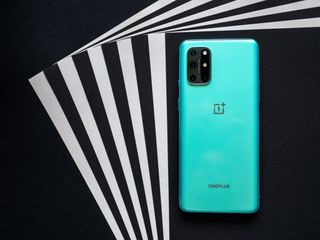 (Image credit: Apoorva Bhardwaj / Android Central)
Last year's OnePlus 8T is an interesting device. The phone offers a ton of specs and features given its price, and in a bubble, it's a pretty incredible deal. We said it struck a perfect balance in our OnePlus 8T review, praising the fast performance, AMOLED display, good cameras, etc.
The issue with the OnePlus 8T, however, is that it was faced with extremely tough competition. Whether it be the Galaxy S20 FE or the previous OnePlus 8 that came out before it, the 8T found itself in an awkward spot.
One forum member recently started talking about their new OnePlus 8T, sparking a small conversation:
Given the odd position of the OnePlus 8T, it got us to wondering — Did you buy the phone?
Joe Maring was a Senior Editor for Android Central between 2017 and 2021. You can reach him on Twitter at @JoeMaring1.
Yes, I bought one. Coming from a Zenfone 3, I was not disappointed.

I had one but sent it back after they screwed those that preordered early with a $99 water bottle instead of a pop up box or similar, then offered a crappy $20 voucher to the store that bought absolutely nothing. Wouldn't even consider an existing promo, line the free buds they were offering. Still using my 7 Pro.

Loving the 8T after returning the defective and poorly supported Galaxy S20 FE, and returned a mediocre pixel 4a 5g.

Bought the 8T to replace my 7pro and im not disappointed at all. I really like it.

Owned OP1 OP2 OP3 OP3T OP5 OP5T I smashed the screen of my OP5T, it was my fault. My OP8T will be delivered 3 days later. I'm also an iPhone owner, but I still prefer Android... OnePlus, to be more precise. The hardware is unbreakable, I've dropped the OP5T thousands of times in three years, finally, I broke the screen, on a triangle-shaped rock. The OS is simple and clean, but still customizable. Had some GPS issues but they were all easy fix. the cameras on Galaxy S20 FE is much better, but the ones on 8T are enough to meet my needs.

The 8T is great. I got it for my son. It's well built and runs smoothly. I'm looking at the 9 if I decide to replace my Mate 20 Pro.
Android Central Newsletter
Get the best of Android Central in in your inbox, every day!
Thank you for signing up to Android Central. You will receive a verification email shortly.
There was a problem. Please refresh the page and try again.