Developer demos Phone-to-Chromecast video streaming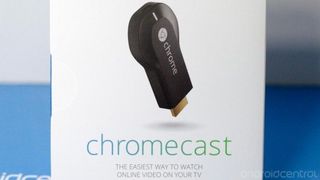 ClockworkMod developer Koushik Dutta has stepped in to plug one significant feature gap in Google's Chromecast dongle. At the moment Chromecast allows content to be streamed directly through the web, or from a mirrored browser window. But there's been no easy way to view locally-stored photos or video directly from an Android phone — until now. Koush's app, demoed above, uses an Android sharing intent to push local content from the phone to Chromecast.
Everything seems to work pretty smoothly in the video — a single push and the video is streamed to the TV, where it's presumably beamed over a local Wifi network. But Chromecast owners will have to wait a little longer to get their hands on the app, as the terms of the beta SDK forbid devs from distributing any APKs. Nevertheless, it's a promising sign of what could be ahead in Chromecast development.
Source: +Koushik Dutta (opens in new tab)
Android Central Newsletter
Get instant access to breaking news, the hottest reviews, great deals and helpful tips
Alex was with Android Central for over a decade, producing written and video content for the site, and served as global Executive Editor from 2016 to 2022.
Step 1: win one of the 7 Chromecasts AC is giving out (or wait until they start selling them outside of the US);
Step 2a: wait until Koushik Dutta is ready to release the app and install;
Step 2b: wait until Spotify implements their hottest idea ever (record was reaching the 100 kudos limit for being considered in 2 weeks, the idea to add Chromecast reached it in a couple of days);
Step 3: Enjoy the awesomeness of sharing content over the Chromecast!

I am disappointed that there was no Step 4: Taking over the world!!! If you are going to list out a game plan it must end with this every time.

If that works I'm sure, I'm gonna get one :)

This makes this dongle even better. Just found out I actually qualified for the netflix code and amazon will be shipping my dongle this week. I can't wait.

Late buyers and Netflix code? How did that happen? Posted via Android Central App

Not late buyers, but those of us who ordered on the 24th after they were already backordered and before the Netflix cutoff deadline got an email yesterday that we qualified for the Netflix code and that the Chromecasts are going to be shipping this week.

I wish I would get my Netflix code from Amazon. I got my chrome cast the other day. Looks pretty promising. I knew it shouldn't take to long since developers have the SDK to create apps for Chrome cast. Posted via Android Central App

I JUST got my code from Amazon yesterday afternoon, they were promising it by today at the latest...so you should get yours by today (assuming that you ordered on the 24th).

Sound works. If you look closely, I just had the TV muted.

So how do you get the video mirroring to work so well when chrome video playing mirrors are so choppy? Do you use wifi direct or something? P. S. Thanks for everything you do, I've been a fan for a long time :-)

thats like asking mr.crab whats in his secret recipe :P

So is the restriction on public release of Chromecast apps because of the beta status of the SDK? In other words, when the SDK comes out of beta, the developers would be allowed to release the apps?

The restriction is Google doesn't want this to be perceived as a tool for piracy, er, um, DRM free video, while they try and lock down deals with content providers. It's politics only.

htc hd media link sales will definitely affected with chromecast

Good Job! Now I am waiting for the app that throws the whole phone screen up there via Chromecast. No more HDMI cables for WebTop 3!

+1 for this.
Add sound to that and I'm in :)
Who the heck needs a pc anymore :D

Alex, Can you expand on this?
"the terms of the beta SDK forbid devs from distributing any APKs" What is the use of the SDK if they can not distribute the result? Something is missing here.

I'm sure it's because Google does not want a bunch of apps being released based on a beta SDK that would likely be buggy and give Chromecast a lot of negative reviews. Once SDK goes golden the developers will be able to release apps based on it...

Two factors can be at play here. 1 - SDK is avialable for developers, but there might be changes before it is firm for APKs released in the store. This would coincided with an update to Chromecast before APKs are released. 2 - Control of what the APKs do with the Chromecast is wanted to not get in the media bad side.

Well this proved there is no reason your phone manufacturer cant build this into your phones gallery. I fear samsung wont because they want you to use allshare.

How cares? All apps should use the standard Android sharing intent and simply installing this app will basically allow any app to enable this functionality. If it was the last thing you shared with then displaying on your chromecast is one press away otherwise 2. I suppose that will be 2 and 3 if you have more then one chromecast...

Koush, one of the best developers. ClockworkMod, SuperUser, Carbon/Helium. Now this, Phone to Chromecast, only days after the SDK was released!

Do we need to take our socks off and put them on the ground to be able to use this feature?

I said it before and I will say it again: once developers start getting on board with developing for Chromecast, it becomes a whole new ball game. And this is what I was talking about. Koush you are the man!

Pretty sure this article should be titled "Koush demos Phone-to-Chromecast video streaming". Referring to him by the generic Developer title is a bit insulting IMO. I'm hoping this app is released sooner and Google doesn't keep the Beta tag on this forever like some of it's products!

I'm surprised this was done so fast. Yet Google couldn't release with this feature? Posted via Android Central App

the could... but there would be no profit for Google.

Huh? Not like they are profiting by letting you cast YouTube videos, there's no ads overlayed that I've noticed. Either way, the reason Google probably avoided this very obvious feature is legal - it would immediately be seen as a tool to send pirated content to the TV screen and that would make it difficult/impossible for Google to get content creators on board, like HBO GO.

When will the next batch start shipping? I have purchased it and I'm just waiting.

I'm guessing this feature will already be native in the next iteration of android.

I'm willing to give up sex and red meat
if this phone-to-Chromecast video stream
app comes out ASAP!

Here Koush, take more of my money! You're killing it these days man. Thanks for all your hard work in this shpere.

In addition to playin local media stored on the phone, Will it be possible to do a live streaming from phone to Chromecast to TV?

I'm still hoping that there will be a way to stream from phone straight to the Chromecast without the need for a router.
Then it can be used when traveling. Since most hotel routers isolate the clients connecting to them this pretty much shuts down the use of Chromecast (from what I've been hearing and according to Google's own web site). If I can bring in whatever stream and push it directly to Chromecast then I don't have to worry about client isolation. But this is a great first step. The only extra thing I need to bring (if I'm understanding how this works correctly) is little cheap router so Chromecast and whatever device I'm using (ie; phone, tablet, etc.) are on the same network.
Android Central Newsletter
Get instant access to breaking news, the hottest reviews, great deals and helpful tips
Thank you for signing up to Android Central. You will receive a verification email shortly.
There was a problem. Please refresh the page and try again.