Dell Venue hands-on and initial review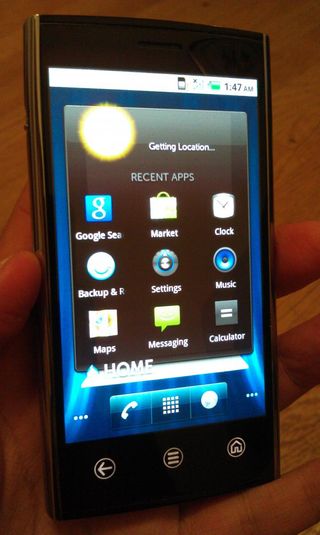 The Dell Venue remains unreleased on any U.S. mobile carrier, and is available only in an unlocked version for $499 directly from Dell. It's certainly a solid piece of hardware and it looks like Dell really took some time into crafting a sleek and attractive phone. The phone features a 4.1-inch AMOLED display that looks fantastic, but at 800x400 pixel, it isn't the top of the line, with higher-resolution qHD phones hitting the market. And unfortunately, I have to say the same about almost everything inside the Venue. Now don't get me wrong, the phone is far from a slouch, but on paper, it just doesn't stand up to some of the handsets we've been seeing rumored (and released) lately.
The Venue sports a first-gen 1 GHZ Qualcomm Snapdragon processor and 512 MB of RAM. The camera is a respectable 8MP with autofocus, digital zoom, and flash. The Venue has 1GB of on-board memory with an included 16GB memory card, and is powered by a 1400 mAh removable battery. With quad-band GSM (850/900/1800/1900 MHz) and tri-band HSDPA 7.2 (850/1900/2100 Mhz), the Venue is ready to run on EDGE on either AT&T or T-Mobile, and supports high-speed HSUPA uploads (though it lacks full support for either carrier's 4G HSPA+ network.) It lacks the 1700MHz band for T-Mobile's 3G.
That 4.1-inch screen is different than the 4.3-inchers big shots like HTC and Motorola have been shipping with, but with its slightly-curved shape, it comes together to create a unique look. At 4.76 inches tall and 2.52 inches wide, the phone has a completely different feel than most others on the market. It's thin, too, at just slightly over a half inch thick. But don't be fooled by the Venue's svelte figure: it's not light, by any means. With battery in tow it weighs in at 5.8 ounces. It certainly won't weight you down, but you'll certainly know you're holding it.
At first glance it would appear that Dell has maintained a mostly Vanilla-flavored Froyo, though after some digging around it's obvious that the Venue does come (very lighty) skinned with a Dell experience. It isn't as noticeable as, say, HTC's Sense (and certainly not as obtrusive as Motoblur), but we can't call the Venue a true "Google experience." Dell has equipped the Venue with its "Stage" software, which it says will "Organize your music, photos and more so what's most important to you is always at the front and center and never more than a touch away." We'll show you more of that in our full review.
We'll be putting the Venue through its paces in the next few days, so expect a full review shortly. For now, you can take a look at the quick video run-through and some pictures of our shiny new Venue after the break.
YouTube link for mobile viewing
Android Central Newsletter
Get instant access to breaking news, the hottest reviews, great deals and helpful tips
I'll never buy another Dell product. I have little doubt their phone is just as poor of quality as their laptops.

Latitudes are pretty good as are the xps and higher end inspiron. And less we forget alienware...

I have held this myself and vouch for its high quality

"For now, you can take a look at the quick video run-through..." Where's the video? edit: NOW I see it, thanks ;)

I've been using this phone in Korea since February. It's a great phone, minus the horrible battery life.

I had very mixed feelings about this phone. Absolutely gorgeous and good quality construction. Really better than any Android phone i have played with. Loved the curved glass look too and the stage widgets were easy to disable too.
But ultimately, though it was released a year later, it was slower than my Nexus One and had far too many force closes making it difficult to use.
Ended up returning it.
Sigh...

Way too long to market. I don't understand Dell.

Sooooo they put the windows phone 7 ui back button on the android version hardware?

My wife and I both have this phone. Very solid and as close to pure Google experience as you can get. This is our third Android phone each and I would give it two thumbs up. My only worry is DELL and its history of doing a very poor job at upgrading its equipment. I am waiting on an Android update for the Venue as well as our Dell Streak 7's. Keeping my fingers crossed that we will get some updates in the future.

While the review is accurate that this is indeed a well-built and pretty sexy device, it seems a little unfair to say it doesn't match up to the specs of the latest phones when, after all, this is a device that has been out a number of months already. When released in Asia it was as good or better than anything else on the market. Why not pick on a 5-month-old HTC or Samsung device that never made it to the US and criticize it for lagging behind?

I like their classy business design.

Looks like they're offering on AT&T for $99 with a 2 year contract... https://www.androidcentral.com/e?link=https2F2Fcli...
Android Central Newsletter
Get instant access to breaking news, the hottest reviews, great deals and helpful tips
Thank you for signing up to Android Central. You will receive a verification email shortly.
There was a problem. Please refresh the page and try again.