Dayframe comes out of beta, makes an already great slideshow app even better with KitKat support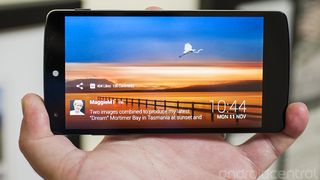 Paid 'prime' features expected before Thanksgiving
If you're a fan of great imagery — be it digital or traditional photography — and want to show it off on your Android device, don't bother reading any further. Just click the download link. Dayframe is that good.
The Dayframe app, from Cloud.tv, has just come out of public beta testing. And what was already an excellent slide show/photo frame app has been made even better with a quick update for Android 4.4 KitKat, which throws a more immersive display into the mix. We're talking full-frame photos, folks — the way they truly should be for an app of this sort.
The gist, if you're just joining us, is this: Dayframe displays images from any of a number of sources, including:
Facebook
Instagram
Tumblr
Flickr
Dropbox
500px
Google+
Twitter
Local photos from your device
Not a bad list. Actually, it's a damn good list. It'll show your photos, your friends' photos, strangers' photos — anyone you tell it to that it can access.
And you can't beat the price of the app — free.
Get a tablet, pray for Android 4.4 KitKat
So we already mentioned how Dayframe has already been update to take advantage of Android 4.4 KitKat's immersive display features. Full screen, no on-screen buttons visible. This is how photo frames should be done. But you're also going to want to show this off on a tablet. The folks at Dayframe highly recommend getting a stand for whatever device you're using, and we tend to agree. Get a tablet. Get KitKat on it ASAP. And get a stand.
The current problem is that Android 4.4 is all of two weeks old, so there aren't yet any tablets officially running KitKat. That will change, but just be aware of the differences.
The user experience in Dayframe is excellent. It ticks all the boxes to keep the HOLOYOLO crowd happy while still maintaining its own sense of design. It's fast as fast can be. And it's got more settings than you'll know what to do with. (Too many settings, possibly.)
Image 1 of 13
You can choose from any number of streams to display — or use the discover feature to find something new. You can set a timer (only one?) for when you want Dayframe to kick in. (Some of that is duplicated in the Battery/bandwidth section. (There's no official Android Daydreams support, though, which is odd.)
See a picture you like? Well, then "like" it right from the app. At a party? The Instagram feed can show pictures from folks nearby.
And then there's the Prime feature, which we're told will hopefully be up and running by Thanksgiving. With the paid feature, you'll get more advanced timers and playlists, weather, and syncing over multiple devices (including accounts, photo streams and playlists).
Get the Android Central Newsletter
Instant access to breaking news, the hottest reviews, great deals and helpful tips.