Day 3 of Google's 10-day, 10-cent, 10 billion app download celebration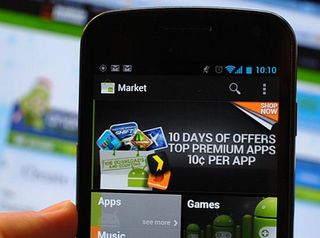 We're onto the third day of Google's 10-day, 10-cent, 10 billion app download celebration in which 10 apps will be sold for a dime. No official word yet on exactly what's on sale today, but here's what we've found thus far:
And, two one other ... Sing out if you spot 'em! We got 'em all! Great work, everybody!
Also: Day 1 apps; Day 2 apps
Adw launcher ex is $0.10 too

ADWLauncher EX
https://market.android.com/details?id=org.adwfreak.launcher&feature=apps... Talking Tom Cat 2
https://market.android.com/details?id=com.outfit7.talkingtom2&feature=ap...

ADWLauncher is an amazing home screen replacement app. The free version is limited. Buy these and anything else you might ever use. Try them and delete whatever you won't be using right now. They will now be listed at the bottom of your MyApps in the Android Market forever. Reinstall any time for free. For a dime you can't go wrong.

space physics, too! https://market.android.com/details?id=com.doodle.main&feature=search_res...

Are the developers getting paid for this promotion or are they just hoping the uplift in numbers will have long term benefits? I hope there are real benefits for the developer community.

They have emails. Ask them

I think being featured on the front page of the Market and the buzz on all the blogs will generate much more money than their average sales. And long(er) term there will probably be a benefit too though that may be short lived (as the Amazon free app developers have told us again and again).
And these are not free apps like Amazon, 0.10c might seem very little but if they on average sell 500/day at $1 and they sell 5000 now the income will be the same (and I think for most the average sales age much lower than 500 and on their .10c day they'll sell much MUCH more than 5000)
And for Android as a whole this is also a very good move, I have many colleagues who bought their first apps because of this.

Yes, I was wandering if it was a similar situation to Amazon or not. If the app is data/cloud intensive there can be a huge hit on hosting costs along with the ramp up in user numbers that are not covered by associated revenue. For developers looking to ramp up numbers to get a far better sampling group to help further develop their product, there are potentially strong benefits. Similarly there can be benefits if the developer has upcoming app releases and they want to showcase their brand. Personally I had quite a few of the apps I would want already but have tried a few new ones because of this promotion, which have impressed. Hopefully there are long term benefits associated with getting more people comfortable with the process of purchasing apps, that will benefit the Market longer term.

I spent .30 cents on apps this week. Another reason to love Google.

.30 cents?? lol.. I spend a lot more than you do...about 20cents per day.

wow I just bought adw at full price on Tuesday

That hurts! The deals started on Tuesday so I'm not buying anything until after these 10 days are up, so I know what's on sale and I don't want to get screwed.

that sucks, and you can't even say that you've had the benefit of using it for a while already.
This is the first day that I didn't already have at least 3 of the apps but I had bought them months ago.
I'm following dwd3885 not buying anything until these 10 days are over ;-)

you could try emailing the developer and see if they will refund the difference. It's worth a shot imo and you have nothing to lose by trying it. Good luck.

Son of a Bitch! I just paid $3+ last night for ADW. Fucking Hell!

Is anyone else having trouble with Flick Golf? Everytime I open it it says this app is not licensed, and gives me the option to retry or buy it.

Have been buying everything except the stuff only for kids (yes even the live wallpapers (a)). Gotta love these bargains! Keep em coming :)

Same here, but buying the kid stuff too. Just got the kid a Streak 7 and these are going to be great on it for him on Christmas morning.

If you pay full price for any app this week it's your own fault. I'm waiting to see what each day holds before I plunk down any money on a full price app. That said this is GREAT! Finally replaced enough of my Amazon AppStore apps so I give that glitchy, over reaching, slow to update thing the boot! Sorry Amazon, I love you and all, but I ain't coming back until you fix all those issues plus the inability to remove unwanted apps from my list.

Yeah, cause paying 89 cents or so more to get an app you just want to start using is such a crushing life blow... -Suntan

No... but you can't complain when you know there are 7 more days of 10 cent apps coming. Also a few of these apps are $2+ normally.

Hmm, this brings the question on why there is so much hate for the Amazon AppStore... I personally haven't found it 'glitchy', though that's not saying much. As far as 'slow to update', that may have been the case before, but it seems much better now. Those apps that have been on sale the past two days that were also price matched on amazon, all were the same version. Actually, the AirSync on amazon was a LATER version than the market, and included the new amazon mp3 store compatibility (for obvious reasons). I know I bought the kids book today from amazon, because they price matched AND it was the THD version, as opposed to the basic one on the market...

That was yesterday.. my bad

How is this or is it different than the ADW in cyanogen mod 7.1?

much more ics like...for example has folders like ics and has the dock like ics and also is a lot smoother and with the phase beam live wallpaper and ics theme it is the closest thing to ics for people that dont have rooted devices.

Just a suggestion... you guys should make a note that each day's apps are 10 cents for that day only (a few hours overlap with the next day's apps, but not very long). If you check day 1's apps, they're all back to the regular pricing. Yesterday's apps and today's are all 10 cents, but by this afternoon, only today's apps will have the 10 cent price tag...

does not appear on my market when i click on the 10 day shop now tile still has day 2 apps but when i search these apps it comes up as 10p so basically there is 20 apps at the moment going for 10p

Exactly what I meant with my previous comment... the apps overlap for a few hours, but eventually the 'main list' of the day's 10 cent apps will show the current apps and the previous day's will go back to their regular pricing... :(

yep very confusing...going to wait till the list is updated with day 3 apps as i cant be bothered to search day 3 apps indivdually...adw laucher 10p BARGAIN of the year. anyone that wants a ics like launcher needs to get adw as it has folders like ics as well as the docks etc

Or you can wait for the list to be updated here and conveniently hyperlinked to the market

Beautiful Widgets is on the list today..

thats yesterdays deal and will be gone in a hour or so,so if you want it get it now

Beautiful widgets was/is part day 2, get asap if you want it. It will soon go back to the original price.

Interesting thing for all those American Express members who tie their Google account to that card. It appears as if the minimum charge for an AMEX purchase is $1.00. All of my purchases from yesterday (4 in total) were charged at $1.10 each.. Not happy right now. Not sure if its AMEX or Google. Just check your statements folks.

It's an authorization charge... It's all over the Google Market help page... The 'extra dollar' will be automatically removed from your statement and will not be charged.

Well, thats a relief.. Do carry on :)

So, I am trying to purchase HomeRun Battle 3D but it says it's purchased already even though I never purchased it, so it only gives me the option of hitting the Install button. When I do that, it says it is not purchased and it does not give me the purchase option. Any suggestions?

Yeah...uninstall your local copy (for example, if you downloaded from Amazon App Store, Samsung Apps, or just a plain, old, hacked version of it)... the only way for the app to show up as installed on the market and then give an error for lack of purchase when you try to update or install from the market is if another, unlicensed copy of the app is installed in your phone. The app key is the same as the Market app it shows up in there as installed, but since the Market license is not valid, updating or installing yields an error.

The problem is that, the app is not installed anywhere on my phone. Not a licensed copy or a non-licensed copy. I do not have the app installed anywhere :(

did you ever find a solution? a friend of mine is having a similar problem w/ ADW

Yeah, the post for day one was a bit misleading making it seem like each of these apps would be on sale for the full ten days. I was going to wait a couple of days and buy everything I wanted at once, and now all the day one apps are back up to full price. I don't want to sound like I'm complaining too much, but it is a little frustrating.

I just downloaded the launcher! I have yet to try it though. I figure for a whole $.10 how can I go wrong right?! :P

Also can AC made a MAST LIST of the $.10 apps please?!

Doing so would be futile... The 10 cent apps are just ten cents for one day only (and a few hours more). So, basically the list is the one on each day's post (and would also be eventually available on Google's oficial 10 billion app offer page)

Just got a call from my bank (Capital One) to confirm all of these $0.10 charges were legit.
I told them to expect 7 more days of this type of activity. =D

These deals are a great way to get Android users to buy more apps and make sure they stay with the brand and not jump shop to an idevice.

Phil, do you ever get to that point with all the hypebeastin and rumors, stupid comments and spam about things that you just need to take a few days off from the blogosphere and cut it completely out of your brain?

DAMN YOU GOOGLE !!!!!
Why can't we buy Apps in Saudi Arabia ???????????????????????? We can buy IOS Apps & Symbian Apps (with carrier billing) , why not Android Apps !!!!!!!!!!!!!!!!!!!!!!!!!!!!!!!!!!!!! This is a big advantage for IOS over android !!!! , Google needs to fix this They need to add Saudi Arabia to list of countries that can buy apps , Pronto

Does anyone know if you can buy these apps if you don't have an Android phone (yet)? I was planning on getting my mom an Android phone for Christmas. At .10 a pop, I might as well get her stocked full of apps too. I wasn't going to buy the phone for another week or 2 though. Also, does anyone know the last day Google will be doing this promotion? And is there any way to get the apps from previous days at the discounted price?

Yes you can buy apps through the Android market web site. https://market.android.com/apps

When you buy through the website, it asks for your phone number to validate the account. At least it does when you set up a payment method.

What's the difference between the ADW launcher in the market and the one that comes with Cyanogenmod 7? Any?

Ahh, here we go. Another reason to love Google! :) http://jbthemes.com/anderweb/2010/12/adwlauncher-ex-a-new-hope/

Warning: clicking on this link will take you to a site and you will be infected with a nasty virus!

I'm also seeing many apps in the Amazon store for a dime.

Flick golf is ten cents too! http://market.android.com/details?id=com.fullfat.android.flickgolf

Just bought ADW Launcher EX for INR 5.13... (5 bucks lying around underneath the cushions of my couch)... and ADW is so awesome! Amazing this offer! Thank You Google! Thank you Android Central (for informing me ADW was on the list)!

ADW Launcher EX RULES! I have a EVO Shift... I know. Anyway, the EVO Shift has a little problem with reloading HTC Sense ALL THE TIME! I have been so close to chucking this phone against the wall! Now, thanks to ADW Launcher EX, I have no reloading issues. All EVO Shift owners should download this ASAP!

Missed yesterday's deals, but won't miss these!
Android Central Newsletter
Get the best of Android Central in in your inbox, every day!
Thank you for signing up to Android Central. You will receive a verification email shortly.
There was a problem. Please refresh the page and try again.