Dash and Dot robots review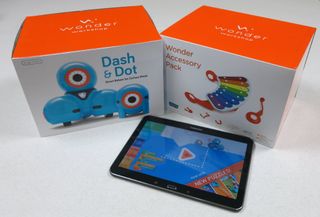 One of the coolest benefits of our modern smartphone and tablet-using culture has to be the advent of gear that connects to smart devices. Users can connect to their smartwatches, exercise bands, thermostats, car engines, and much more. Naturally, connected apps also have educational uses as well. Kids love touch screen devices and tech, so why not use that tech to help them learn?
Dash & Dot from Wonder Workshop is a connected learning system that works with a pair of real-world robots named Dash and Dot. Using the two robots and a handful of Android and iOS apps such as Blockly, kids will learn the fundamentals of programming, problem solving skills, and much more. We've put Dash & Dot and the Wonder Workshop apps through their paces to bring you our detailed review.
Meet Dash and Dot
The $230 Dash & Dot Robot Pack gets you a pair of robots and a handful of accessories. For $280, Wonder Workshop bundles the robots with an accessory pack that includes a xylophone and several smaller tools.
Dash is the main 'bot out of the pair. Taking up about four times the space of Dot, Dash can roll in any direction, turn and tilt its head, light up, and make sounds. Dot is a small stationary robot that has lights and makes sounds. Its primary purpose is to interact with Dash, as various human interactions with Dot will trigger reactions from Dash.
These robots are cute and instantly appealing. They're both sturdily made and should survive plenty of normal use. Each 'bot has a built-in battery that charges via micro-USB cable (they come with one bright orange cable). Dash & Dot connect to supported smart devices via Bluetooth.
Supported devices
Note that Dash & Dot don't work with all devices. They're intended to be used primarily with tablets, so only one of the four companion apps works with smartphones.
Even with tablets, you'll want to check the compatibility list before purchasing. That limited compatibility is a real limitation. Wonder Workshop needs to work towards ensuring that nearly all tablets work with these robots, not just a few.
Supported Android tablets include:
Galaxy Note 10.1
Galaxy Note Pro 12.2
Galaxy Tab 3 8.0, 10.1
Galaxy Tab 4 7.0, 8.0, 10.1
Galaxy Tab Pro 8.4
Galaxy Tab S 8.4, 10.5
Nexus 7 (2013)
Nabi 2, DreamTab
Supported iOS tablets include:
iPad 3, 4; iPad Mini 1, 2, 3; iPad Air 1, 2
Apps for Dash and Dot
Dot and Dash don't really do anything on their own. Kids, parents, and educators will need Wonder Workshop's suite of apps to properly bring them to life.
One little nuisance with using these apps is that users must connect the robots each time an app is launched. You do so by pressing and holding on a picture of the robot for a few seconds. In a classroom environment with multiple sets of robots, you'd obviously need to connect to different robots at a different times. But a home user will probably only ever own one pair, so there needs to be a way to save the robot IDs and automate the connection process.
Go
The Go app lets you control Dash like an R/C car. The left side of the driving interface has a virtual thumbstick for steering and a slider for speed. The right side adjusts the position of Dash's head. Additional tabs control the lighting of Dash's eye and other lights, play prerecorded sounds like a car horn and dog barking, and activate a trio of preprogrammed animations.
Users can also record and playback up to five custom sound samples through the tablet. The app then transmits the sound to the robot. Kids will love hearing Dot and Dash playback high-pitched versions of their voices; it really is a cool capability.
Go is probably the most recreational app for Dash & Dot. Remote-controlling a robot is good simple fun.
Path
This app lets users "program" a path for Dash and instruct him to perform a series of actions along that path. Path provides four sets of activities, all of which must be unlocked in a set order. As the user completes activities within a set, the functions introduced in that set (such as a horn sound) will unlock for use in other sets.
The basic component of Path activities is drawing a line that Dash will follow when instructed to start. Kids can then drop in actions like sounds, pauses, and more along that path. Once the path and actions are set, tap Dash's picture to make the robot follow those instructions.
Path has a great concept, but the actual UI leaves something to be desired. The lack of on-screen text sometimes makes it tough to figure out what you're supposed to do or what went wrong when the activity fails to complete successfully.
Xylo
To make use of the Xylo app, you'll need the Xylophone accessory that comes bundled with the Dash & Dot Wonder Pack; it's also available separately. The 8-bar xylophone attaches to Dash's front. The mallet attachment connects to Dash's head. With both components in place, our robot is ready to play.
Using the Xylo app, kids can program a series of notes for Dash to perform. Each set of notes can be accompanied by a motion (such as Dash moving forward or turning around) and can be repeated 1-4 times before moving on to the next set.
Inputting tunes and then watching Dash play them is cool, but Xylo is an awfully threadbare app. It needs a mode in which kids tap a xylophone image and watch as Dash mimics their actions in real-time – that's such an obvious application! It would also be great if the app came with some preprogrammed tunes like 'Twinkle twinkle little star' for kids to enjoy.
Blockly
The most complex of the Wonder Workshop apps is Blockly for Dash & Dot robots. Blockly is a visual block programming interface created by Google. If you want to teach young kids the fundamentals of programming, look no further.
Using the Blockly app, kids can either complete puzzles or create and edit projects of their own. The puzzles are where the learning comes in. Blockly currently offers eight sets of puzzles that must be completed in order.
The puzzles start out extremely simple. To complete the first one, the user just needs to connect a Car Engine sound block to the Start block. After hitting Start, the program will execute and Dash makes a car sound. The next puzzle introduces a movement block, and so on. Eventually blocks will require individual customizations such as selecting the direction to turn or speed of movement.
I put my 8-year old daughter to the test, and she had a great time with Blockly. She whizzed through the first set of puzzles, absorbing the ideas they demonstrate and using them on subsequent puzzles. Sometimes she'd get stuck, but always because she misread or overlooked an instruction. I could spot the overlooked step or out of place block pretty quickly, and I'm no programmer.
The potential for Blockly is plain to see. Kids will learn not only to organize steps and actions but even work with variables and conditionals like "If… then." Having completed enough puzzles to understand all of the different blocks the app offers, the learner can then create his or her own simple programs that really make Dot and Dash come to life.
The Blockly app is quite robust, but it still has some room for improvement. I couldn't find a way to delete user-created projects, which means they could pile up pretty quickly. And it'd be great to include some pre-made algorithms for kids to execute and learn from, outside of the puzzle interface. Show us the more complex things Blockly can achieve with Dash and Dot and let us study how the developers achieved them.
Introduce Dash and Dot into your home or classroom
Dash & Dot is an impressive learning system that combines toys (robots), tablets, and problem solving into one slick package. As someone with a background in education, I can easily imagine incorporating Dash & Dot into a classroom. These robots can not only help prepare young minds for eventual technology careers, they're also a valuable way to reach kids from groups that are less likely to work in technology later on in life.
Hopefully Wonder Workshop continues to improve Dot & Dash's compatibility as well as adding new features and refinements to their companion apps. The more kids with access to tools like this, the better.
Be an expert in 5 minutes
Get the latest news from Android Central, your trusted companion in the world of Android