CyanogenMod 11.0 M6 now available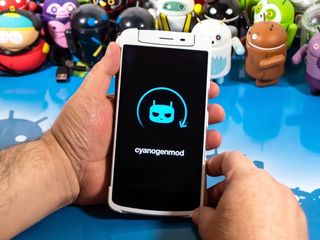 (Image credit: Jerry Hildenbrand / Android Central)
CyanogenMod 11.0 M6 is here! Along with it are some notes from the CM team, including that the "M" builds have supplanted the need for "stable" releases. (And that's why you won't be seeing "RC" builds either.) Why is that exactly? According to the CyanogenMod blog:
CM also says the goal is to get releases out every 2 weeks going forward. Now, on to the changelog and download link!
Quiet Hours – Fix longpress QS tile option
Voice+ – Integrate into settings (under Wireless and Networks > 'More')
Blacklist – Add provider permissions
Lockscreen – Fix custom wallpaper crashes and album art issues
Display – Consolidate screen-off animation options (remove checkbox)
Bluetooth – Upstream updates and fix issues with audio routing to select car makes/models and disconnect issues
MultiSim – Additional support patches (15+) and UI/UX modifications
Lockscreen – Disable elements when in custom lockscreen
Quick Settings – Options to show smaller tiles; add BT device name to tile
Quick Settings – Fix QS tiles layout in landscape mode
Usage Stats – Fix screen on stats after boot
Resolve memory leaks in Frameworks
Settings – Show 'eject card' action for USB storage
Theme Engine – Introduce new Engine capabilities (chooser to arrive in nightlies this week)
Parallel Shutdown – Decrease shutdown time
Address security vulnerability for icons
Downloads – Add pause/resume support
Trebuchet – Hidden apps and labels support
Remove parallel boot dexopt from stable/cm-11.0 branch
And more (all changes from Mar 29th to April 30th)
Look for the build for your device on the Community Distribution channel as they make their way through the system.
Be an expert in 5 minutes
Get the latest news from Android Central, your trusted companion in the world of Android
Rene Ritchie has been covering the personal technology industry for almost a decade. Editorial Director at Mobile Nations, analyst at iMore, video and podcast host, you can follow him @reneritchie on [Snapchat](https://www.snapchat.com/add/reneritchie), [Instagram](https://instagram.com/reneritchie), or [Twitter](https://twitter.com/reneritchie).