Cyanogen OS 13.1 brings mods from Microsoft and more to the OnePlus One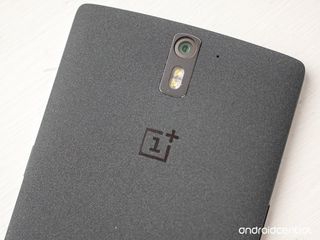 Cyanogen OS 13.1 is currently rolling out for OnePlus One owners. It includes new mods from Microsoft as part of its partnership with Cyanogen.
In a blog post (opens in new tab), Microsoft stated that the Cyanogen OS support for mods represents "a step beyond apps that will change the way you use your phone". One of the mods in the update offers Skype features in the Cyanogen phone app:
Other mods in the update include OneNote, which will allow users to take notes from anywhere in the Cyanogen OS. The Hyperlapse mod for the Camera app will give users a quick way to make time-lapse videos. Finally, there have been some improvements made to the Cortana features:
Android Central Newsletter
Get instant access to breaking news, the hottest reviews, great deals and helpful tips
Man, I'd be kind of pissed to have this stuff just pushed to me after buying the phone without it or was Microsoft stuff always included?

No, the OPO predates MS's involvement with Cyanogen. And yeah, this seems like a pretty significant departure from the software originally included with the OPO, although to be honest, it mostly looks pretty cool and legitimately useful.

I installed OxygenOS because it was smoother than Cyanogen. Now I'm staying because, and I never thought i would say this, but there's bloat on Cyanogen now.

It was obviously going to happen when they started partnering with MS. Like I said earlier, these features are pretty cool and I would probably use them if I were still a Cyanogen user, but having them baked into the system without user choice is very much counter to the CM that I used to love.

Well, I don't know what you mean by 'baked in', but all those added apps can be uninstalled.
Why you would though, would be crazy, I mean FREE apps, that cost you zip, in return for updating fixes and security?
Can no one make money nowadays?

Oh, can they? From the way the article was worded, I thought that these were system-level changes. I have no problem with included apps that can be easily uninstalled (not just disabled).

I bet you are another 'bloatware' crazy person, aren't you?

There is no bloat in cm13.1. First use it then say(current user Oneplus one(cm13.1) Posted via the Android Central App

He meant Cyanogen OS not CM.

There was always going to be bloat on Cyanogen OS. CM is what you need. Or Oxygen if that's how you roll. Posted via the Android Central App

Last ota to marshmellow, I was able to remove all the stuff I didn't want. They can push away, I don't care, as long as it's removable.

Why, in the heck, would you be pissed for cripes sake?
Free apps,. that you could uninstall if you wanted to (that would be crazy)!
You get the latest update for android, with all the fixes, all the security updates.
And you have the balls to complain?
Pretty insane response.
I guess Cyanogen trying to make some money is out of the question for you and other complainers.
Google has even said they are not shipping future phones with just plain Android.
I bet you are another 'bloatware' crazy person, aren't you?

Can someone teach me how to root an LG G4 and get pure android? On Sprint.. Everything I read seems weird on how to do it Posted via my LG G4

Try the forums. Posted via the Android Central App

I think Cortana showed up as part of the update to 13.0 early this year, so , no, the MS stuff was not there from day one on the 1+1.

My other half hates her OnePlus with Cyanogen on it. Her main complaint is "Why do all those nerds working on this have to keep changing it all the while and adding crap I don't need!?" Guys...less is more!

Or what your better half is saying is that shes too dumb to figure out that it's not Cyanogen, but Android that is doing the changes.
Yeah always blame your lack of intelligence on Cyanogen.

Does it bring Marshmallow update too with it or still not?
And what about this update coming to other Cyanogen running phones? Like Zuk Z1? Mine is still stuck on Cyanogen 12.1, like forever. :-( Posted via the Android Central App on my Zuk Z1. Loving it.

Of course it does. Posted via the Android Central App

I loaded up 13.0 and it was very buggy, then after working a couple days went into a never ending boot to the point I had to reload my backed up version of 12.1. With this new update I'll try it again but I have low expectations. With that said, CM allowed you to uninstall Cortana, I'd assume you'll be able to uninstall this as well if you don't want it. No big deal.

Blaming COS instead of just doing a factory reset is pretty lame.
ANYBODY that has run Android for a while will tell you to backup important stuff and then do a factory reset.
It's just a normal thing to, especially after 6 months.
Also, clear the cache in recovery after the reset.

Hey Chuck Jones 111, are you sure you're not the ChuckMcFarly's from the OnePlus One forums?? (SP)
If I remember correctly mr. McMasters couldn't stand Google and is out to put them out of business!! And yet he installs Microsoft in Truecaller two of the most invasive and information stealing companies there are!! And you wonder why people don't like cyanogen's recent lousy updates?? Come on man think about it! Posted via the Android Central App

These mods are quite cool. Wish there was more hardware that had Cyanogen OS.
Android Central Newsletter
Get instant access to breaking news, the hottest reviews, great deals and helpful tips
Thank you for signing up to Android Central. You will receive a verification email shortly.
There was a problem. Please refresh the page and try again.