Cyanogen in 2016: Extensibility, good cheap phones and a new 'flagship'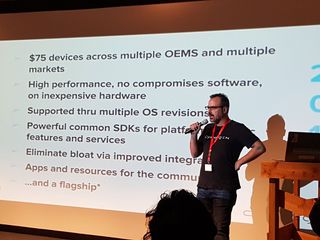 During his keynote address at the Big Android BBQ Europe in Amsterdam this morning, Cyanogen co-founder and CTO Steve Kondik gave attendees an update on "what's up with CyanogenMod," and what fans can expect from Cyanogen, Inc. in the coming year. Kondik laid out plans to make both the open-source CyanogenMod and the commercial CyanogenOS more extensible through APIs, while also dropping hints about the future direction of Cyanogen hardware.
Big things are coming in the upcoming (Marshmallow CyanogenMod 13 release. "We're trying to take everything we have into APIs," Kondik says, including support for extending system features like text messaging and quick settings tiles. At the CyanogenMod level, extensibility will focus on system-level building blocks, whereas the higher-level CyanogenOS SDK (to be announced in future with its own marketing name) will focus more on expanding functionality through extensible apps.
On devices, the company's main strategy for 2016 centers around making low-cost smartphones really great through software. Kondik says that as an exercise, Cyanogen took really cheap $75-level Android hardware and tried to see how far they could take it in terms of performance. Thanks to the team's years of experience tuning Android across a wide range of devices, the results were "pretty good," he says. "This is interesting and could be really disruptive."
And Cyanogen believes it can address many of the problems affecting phones around this budget price point. Kondik describes this area as "like the Wild West right now," with devices shipping code as-provided by chip makers with little to no performance tuning and no prospect of security updates, let alone OS upgrades. They're also too often loaded with bloatware, even more so than the flagships the firm believes -- "[you see] absurd amounts of bloat on these $75 devices."
That's where Cyanogen's strengths come into play. Not only has it gotten really good at low-level performance tuning, Kondik says, but CyanogenMod and CyanogenOS's extensibility through APIs in the CM13 release will help eliminate the need for bundled bloatware. Instead of preloading apps of their own, partners can tie directly into the system through APIs. This allows developers to create "closer to native" experiences.
So when exactly will CM13 to ship? Kondik says the expectation is to have stable releases ready for the holidays -- "with a big asterisk attached." CM fans, of course, know never to ask for ETAs.
Beyond affordable handsets at super-cheap price points -- and mid-range contenders like Wileyfox's products and the Lenovo-backed Zuk Z1 -- Kondik hinted that a new standard-bearing device may be on the cards for Cyanogen in 2016. The last item on a bulleted list of Cyanogen priorities for the next year reads: "... and a flagship."
"Maybe," Kondik says, "you didn't hear it from me."
It's unclear what price point this device might hit, but presumably it'll be somewhere above the $75 mark, and perhaps above the mid-level prices we've seen for the likes of the Wileyfox Swift and Storm. Details are (deliberately) scant, but Steve Kondik did drop a couple more hints in the Q&A session following the keynote, when asked about carrier co-operation with Cyanogen: "There may or may not be plans in the works for something in Q2 next year that I have to stop talking about or I'll get in trouble."
So maybe we shouldn't hold our breath for another OnePlus One-style software tie-up just yet. But it's clear that Cyanogen has diverse plans across both software and hardware at multiple price points. And with several key partnerships in place, 2016 could be a very interesting year for the Android firmware maker.
Get the Android Central Newsletter
Instant access to breaking news, the hottest reviews, great deals and helpful tips.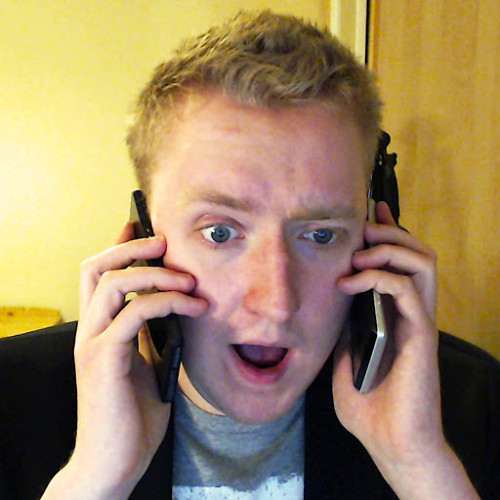 Alex was with Android Central for over a decade, producing written and video content for the site, and served as global Executive Editor from 2016 to 2022.