Cut down on driving distractions with Hold the Wheel for Android Wear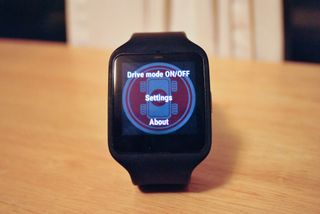 Technology has advanced to a point where most of us have a minimum of one piece with us wherever we go. While being always connected in great in many ways, it's not always awesome when your phone starts going off while you are driving. While advancements in docks, and voice commands have made it easier to drive without distractions, it's a better idea to just put the phone down while you are operating a vehicle. Hold the Phone is a great app that works with Android Wear to make sure that putting your phone down, doesn't mean not answering your messages. This app detects when you're driving, and shoots off customized auto-reply messages to texts and calls, and we've got all the details for you here.
Hold the Wheel is a fantastic app if you're of a mind to keep your hands on the wheel and off your tech while driving. While this is an Android Wear compatible app, the detailed options are all going to be found on your phone. The main screen shows whether you are in Drive mode or not inside of a big red bubble at the upper left of your screen.
While in Drive mode, Hold the Wheel gives you the option to send replies to sms messages, or phone calls. You can choose to turn these automated messages on or off, as well as personalizing them. This can be especially handy if you're in the middle of a long drive when you get a message.
In the settings of the app, you have a few interesting options. You can choose to only respond to numbers with a particular prefix, such as a country code. Silent mode means you won't see-or hear-any notifications about messages or calls while you are driving. You can also change between automatic detection of being in a vehicle, and turning it on manually.
Your Smartwatch has access to quite a few of these options as well, making it easier to adjust things without having to pull out your smartphone. Each option is available on, or off, when it comes to options on your android wear device. These options include the activity detection, responding to phone calls, responding to sms messages, and turning the silent mode on or off.
The app worked quite well, and definitely helped to cut down on distractions in the car. If you end up riding along often, you'll probably want to turn the activity detection feature off though. If you're in the car, it will mute message notifications even though you aren't the driver. Thankfully it's easy to switch on or off, and it really isn't a big drawback. It's just the app doing the job that it's supposed to, and that's the point.
Hold the Wheel is available now in the Google Play Store and even better, it's absolutely free. If you're looking to cut down on your driving distractions, or you know somebody who is, then this is a fantastic app to take a look at. Since it doesn't cost anything, there isn't a good reason not to check it out. That is, unless you have a different app that you prefer. Tell us about it in the comments!
Sign up for Black Friday email alerts!
Get the hottest deals available in your inbox plus news, reviews, opinion, analysis and more from the Android Central team.
Jen is a staff writer who spends her time researching the products you didn't know you needed. She's also a fantasy novelist and has a serious Civ VI addiction. You can follow her on Twitter.