Cortana now has over 141 million monthly users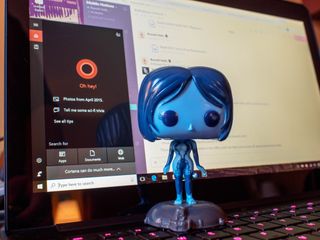 On stage at BUILD today, Microsoft announced 141 million monthly active users for its Cortana assistant. This number is slightly off from the 145m rumored to be sent to prominent Alexa developers in order to lure them over for the Cortana Skill launch, which also happened today, but it's an impressive figure all the same.
141 million monthly users surpasses Amazon's Alexa by a considerable margin, considering 3 million Echo units have reportedly been sold as of last month. The big question here, which in an early briefing Microsoft was unable to answer, is how many of those monthly active users are actually speaking to Cortana. Microsoft's figures are for any kind of Cortana use, which includes text, voice, and assistant notifications based on user input. That information may prove useful for developers looking to target Cortana Skills to the largest portion of the user activity type, but for now it's not available.
Either way you look at it, Cortana's significant user base across Windows, Xbox, Android, and iOS is more than a little impressive. Microsoft expects Cortana Skills will put Cortana in a position to better compete with the whole category of digital assistants, and if that figure is enough to convince developers to give this platform a fair shake that monthly figure will likely expand even faster.
Everything you need to know about Microsoft Build
I really wish Cortana on Android worked as well as on Windows Phone, that's probably my only gripe since switching from WP10.

I know what you mean. But it's new so time to improve but still the only one that syncs across all my devices

Would be nice if they could release Cortana for Android in Canada. I miss Cortana and my old Windows Phone.

Install it yourself with the APK. Yes it works flawlessly : www.androidapksfree.com/apk/microsoft-cortana-android-apk-latest-download/

I just wish they'd fix Xbox Voice Control in Canada or offer us Cortana.

Only if it works in other countries like US :P

i have accidentally clicked that Cortana button multiple times. I dont want to use it but i guess i am 1 in that 141 million

You can completely turn off Cortana in the registry and that icon will become a magnifying glass that will only search your computer with no connection whatsoever to Cortana. Just Google "disable cortana".

I use Cortana as a low effort way to relay text messages from my phone, and respond from my windows computer. It's not perfect but it's one of the more reliable and straightforward ways of doing it I've found.

I'm one of those users, I only use it on Windows tablets though. Google is already on my phone and my desktop doesn't have a mic.

I mostly use her in Windows on my laptop or on my XBox One.

Its trash on xbox one
The main reason ill never use it on anything

Too bad it doesn't even come close to how it works on Windows phone. Wish I could use it to dial or read/reply to texts hands free while driving like I used to.

Can't see that number being correct, as I had to have cortana on just to read text over Bluetooth never was on Windows 8, so I'm counted as a user but I never use it for anything else, it's nowhere near as good as Google

Are these people actually USING Cortana or people who signed into something with it pre-installed and just never disabled it?

The funny thing is at my work we are moving to windows 10. I have imaged at least 500 laptops over the last 5 months. On EACH of them I install DCU (Dell Command Update) to update drivers bios, etc. It is quicker for me to click Windows Key + S and then type "Dell" than to hunt for the app in the "start" menu.
I have to on occasion tell Cortana I don't want to user her, and "I am sure" I don't want to use her. So at least 500 of these are me searching for DCU, and saying "No I don't want to use Cortana."
100% of the people I am upgrading to Windows 10 ask me what Cortana is, and when I tell them, they ask me to turn it off.
Android Central Newsletter
Get the best of Android Central in in your inbox, every day!
Thank you for signing up to Android Central. You will receive a verification email shortly.
There was a problem. Please refresh the page and try again.