Cortana beta debuts major UI overhaul and more on Android and iOS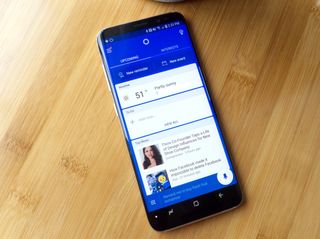 Microsoft is gearing up to release a major update to Cortana on Android and iOS, and beta testers are getting the first shot at it. Cortana version 3.0 is rolling out now to beta users on both platforms, bringing an overhauled UI focused on conversational experiences, new music and podcast connections, and the ability to join Skype and Teams meetings by speaking with Cortana.
Here's the official look at all of what's new:
An update to the UI enabling conversational experiences with Cortana and a new place to manage and set up your Cortana devices
Listen to music and podcasts on the go. Just ask Cortana to play your favorite tunes and podcasts with Spotify, iHeartRadio, and TuneIn on your phone or through a paired Bluetooth device
Stay organized and on task. Set reminders, timers and create meetings with your voice
Join your next Skype or Teams meeting by simply asking Cortana. You can also manage your calendar or send a quick email by voice
Additionally, references to syncing notifications to your Windows PC have been removed.
Though Microsoft has announced the update to beta testers, we're not seeing it just yet, so it may be part of a slow rollout. However,if you want to get in line to test out everything that's new, you can register to become a beta tester for Cortana on Android at Google Play. Cortana users on iOS will have to be enrolled in the limited TestFlight program (opens in new tab) to take part.
For everyone else, you'll have to wait until all of the kinks have been worked out with beta testers to see the new features in the release version of Cortana. For now, you can give the current release a shot by picking up the Cortana app on Google Play and the App Store.
Thanks, Ryan T., for the tip!
Get the Android Central Newsletter
Instant access to breaking news, the hottest reviews, great deals and helpful tips.
Automatic text message readout and reply?

Not automatically. When connected to bluetooth, on W10M, Cortana would automatically prompt (if you so chose), and say you had a "message from "so-and-so", read it, or ignore?" I loved that, and miss it. They need to make the app 100% like it was for W10M

Unfortunately, limitations with how Cortana can interact with Android's core functions prevent it from ever being what it was on Windows mobile.

This worked flawlessly with my Ford Sync. I missed it so much.

Android really doesn't "do this great". I've been on Android for a few years now and have searched fruitlessly for a solution comparable to that of WinMo, and nothing comes close. The "app gap" was the sole reason I left WinMo.

That is one ugly blue with all those white rectangles... #nothanks

Unless this headline includes "Cortana will now read your texts while connected in your car!", this Beta is worthless.

Just so I get this straight.... on this site an article can mention the user of a product on iOS and Android, but it can't mention Xbox in a product article and only mention Playstation?

I've seen articles on here that mention Xbox. There aren't many, but they're out there.

Cortana is still a thing?

Nope it's rubbish in the UK Google is so much in front of cortana for the uk

I love what Cortana has location based reminders what I can't do with Google assistant

Yes you can
(If you have starred those locations)

But therein lies the rub. I shouldn't have to create and star locations.
Hey Cortana, remind me to pickup milk when I get to Smith Avenue. (Smith Avenue is 1/2 mile before the store, and a reminder there gives me time to change lanes.)

I really hope they don't get rid of accent color options. If they do, I'll just not upgrade Cortana until I need to. Hopefully the search bar is easy to access as well. Side note: it looks like some of the links in the article aren't working.

Any mention of being able to access the always-on microphone so "Hey, Cortana" works? I know this was disabled in previous Cortana releases due to it interfering with "OK, Google".

Is the standalone app finally better than the native feature in Microsoft launcher?