CoPilot Live announces compatibility with over 250 Android devices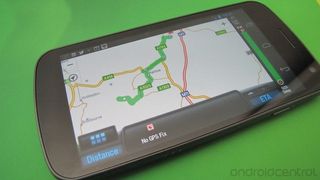 It was only last week that we got the news that TomTom was available for Android devices - well, some of them. TomTom was incompatible with many of high-profile handsets such as the Samsung Galaxy S3 and HTC One X, which excluded them from a large portion of the market.
In what's probably more than a coincidence, ALK Technologies has today announced that its CoPilot Live offline GPS navigation apps are now compatible with over 250 Google-certified Android phones and tablets. The company even hand picks some devices that don't play nice with TomTom for mention in today's presser --
So despite Google Maps navigation being bundled on all Google-certified handsets, it seems the GPS navigation market is still alive and well on the platform. We've got the rest of today's announcement after the break.
The latest version of the CoPilot Live Premium apps (version 9.3) supports Android OS versions from as far back as Froyo to the most recent version, Jellybean. This means that CoPilot's full-featured voice guided navigation and mapping is available for Android veterans such as T Mobile G2 and HTC Desire, as well as the hottest new devices like HTC's ONE X, Samsung's Galaxy Note 2, Galaxy SIII and Google's Nexus 7.
CoPilot navigation is available in two versions from Google Play:
CoPilot Live Premium: a paid app which offers full-featured voice-guided GPS navigation with advanced 3D map views and live traffic as standard.
CoPilot GPS: a free app which includes powerful trip planning and offline maps. Turn by turn navigation is available via in-app purchase.
Missed our CoPilot review? Catch it here.
For more information visit www.copilotlive.com
I got my HTC desire in April 2010, Bought Co-Pilot the first week i had the phone. May 2010 google announce google maps navigator........ Still co pilot is fantastic, and you do get free map updates, and is still good to have maps on the phone, as google still doesnt quite have offline maps sussed yet. Would rather have co-pilot for £19.99 than pay £50 for tom tom

You forgot to mention the copilot commercial edition. It will set u back $120 for that app version.

I havent had co pilot installed for a while now, as i didnt bother downloading it when i got my GS3 June, just looked for it on the store (and webstore) and its not there anymore? i didnt have the premium one (since it wasnt out when i purchase it) but it was Copilot Live UK & Ireland. Have i not purchased this app? How can they stop me downloading something i legally own??? This has annoyed me grately if anyone can help?

Hopefully this is better than the SCOUT product that uses TomTom data as it kept telling me to take a left turn that has been a sidewalk and dead-end street for about a decade. :(

I've just used the Google Nav up until now, it worked for me. Thought I'd check this app out, looks nice. I downloaded the Canada map, and looked around for a paid version, I'm not shelling out $149 for the Commercial Truck edition,(and no other paid versions for Canada that I saw) ..hopefully not missing anything major, so thanks for the free app! Edit, I found the upgrade in the app itself....$15.84. I'll try it out for a few days, and think about upgrading.

I'll stick with the stock navigation and Waze if I need gps.

Thanks for that warning moosc. Other than that, I think this app is great to have while traveling country roads. http://www.geekchoice.com

Should be worth a try. I need a more acurate GPS. The standard GPS with Google maps on my GS3 is awful. I'm constantly being sent the long way. I understand a GPS sending me on the shortest route or the easiest route, but to constantly send me out of my way is absurb. I usually ignore the GPS now for the majority of my trip because until I'm at the end of my trip it's not a great tool.

Still no support for the Galaxy S3!!! wtf?
Android Central Newsletter
Get the best of Android Central in in your inbox, every day!
Thank you for signing up to Android Central. You will receive a verification email shortly.
There was a problem. Please refresh the page and try again.