An up close look at the Moto 360 from Google I/O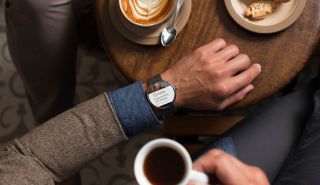 While we got to see new Android Wear devices like the LG G Watch and Samsung Gear Live during Google I/O, on device that we didn't see too much of was the long-awaited Moto 360. Both the G Watch and Gear Live are now available for purchase, but the Moto 360 still isn't ready for prime time. Thusly, Motorola has posted up a quick two-minute video that gives an up close and personal look at their upcoming smartwatch.
Due out later this summer, the Moto 360 will be sporting the same Android Wear found on the two available devices, only with a round face instead of square. Most of the 360's specs are still up in air as well, so we hope to hear more on those soon too. As far as what it can do — you'll find notifications from Google Now, for messages, phone calls and other apps. You can also use the "OK Google" command to search, and gestures will let you navigate around without too much effort.
Check out the full video above, and let us know what you think. Picking up a G Watch or Gear Live? Or will you be waiting for the Moto 360?
Get the Android Central Newsletter
Instant access to breaking news, the hottest reviews, great deals and helpful tips.
Editorial Director - High Yield
Getting his start writing about BlackBerry in 2008, Adam is the Editorial Director of High-Yield content at Future. Leading an outstanding team, he oversees many of the articles the publisher produces about subscriptions and services – VPN, TV streaming, and antivirus software. From buying guides and how to watch content, to deal news and in-depth reviews. Adam's work can be seen on numerous Future brands including TechRadar, Tom's Guide, T3, TTR, Android Central, iMore, and Real Homes.
Waiting for the 360 for sure!
It's absolutely gorgeous. The watch faces and the display look really nice.
Posted via Android Central App

The 360 is so damn nice looking that i kinda feel bad for the teams at LG and Samsung. They surely thought they were coming out with decent devices that would look nice. Motorola blew them out of the water. This is the hottest device of the year.

Might want to wait until you get it up close. I still think it's butt ugly but I'll wait until I can hold one to judge for sure.

Looks like a hockey puck on a band aid. Ugly. Posted via Android Central App

Beautiful watch, definitely on my want list. Though I am a bit turned off by the black bar on the bottom that houses the display drivers. It taints an otherwise seamless, edge to edge design. Posted via Android Central App

i don't even see the black bar anymore.

It was clear in the video. Large black bar at the bottom of the display. Posted via Android Central App

i cannot tell if you understood me or not. i don't see it... because it does not bother me. i am not studying the thing anymore. i just look at the screen to see the cards and info. which i am sure that is how it will work for most.

Moto 360! Can't wait. Posted via Android Central App

Motorola....will you just start selling the damn thing already!!!??? I find it very annoying when companies announce a product, and continually advertise a product...THAT ISN'T FOR SALE! "Look at this amazing new product we have here! It's going to change your life. And will be selling it...eventually."

What happened to the metal bands? All the 360s they've shown at IO have leather. I personally like the metal better. Posted via Android Central App

Agreed however the leather definitely is done in good taste Posted via Android Central App

nitpicking here... but i think the band, and the clasp, is a bit thick. the quality is too good.

This is Motorola. The metal band won't be available until 7 months after release. Posted via Android Central App

My thoughts exactly. I have no desire for a leather band. The metal band we have seen in pictures totally completes the look for me.

Yea, I actually think because of the thickness of it, the metal band would compliment it better.

So buy a quality band from a company. While the leather band is nice, I'm glad they are putting the money into the device and not into the watch strap.

Well, actually, they're putting the money into both. The leather band they are using is extremely high quality, supplied by one of the oldest and most prestigious leather tanneries in the country.

Huh, really? Where'd you find that info? Not doubting, just curious (I saw the video but didn't actually listen as I was in a crowded restaurant, so excuse if it's mentioned there)

Yes. Though not mentioned by name in the video, Motorola teamed up with the Chicago based Horween Leather company to supply and create what they felt were the perfect high quality leather bands to compliment the Moto 360. The Horween Leather Company has set the standard for the highest quality leathers since 1905 and is one of the oldest continuously running tanneries in the United States, and the only one still located in Chicago. Horween is also one of only a handful of tanneries in the United States that still processes hides from their raw, cured state to finished leather. And the Moto 360 is in good company, as Horween also provides the leather for the NFL's footballs, the NBA's basketballs, baseball gloves for Rawlings and footballs and basketballs for Wilson Sporting Goods.

I have a feeling the reason this wasn't release is because they want to announce it with the Moto X+. Only seems logical. Posted via Android Central App

Oh man. My wallet is.. really not ready at all. Posted via Android Central App

Makes sense. It went be too much longer. This has to come out in July. September would be too late. Or at least be announced in July. Posted via Android Central App

Just take my money already! Posted via Android Central App

Definitely getting the Moto 360. Black cutout on bottom doesn't bother me one bit. Wish list for version 2
- I hope you can change bands.
- I also hope it is waterproof.
- I hope it has heart rate monitor
- ANT+ support for cycling.

Something classy like this doesn't need a heart rate IMO. This doesn't jump out at being a sport watch. Posted via Android Central App

Definitely not a sport watch. Posted via Android Central App

Oh but classy and sport go so well together. I'd love to have an Aston Martin which is both classy and sport. But keeping the comparison to watches have you not seen the Breitling classy sport watches?

Your definition and mine of a sport differs. I don't know anyone buying a Breitling sport watch to do physical activity. I certainly would not being wearing this style while riding it jogging. I would rather use the Gear Live. All personal opinion. Leather straps suck with sweat. Posted via Android Central App

I think the "sport" there refers to bridge. Or maybe polo.

Considering he's talking about heart rate and cycling, I picked up sport as activity. Posted via Android Central App

Classy and sport together, have you ever seen some of those $20k tide watches? Uhhh yeah.

I don't look pass $1K for any watch let alone pay for one. Posted via Android Central App

The internal specs will probably be identical to the other two, though the rumours of things like a sapphire front panel and Qi charging are intriguing. Still not sure if I like this design. It's definitely prettier than its square cousins, but I hate analogue (old people) clocks! I have figured out why I find it odd looking though, on a watch this size i'm used to seeing a crown bezel and obviously it doesn't have one. Posted via Android Central App

An analog clock is more elegant and faster to read than a digital clock. Look at speedometers. Digital was the rage for a bit in the 80 but we went back to analog because they are better. The same can be said of clocks.

And now we are going back to digital... Digital is better and faster at relaying information. Its the difference of reading and interpreting data. As for elegance, its all personal choice. No real winner there. I will say that im certain the 360 will have options for digital and analogue-like displays. So everyone should be pleased.

I understand what you mean.. Give it a few years and im sure they will make a smartwatch too.. But of course it will come with their typical price tag.... In the mean time.. If your willing to spend that much. Take a look at this... https://kairoswatches.com/

I love that. I don't like watches less than 48mm. This look to be around 50-52. Perfect Posted via Android Central App

This! I still feel like I want it though. Posted via Android Central App

I agree. I actually think it looks awful compared to the current smart watches if that is even possible. Way WAAAY to thick and big

Have you seen watches recently? They are bigger then this.

I'll probably never buy any Android Wear, but if I do the Moto 360 will get my money. Actually, I just won't be buying the Samsung or G Watch. I want this. Posted via Android Central App

Glad to see the watch shown on a woman's wrist in the video. Smartwatches looking too big and goofy on my small wrist is a concern, but the 360 looks great on her, I think. Posted via AC App on HTC One

Good point it was looking mostly like a mens watch until the video Posted via Android Central App

I dont understand why she is wearing it so high up on her wrist/arm... Posted via Android Central App

Thats.... were a fitted watch goes.. unless you got it super loose and its just sitting on your joint blocked by your hand from falling off.

This watch is cold sell it for $200 and they will wipe out Samsung and LG's watches Posted via Android Central App

Definitely waiting for the 360! Posted via Android Central App

She's so beautiful! That watch is nice looking too.

The silver 360 is bang on, but the black 360 is not classy and too stealth.

Waiting for the Moto 360, but I will not be an early adopter. Since this is a 1.0 device for Motorola, and 2.0 devices are sometimes "1.0 as it should have been", I will wait for some reviews to have a better impression if this is already a device worth getting (like the iPad 1), or if it's still not ready for prime time (like the Samsung Gear 1 watch). Software-wise, I don´t expect any bad surprises, my worries are more related to possible hardware issues (screen, battery...).

The black bar is going to be a nuisance for some, but if you look at the Moto 360 in black, the bar isn't even noticeable. I'm leaning more towards the black Moto 360 more than the silver one. https://moto360.motorola.com/

It's like having a hockey puck on your wrist. I'm a little disappointed by the black but it is still more appealing than the boring square forms we have seen. Posted via Android Central App

Waiting for the 3600its the nicest looking one of the bunch. Just hope it's not to pricey. Posted via Android Central App

Moto 360? More like One Plus 360 amirite? Posted from the Avengers: Age of Droid Ultra

so moto 360 is the only android wear that doesn't have an always on mode?

It seems that way right? If you have to touch it to wake the screen, it's a total fail. I was ready to buy this the instant it came out, but no always-on, no sale.
The other two watches are terrible looking. Posted via Android Central App

That was my exact response. I was super excited an even canceled my order of the G Watch because I decided to wait for the 360, but now I'm not so sure anymore. It looks awesome but if I have awkwardly push buttons all the time in order to see what's going on then it defeats the point. Its going to be disappointing if I have to turn on the screen each time i want to check the time. I wonder if they compromise with the always listening too.

The watch has accelerometers on it, so as you lift your arm the watch turns the screen on showing the time.
Watch the you tube clip. About 1minute 20 sec in. http://youtu.be/iGNEgDGvFr4 Hope this helps. Posted via Android Central App

I would only get this watch if it is priced $200 or lower if not I'm getting the galaxy live Posted via Android Central App

This right here is what is known to me as AWESOMENESS!

That watch is so sexy... I need this... Hopefully these watches don't burn a hole in our arms from getting to hot lol
Posted via Android Central App

I will be waiting for the Moto P . . . the first smart pocket watch.

I know I'm late to the party about this... But I have a serious question. During the video the Moto 360 obviously showed the person's picture that called. I'm assuming since it's Android Wear that the picture is being pulled from Google+. While I have Google+ a lot of my friends and family don't. They use Facebook. So does that mean that when they call/message me that the watch will display a default blank image? Posted via Android Central App

So you're assumption is that it makes a connection to your phone (cause no WiFi; BTLE only), then it uses your phone's data connection to go out to G+ to look-up a profile photo, and then if it can't find one, it doesn't show anything? Or is it more likely that it just pulls the contact photo already cached in your phone, from all of your connected services?

Incog, the latter. My question is simply if there's no Google+ profile say... For my Mom, who doesn't use Google+ but say she had a Facebook or I saved her photo to my phone for when she calls. Will it still pull up the Facebook profile pic or the photo from my phone that I initially set as her default pic? Or will it be just a blank default. Posted via Android Central App

Won't know until we try it, but if it's like other ringing Google products, photos can be pulled from contacts too.

Want. Posted via Android Central App

While this is better than the LG and Samsung devices I think I'll stick with my Seiko's... Posted via Android Central App

Definitely waiting for the 360. Style just looks so much better. Posted via Android Central App

My Pebble is collecting dust. My Gear 2 is inadequate and boring. This is what I'm waiting for. Posted via Android Central App

Well if you're not getting any use out of those, I'd be happy to pay for shipping..

My God, out of all the manufacturers Moto friggin nails it!

really curious about how much this thing is going to cost. i have a hard time believing the $249 rumors just looking at the materials. my guess is $349-$399, which is out of my price range. i'll be keeping a close eye on it though.

I'm going to be patient and wait a couple months to see the 'round' HTC One watch in both metal and polycarbonate.