Acer Iconia A500 Tab gets ClockworkMod port and first custom ROM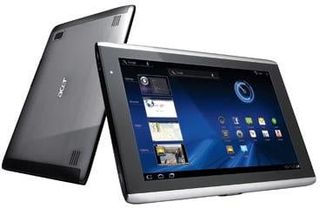 When it comes to software and hardware, I've always been under the firm belief that if it can be built -- it can also be torn down and that's exactly what has happened to the Acer Iconia A500 tablet.
Out of the box, the bootloader for the Acer Iconia was pretty secure. But thanks to individuals much smarter then myself we now have a ported ClockworkMod, recovery images and even the first custom ROM based off the ASUS EeePad Transformer.
In other words, the Acer Iconia Tab A500 is now wide open to all customization options so if you're the proud owner of one (we know there is a lot of you out there) you'll want to hit up the source links below if you're looking to unleash the full potential of your tablet.
Source: XDA (1), (2) Thanks, Fumetsu, for sending this in!
Does that mean you will be able to get Netflix to work on it?

netflix doesnt work on any of the tegra honeycomb tablets, have to use playon. however, playon hasn't really updated the app for the higher resolution tablets so it doesn't look nearly as good as it should.

Thus the suggestion to check out the Splashtop Server app. Better than PlayOn for tablets, but still not as good as a real Netflix app. Which is kind of sad that Netflix isn't on any of the tablets yet. -Suntan

They're too busy riding Apple's iBalls.

Or it could be that there are a thousand times as many iPad customers as Android Tablet customers.

Yeah and there used to be a lot more iphone users then Android phone users also...how'd that work out?

If you have a cellphone that currently has Netflix then back up your application into APK form. You can then install it onto your tablet, but you have to allow the installation of apps from unknown sources. Granted it will not be the best viewing experience since the video is stretched out on the screen, you will be able to use netflix and its features.

"But thanks to individuals much smarter then myself..."
*than*, not then.

If you were on the fence or skeptical of Acer, I hope this manages to sway some people. I've been able to extensively use the Xoom and the Iconia and I cannot describe how useful it is to have the full USB port on the device. It's great for keeping my EVO charged when using it to tether my Iconia, great for easily moving files back and forth using a thumb drive, and with a quick fix can support NTFS so you can plug an external HDD in with relative ease. I havent found a USB keyboard that didn't work with it. The storage options are endless. I couldn't imagine owning a tablet now that didn't have the full USB option. If you were looking to jump aboard, now's the time!

This may sound like dumb question, but I am not too computer smart and have the Acer a500 Tab mainly for Facebook, email and games. I received an update notice on my tablet but how do I upgrade it? We have wireless internet connection with our other computers in the house, so I feed off that when you using it...So do I have to connect my tablet to my computer via USB port?? I know there are probably alot of you out there laughing, but I really don't have a clue! I am a newbie to all of this! Hope someone out there can help me and guide me thru the process! Thank you! ;o)
Android Central Newsletter
Thank you for signing up to Android Central. You will receive a verification email shortly.
There was a problem. Please refresh the page and try again.